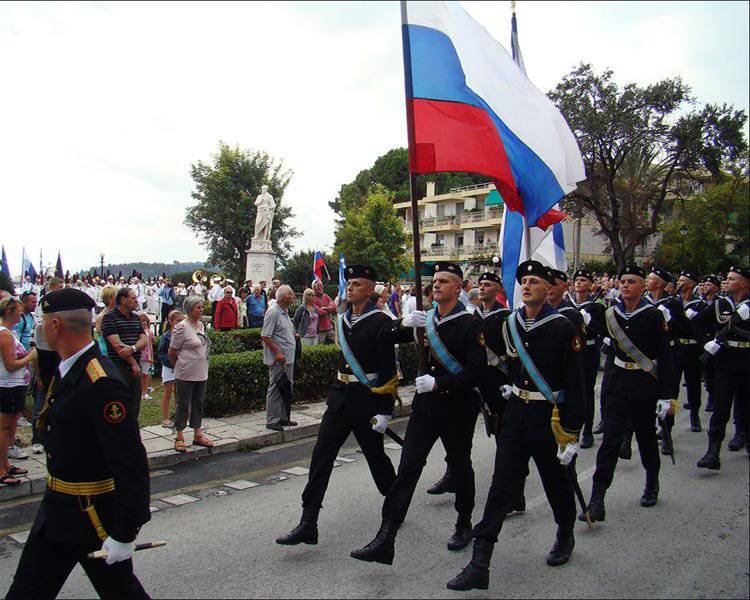 On the Greek island of Vido, opposite the larger island of Corfu (Kerkyra), a monument to the Greeks and Russians, "fallen for the freedom and Orthodox faith of their fathers", was opened. The ceremony was attended by members of the Corfu administration, Greek and Russian priests, as well as representatives of the International Public Forum "Russian Week at Corfu-2011". With their help, the monument was created and erected.
The graphic part of the monument consists of a bas-relief board, in the upper part of which is depicted an Orthodox cross towering above the fortress, as a symbol of two countries with a single faith. Under it in the foreground is a two-headed eagle with two sailboats instead of crowns: in the sense of meaning, this part of the relief symbolizes the Russian state as a defender of the Orthodox faith. Below, surrounded by anchors and sea waves, there is a plaque with the text: "Greeks and Russians who fell for the freedom and Orthodox faith of their fathers!
At the solemn opening ceremony of the monument, the mayor of Corfu, Ioannis Trepeklis, stressed that the installation of the monument on the historical island of Vido in honor of Admiral Ushakov confirms the long-standing friendly ties between nations. "For us, the legendary Ushakov is the liberator of Corfu and other Ionian islands from the French occupying forces," the mayor said. "We annually participate in the events of the Russian Week in honor of Ushakov, and this brings the nations closer together. On behalf of the Corfu City Hall, I want to assure that we will continue to support such honorable initiatives. "
Deputy Chairman of the World Russian People's Council, Chairman of the Writers' Union of Russia Valery Ganichev noted that Ushakov stormed the formidable artillery batteries on Vido Island in 1799 and forced Corfu, which was one of the most powerful in Europe, to capitulate. "Ushakov liberated all the Ionian Islands and created here one of the most democratic states of the time - the Republic of the Seven Ionian Islands, which became the first independent Greek state," he stressed.