The Russian army adopted a new fire equipment. We are talking about a special fire engine (SPM), created on the basis of
tanks
T-72 and T-80. The Deputy Minister of Defense of the Russian Federation Dmitry Bulgakov talks about the adoption of such equipment created at the Omsk plant of transport engineering (based on TASS materials)
TASS
):
A special fire engine was developed by the Main Rocket-Artillery Directorate of the Russian Ministry of Defense on the basis of the T-72 and T-80 tanks using their components and assemblies. It is designed to extinguish fires and rescue operations at arsenals, warehouses and bases for the storage of explosive substances, clearing aisles to fires, and laying firebreaks during forest fires.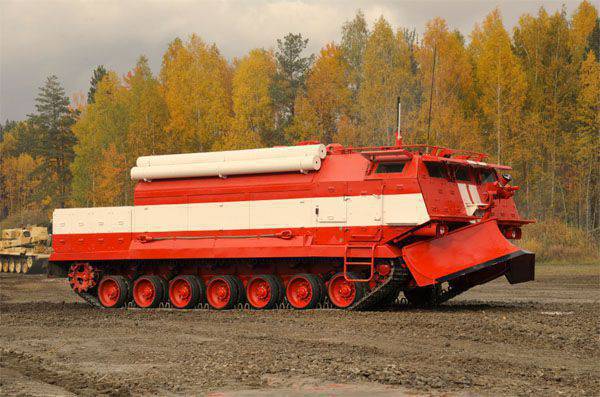 Next Wednesday (May 27) SPM will demonstrate its capabilities at the exercises in the Novgorod region.
SPM has the ability to extinguish a fire from a distance of 100 m, while the extinguishing processes can be controlled remotely. SPM is equipped with four surveillance cameras and two thermal imagers, which allows the crew to have a circular review of the area and identify fires at a significant distance.
The metal case is covered with a special refractory layer, which can maintain fire resistance for 2-x hours. If this layer is in contact with an open flame, a chemical reaction begins, increasing the layer in volume up to several dozen times. As a result, additional foam protection is obtained, which ensures minimal thermal conductivity. This allows the SPM to work while being directly in the fire center for its most effective localization with equally effective extinguishing.
The total mass of SPM is about 60 tons. The fire tank, as the manufacturers call the car themselves, is protected by removable armored screens as well as an armored cabin. Armored elements protect the crew from bullets and debris from a ground explosion. The maximum protection is against the expansion of elements of the 152 caliber fragmentation projectile mm.
The volume of water and other fire extinguishing agents is 25 cubic meters. SPM is equipped with a wedge-shaped blade for clearing the area and creating special firebreaks.