According to the central Russian media, Iran's supreme leader Ayatollah Ali Khamenei said that Tehran would not allow an "interview" with Iranian nuclear scientists. In his opinion, this is not a consultation, but an "interrogation": "They said that they should receive permission to interview Iranian nuclear scientists, but I said that this means interrogation." The 9 Channel (Israel) cites a statement by Yahya Rahim Safavi (Ayatollah's chief adviser). According to him, Iran has enough opportunities to "sow destruction in Israel."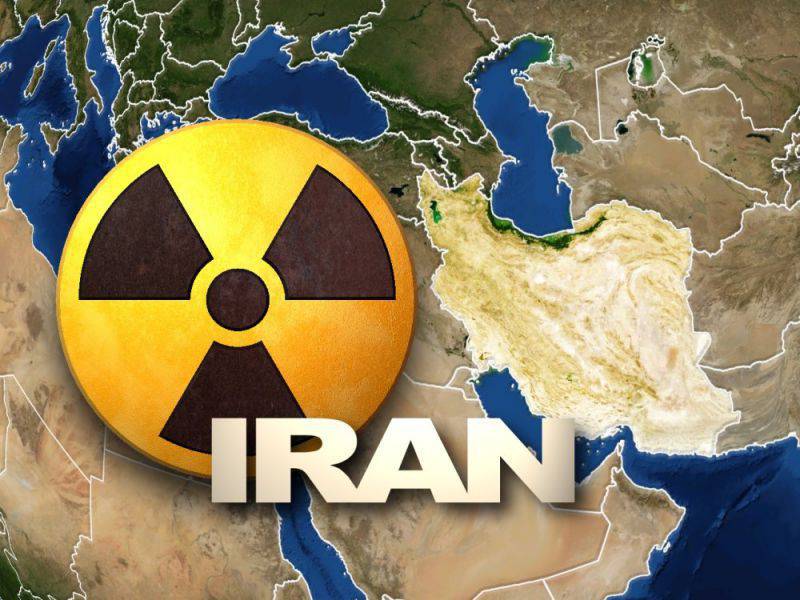 As is known, the representatives of Iran and the intermediary states (USA, Britain, China, France, Russia, Germany) are working on specifics of the agreement on the partial closure of the Iranian nuclear program. In exchange, Iran is counting on easing Western sanctions.
Recall that in April, the parties reached the so-called framework agreement. It was also decided that the final transaction should take place no later than June 30. At the talks 20 in May in Vienna, held with the participation of experts, the parties did not come to any breakthroughs.
It is very difficult to say whether the coming days and weeks will come. Moreover, during a speech to scientists at the Imam Hussein University in Tehran, quite a sharp statement was made by Ayatollah Ali Khamenei.
The spiritual leader of the Islamic Republic of Iran said that international inspectors would not have access to Iranian scientists and military facilities, whatever nuclear agreement was reached at the talks. According to him, which leads
"Voice of America"
Iran will not yield to "excessive demands."
RIA News"
cites other details of the Ayatollah's statement.
Iran's supreme leader said Tehran would not allow Iranian nuclear scientists to be consulted as part of negotiations on the Iranian nuclear program. "They said they should get permission to interview Iranian nuclear scientists, and I said that this means interrogation," the Irna news agency quoted the ayatollah.
Ali Khamenei developed his idea: "I will not allow foreigners to come and hold talks with scientists (Iran) who have knowledge of the country's nuclear technology." He clarified that "we will not allow interfering in the fields in which Iranian nuclear scientists work, and in other vulnerable areas."
Another very sharp statement by the representatives of the Islamic Republic of Iran leads the Israeli
9 Channel
citing the Iranian news agency FARS.
Yahya Rahim Safavi, chief adviser to Ayatollah Ali Khamenei, said that his country had enough capacity and resources to "sow destruction in Israel."
These words were heard in response to the statement of the Minister of Defense of Israel Moshe Yaalon. The latter noted that he would not allow "opening up to any front against Israel." He explained: "If someone plans something against us, we will destroy their bases and destroy the weapons."
In turn, Yahya Rahim Safavi also made an explanation: his state has tens of thousands of missiles, and their attacks "will wreak havoc in Israel." He clarified: "The Zionists and the United States know what the force of Iran and Hezbollah are." They know that more than 800 thousands of missiles are aimed at Tel Aviv and Haifa. We will turn Tel Aviv and Haifa into ruins. "
Such a harsh statement against Israel was continued. According to the same "9 channel", the Iranian ambassador to the UN in response to the above statements by Israeli Minister Moshe Ya'alon sent a letter to the UN Security Council containing, in particular, an indication that such statements by Israel "testify to the barbaric nature Zionist regime. "
In general, let us add on our own, it does not seem that diplomats would wholeheartedly strive to resolve the "nuclear problem" of Iran. It seems that the alleged deal of the West with Iran has not only many pitfalls, but also "surface" ones. Analysts rightly believe that the agreement between the West and Tehran already has quite a few opponents.
Gevorg Mirzayan in
"Expert Online"
writes: "The nuclear deal around Iran is still far from finalization, it has many obstacles and enemies in its way ..." But here's another question, the main one: what about Russia? What does Russia promise to lift sanctions on Iran?
According to the observer, the Europeans will try immediately after the deal and the lifting of sanctions to enter the Iranian market. As a result, they "will press both Russian and Chinese companies there." On the other hand, a significant (conservative) part of the Iranian establishment does not want close political and economic relations with the West. According to them, "the more Iran opens to the Western world, the greater the likelihood of a" color revolution "in the country that will wipe out the ayatollah regime."
One of the "fears" of Russia is associated with a possible increase in the oil trade in Iran. Iranian hydrocarbons will rush to foreign markets, which bring down prices. The Iranians really promise to increase the export of "black gold" after the lifting of sanctions. Again, no one can guarantee now that June 30 will occur step-by-step, and not completely lift the sanction restrictions.
There is one more "fear" of Moscow: some experts admit that with the release of Iran from the sanctions, Moscow will lose a significant share of influence in the Middle East. Yes, if Russia ceases to be a "non-alternative partner", this may reduce Moscow's presence in the Middle East, but the Russian authorities have recently found "alternative supports", and this is largely due to the position on Syria: Russia has managed to prove that it, unlike The United States, the Allies does not throw, reminds the browser. And today to Moscow, for example, Egypt. Moscow managed to establish working relations with Saudi Arabia and in general with the states of the Persian Gulf.
There are other opinions about what "threatens" the lifting of sanctions against Iran. He writes about it
Mixednews.ru
with reference to the analytical site
ftleavenworthlamp.com
.
After the intermediary countries reached an intermediary agreement with Iran, Russian President Vladimir Putin, recalls the site, signed a document on lifting the ban on the supply of anti-aircraft missile systems C-300 to Iran.
"Russia behaves as if Tehran and Moscow have become best friends who can afford to" do whatever they please, "especially given the fact that the final part of the nuclear treaty with Iran is still ahead."
Analyst Elena Kholodny (Elena Holodny) explains this "haste in Russia's actions" with probable fears of weakening its position on the world stage: after all, Tehran's relations with Washington may improve. And for good reason, an expert on the problems of the Middle East, George Mirsky, said in an interview with the Washington Post: "A few years ago, I heard one of our diplomats say that a pro-American Iran is more dangerous for us than Iran, which has a nuclear
weapons
... If you look at this total zero game, it turns out that the rapprochement between Iran and the West weakens the Russian position. " The expert's conclusion: "And in this situation, it is necessary to act preventively, before the implementation of the nuclear agreement begins, to demonstrate to Iran that we are the most reliable partner and the only great power you can rely on."
Another expert, international observer Konstantin von Eggert, believes that Russia prefers to see Iran under sanctions better than Iran, which is establishing economic ties with Washington. And just the delivery of C-300 means that Moscow is trying to complicate relations between Iran and the United States.
Also, Moscow does not want to reduce the price of oil, since Russia has a resource-based economy, believes Cold.
Finally, like other analysts, she admits that Iran is the key to political and economic influence in the Middle East for Russia.
Therefore, Moscow believes, the analyst believes that the improvement of relations between Tehran and Washington will inevitably lead to a weakening of its position in the international arena. And this is unacceptable.
But the most interesting geopolitical quirk occurred in connection with the Iranian "nuclear issue" in Saudi Arabia.
According to Yuri Zaynashev (newspaper
"Sight"
), it is not Iran, but Saudi Arabia (according to the British press) that thinks of acquiring a nuclear bomb soon. She needs a "bomb" to "counter Iran."
The Sunday Times, a British newspaper, reported on a strategic decision on the acquisition of atomic weapons from Pakistan, citing a senior American official.
Leonid Kalashnikov, the First Deputy Chairman of the State Duma Committee on International Affairs (KPRF), does not rule out such a development.
"If we allow such a scenario, it immediately explodes the entire Treaty on the Non-Proliferation of Nuclear Weapons. If you remember, the emergence of nuclear weapons from Pakistan was immediately followed by its creation by India, which remains its invisible enemy. The appearance of such weapons in Saudi Arabia is about the same path that Gaddafi used to go at one time, "Kalashnikov told Vzglyad.
Muammar Gaddafi, the deputy recalled, bought part of nuclear technology from Pakistan. "The West, having learned about it, offered him to surrender technologies - in exchange for a certain amnesty. This is what happened. They amnestied him for a time. They even kissed his hands - for example, Italian Prime Minister Berlusconi, and then they simply killed and abused him. Therefore, this path should be either direct, that is, one should not stop on it, as the example of Gaddafi showed, or it is better not to follow this path.
"For our country, this is an absolutely unacceptable way," admitted the first deputy chairman of the committee. "We perfectly understand: since we have concluded the NPT, we must adhere unequivocally to it, to prevent the spread of nuclear weapons. If this happens, then ordinary conflicts can simply lead to a nuclear war, which no one — neither we nor the UN Security Council — can stop. "
Thus, let us add on our own, the Iranian "nuclear problem", as they say, was awakened by a sleeping volcano.
Firstly, the mutual harsh statements of Israel and Iran have escalated. The words of Iranian representatives that "more than 800 thousands of missiles are aimed at Tel Aviv and Haifa" and threatening to turn "Tel Aviv and Haifa into ruins" in response to the statement of the Israeli Defense Minister about the "front against Israel" cannot be called a diplomatic exchange courtesy.
Secondly, Ayatollah Khamenei's reluctance to allow Iranian scientists to "interview" Western experts was quite categorically worded: "They said they should get permission to interview Iranian nuclear scientists, and I said that this means interrogation." And this means that Iran will not yield here.
Third, the international community is still preparing for some kind of agreement between the mediating countries and Tehran. Evidence of this, for example, is the "calculation" of the benefits or disadvantages of lifting the sanctions on Iran for Russia. Obama has long wanted to enter
history
as a peacemaker, and agreement with Iran is his "white dove".
Fourth, along with Israel, Saudi Arabia is nervous about Iran, and it is not the first month that frightens the planet by purchasing or developing its own nuclear weapons. Iran, freed from sanctions, would strengthen and become a powerful regional power. In addition, it is not a secret to anyone that today, Saudi Arabia has occupied Iran's share in the oil market, and it is in her favor to keep the sanctions against Iran to infinity. Finally, Yemen. Riyadh and Tehran support opposing sides in the Yemeni war.
Hopefully, this politician's Gordian knot will nevertheless be untied, and not cut.
Observed and commented on Oleg Chuvakin
- especially for topwar.ru