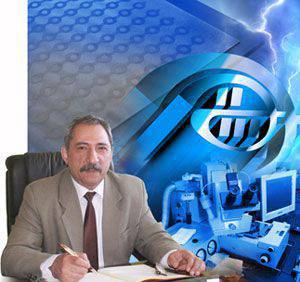 JSC Research Institute "Elpa" is a Russian company producing products from piezoceramics, quartz, niobate and lithium tantalate, which have no analogues. Sergey Nersesov, General Director of the Research and Development Institute "Elpa", told the reviewer of the Military-Industrial Courier about the better Russian gyroscopes on the piezoelectric effect and how they measure the level of oil in tanks.
- Sergey Surenovich, this year your enterprise celebrates its anniversary. Let's start with
stories
"Elpy." What tasks did your enterprise have then?
- The idea of ​​creating an institute investigating the issues of piezotechnics appeared a long time ago. At the end of 50-x - the beginning of 60-s, when in the Soviet Union there was an urgent need for domestic production of piezoceramics and devices based on them, the Council of Ministers was tasked to start production of this material. At that time, the main task was to provide our submarine fleet with, so to speak, "eyes and ears" - hydroacoustic complexes. Even then it became obvious that without a piezoceramic device the task could not be solved.
As part of the NPO "Phonon" (now this scientific association, unfortunately, no longer exists), a group of specialists were allocated a laboratory, as well as several production facilities for conducting research and pilot production of the first domestic piezoceramics. Despite the complexity of the task, the scientists coped fairly quickly and in a short time were able to begin the synthesis of new materials. But taking into account the required volumes for the production of piezoceramic products, it was decided to create a full-fledged production. From this moment on, the scientific research institute "Elpa" and leads its history. Initially, we were a branch of the NPO "Phonon" with the plant "Piezoelement", but later became a completely independent enterprise.
For the first time, the production was adjusted in the inactive boiler room of the village of Kryukovo. Later, the first and then the second corps were built. Currently our production site is 25 thousand square meters. But we saved the very first production building in the boiler room. Moreover, now there are modern high-tech lines for producing piezoceramics.
- It's time to tell our readers what piezoceramics is and where is it used in addition to underwater acoustics?
- Piezoceramics refers to ferroelectric materials having piezoelectric properties. Most modern piezoceramic materials are based on zirconium, titanium and lead oxides - PZT. During the synthesis of piezoelectric ceramics, a polycrystalline structure is formed from numerous crystal blocks (domains), each of which consists of a set of unit cells (dipoles) and has a perovskite-type crystal structure. In the process of polarization (the effects of the electric field of direct current) dipoles are oriented in the direction of the field and retain their orientation after the cessation of exposure. If you can put it that way, remember the orientation. In the process of polarization, ceramics acquires piezoelectric properties. The direct piezoelectric effect consists in the fact that during mechanical deformation of the piezoelectric sample, oppositely charged electric charges appear on the opposite faces. Reverse piezoelectric effect - when a voltage is applied to a piezoelectric sample, its linear dimensions change.
Thin matter for extreme cases
Andrei Sedykh collage
If we talk about the practical side of things, today piezoceramic products are in demand in various areas of the national economy, including the nuclear industry, defense systems, including for the already mentioned sonar problems in the aquatic environment. Used in the oil industry. In particular, piezo-ceramic products are used for logging oil wells, in systems for ultrasound diagnostics and monitoring of pipelines and oil storages.
I would like to note that the production of piezoceramics, as well as sensors and sensitive elements based on it, exists in just a few countries. In the US, a good scientific school, scientists have a certain weight in the world. American companies that produce piezoceramics and products based on it, conduct an aggressive business policy.
Piezo-ceramic works are also being carried out in Europe, primarily in the Federal Republic of Germany. The German company "Physic Instruments" occupies one of the leading positions in this field. Japanese work with piezo ceramics in the Asian market, and recently the Chinese have received good results.
Last year our specialists were at the exhibition in Hannover. To be honest, we traveled, as I say "to intelligence": to understand whether we are going in the right direction and what can be learned from our foreign colleagues. I will say without false modesty: our products are not only in no way inferior to the American, and even more European, but in certain aspects are better. So we are going in the right direction.
It is necessary to understand: everything that concerns piezoceramics is quite closed. Manufacturing companies do not advertise their products, their parameters, and even more technology.
- But still, what can you say about your products?
- Our material works in the temperature range 360 degrees. But the experts of "Elpy" drew attention to the fact that our foreign competitors have some progress in moving to higher rates. For what? First of all it is necessary for engines and rocket planners. Products with such piezoceramic elements can be used in a nozzle control system, as vibration and pressure sensors.
Assessing the trend, we decided not to limit ourselves to traditional zirconium, titanium and lead dioxide, but to experiment with new materials. In particular, three years ago began to experiment with scandium dioxide. Using it, we got piezoelectric elements capable of operating in the range up to 450 – 500 degrees. But this is only the beginning - maybe we will go to 700 degrees. They compared it with European and American products and realized that we were going with a certain lead.
I want to note that high-temperature piezoelectric elements were made by order of Rosatom. Specialists from Sarov needed sensors for reactor cores, and in this matter we helped them.
But the pride of our company is thin-layer piezo-ceramics. A layer is made from 10 to 100 microns thick, and from such layers a piezopack is created, reaching thickness from 2 to 100 millimeters. Piezopaket when a certain potential is applied to its structure can make quite large movements, in some cases up to 100 microns.
It is noteworthy that if the control of solid ceramics requires the application of a potential of up to one kilovolt, then for thin-layer ones, from 90 to 150 volts. In fact, we are "priboristam" give manage lower-voltage processes. And this is less loss and better security.
Back in 2006, we realized that there was an active work of physicists in the world in the direction of creating thin-layer piezoceramics. With 2007, they themselves began work in this direction. True, we had to buy equipment abroad. Then in Russia there was nothing like this.
And what do you think?! Nobody sold us the necessary equipment. Neither the Americans, nor the Germans, nor the Israelis. Everything, understanding for what this technique was for us, depicted complete bewilderment. That is to say, they imposed a tacit veto.
But we found options. We were met by our fellow Slavs from the Slovenian enterprise KEKO. The Slovenes have already manufactured what we need for the German Bosch and Siemens. Although we were immediately warned: we will give the equipment, but not the technology. But having bought the equipment, we literally in three years, starting in the crisis 2008 – 2009, almost from scratch, we ourselves have developed and mastered the production technology of thin-layer piezoceramics. At present, "Elpa" is the only manufacturer in the Russian Federation of thin-film piezoceramics and the so-called actuators created on its basis, which we have been offering on the market since 2011.
- What is thin film piezo ceramics used for?
- First of all, for the actors I have already mentioned. That is, precision devices for extremely precise movements. On their basis are created manipulators for systems of precision optics, adaptive optics and, of course, for avionics.
In precision optical systems, there are so-called steppers, projecting the image through photomasks on silicon wafers. But in order to maintain the alignment and combine layers, requires particularly precise movement of the desktop. So the focusing of the beam fed to the photomask, and its movement provide just the actuators.
In systems of adaptive optics of high-power laser systems with the help of actuators they correct amplitude-phase distortions and divergences of laser radiation when it propagates in space with the help of adaptive mirrors, constructively made in the form of a mosaic consisting of fragments with varying surface geometry. Their movement is carried out using accurate high-speed drives - piezoelectric actuators. They provide linear displacements in the 20 – 100 micrometers range with an accuracy of 0,01 – 0,1 percent.
Such laser systems are created in the interests of Rosatom to control the process of thermonuclear fusion. From the three points, a beam is generated in the active zone of the simulations of a nuclear explosion, creating a temperature of millions of degrees, which is necessary for carrying out the synthesis.
We have found application to actuators in the civil sphere as well - for diesel fuel injection systems. Today, these devices use a magnetic-striction effect. This is a difficult process, sharpened at certain frequencies. Manage it is quite difficult.
We offer a so-called syringe with a piston installed in it. With a frequency of 100 – 150 hertz, he injects a thin stream of fuel directly into the nozzle. I want to note that in addition to our company, only Bosch manufactures such products. The Germans are already supplying their nozzles for Ford and Citroen cars.
When we manufactured our syringe and tested it, we tried to buy a nozzle from German manufacturers, see, disassemble, and most importantly, compare. Nothing like this. Do not sell it to the Germans alive. And the "Boshevsky" jets themselves are assembled in such a way that it is not so easy to disassemble, and our specialists literally with a hacksaw, using special methods, so to speak, got there and looked at how German actuators are arranged. Compared. I want to say that even though we started from scratch, and similar systems, unlike Bosch, did not do before, our products, to put it mildly, turned out to be just as good as German ones.
They went to the Moscow and Yaroslavl engine builders. Initially, we were treated with suspicion, they even said that this was impossible, but over time they figured out. Now the motorists in Barnaul have already begun trial attempts at mass production with our products.
But for now our main customers are the Rosatom enterprises. Although Roscosmos became interested in our work. We must understand that all our products are radiation resistant.
I note that our actuators are now used in
aviation
, in optical-location stations and hanging sighting containers.
Not so long ago, the actuators for such products were purchased abroad, in particular from the German "Physicist Instruments". But last year the Germans stopped these deliveries, understanding for what purpose their products are used. Manufacturers immediately came to us. Well, we can not leave our native Su and MiG without such important systems!
Literally in half a year, we made piezodrives with the necessary parameters, and from 2016 – 2017 we start supplying them. Today, our specialists, together with the developers of KB-1, create the so-called piezo servo controller, which will control the actuators, and all together this is already a piezoplatform.
Another significant area is the development of various sensors and transducers. For example, a number of unique angular velocity sensors or gyroscopes were created. The features of these sensors are small overall dimensions, radiation resistance and resistance to mechanical overloads. The developed sensors are currently used in optical guidance systems for aircraft missiles, in a torpedo
weapons
satellite dish positioning systems. Due to its unique properties and high quality characteristics, our sensors became interested in the MV Khrunichev Research and Production Center, which is part of the Russian Space Agency. We plan to complete the work on the development of sensors for launch vehicles in three and a half to four years.
I want to note that the creation of gyroscopes on the piezoelectric effect is one of the ultramodern, so to speak, global scientific trends. A lot of serious companies, mainly from the USA and Germany, are currently working in this direction.
Our experience of recent years shows that often domestic developers do not even know what products, technologies and technical solutions appear in our country! Therefore we go one step ahead. We develop products and, realizing that designers will need it soon, we come to them ourselves. We tell, we give samples for experience. Let them necessarily test them, scroll through their heads where they can apply, create at least a certain toolkit as a first approximation, and then try to incorporate them into their structures. Yes, the process is not easy, but such work is underway and often we initiate it.
- And yet, as I understand it, the production of elements for hydroacoustic complexes remains one of the most important areas in the work of scientific research institutes?
- Since the 60's, we have been cooperating with such enterprises as OJSC Concern Okeanpribor OJSC and Marine Concern Underwater Weapons - Hydropribor OJSC OJSC, Aquamarine OJSC, Atoll Scientific Research Institute, as well as the Engine Plant . These are our regular customers. Without revealing military secrets, I can only say one thing: many samples of Russian mine-torpedo weapons are equipped with guidance systems where our piezoceramic products are used. Highly sensitive, deep-sea piezoelectric modules are used in autonomous sonar systems for the long-range detection of underwater and surface ships.
Hydroacoustic phased piezoelectric antennas for receiving and transmitting an acoustic signal are installed in ship's sonar stations.
A promising development of a new class of piezoceramic materials, composites for submarine stealth technology, has now been completed. With such materials, it becomes possible to develop so-called cover antennas capable of distorting the information that enemy HAS receive, irradiating our submarine. We can take their signal, convert it, and then release it back. In fact, the boat becomes invisible to the enemy. And this is not a fantasy, but a reality.
The Advanced Research Foundation took our proposals for creating cover antennas under our control. I will open the secret: together with Oceanpribor and the Central Research Institute of them. Academician Krylov, we have already begun research work, and soon we will move on to the experimental design. On the topic "Corsair", this is the name of the research, we make the emitter based on new piezoceramic materials for Ocean Pribor, and a little later the Krylov Institute should be connected - they will think how to fit cover antennas in the submarine lines. The technical assignment for the Corsair has already been prepared and approved by the Ministry of Defense, and we plan to complete the R & D by the 2017 year.
- You mentioned that your products are used in the oil industry.
- An important activity of the Elpa Research Institute is the production of piezoceramic elements used in oil well logging equipment. Due to the piezoacoustic wave emitted by the transducer, a powerful field is created that breaks up the paraffin plugs in the well. They collapse, and oil begins to flow more actively.
Now we are actively working with Transneft. Before the introduction of sanctions last year, our oil industry workers were accustomed to buy all devices abroad. It's no secret that it was profitable and convenient: high quality, good electrical equipment parameters. And now Transneft has turned to Russian companies.
Oil storage tanks are huge tanks with a diameter of up to 100 meters, and they need to be constantly monitored behind them - to determine the level of the liquid. For this task, a special sensor has been developed, which is placed on the top manhole cover.
It should be understood that in addition to the level of the liquid, it is also necessary to determine the volume of deposits. From oil, heavy ingredients are released, which are deposited on the bottom, forming the so-called sludge containing sand and asphalt fractions. All this needs to be monitored.
Monitoring of the reservoir surface is also important. After all, the enormous capacitances during an earthquake, under thermal effects, and under wind load begin to undergo a deformation, which can lead to a disastrous result. Ecological consequences are clear to everyone.
For monitoring sensors we offer our piezoceramic elements. We work together with KB-1, which develops a software package that uses a sonar signal.
- OJSC "Elpa" produces important products for Russian air defense systems, in particular C-300, C-400 and even C-500. Could you tell us more about this area of ​​work?
- We make the so-called resonators, from which frequency-selective modules are then created, as well as generators with extremely low level of phase noise. True, all these products are not from piezoceramics, but from quartz, niobate and lithium tantalate. This is the so-called acoustoelectronics. Moreover, to this day we are not only the leading, but in fact the only enterprise in Russia working with acoustoelectronics at extremely low phase noise.
Unlike piezoelectric ceramics, it is created on the basis of an already finished element — artificial quartz or niobate and lithium tantalate. Such crystals have all the desired properties, just need to cut in a certain direction, and the plate will work.
An acoustic wave can propagate in the surface and surface layers of quartz elements. An interdigital structure is created, a metal grid is sprayed onto the substrate, on the one hand radiation, and on the other hand reception. And directly in the surface layer is the selection of the frequency that we need.
By now, we have already made products for the C-500 complex, and the work began in 2008. For three years, we have done all the work for the Vityaz complex, and last year we supplied the complete sets of our products for Morfeya.
Another of our regular customers is NPO Strela. We make artillery intelligence radars. Especially for these products, we carried out R & D to create a generator with a wide range of tuning and restructuring taking into account the specifics of artillery reconnaissance radars (their ranges should be much wider than for air defense systems). The work has already been completed, this year we will be ready to transfer the first samples to the customer.
If we compare our acoustoelectronic products with foreign products, then again we not only do not concede, but in certain directions and are ahead. The parameters that are set in our products, almost no one can reproduce.
For example, our generators have high frequency stability up to ± 2,5х10-8, a small frequency drift value for 10 years to ± 3х10-7 with a low level of phase noise up to 135 dB / Hz at a frequency up to 2 GHz. Thanks to this, Russian designers can design excellent radars.
- At the present time, the training of young professionals is of great importance. How is this work organized at your enterprise?
- We opened the department, as well as the scientific and educational center together with Tver State University, from there we recruit young specialists. The department is already three years old, and during this time five people came to us. Of course, it is necessary to select strictly, because the level of our company requires a very high. The graduates of MEPI, MSU, MGIET come to us.
Also, we have organized the work of the council of young specialists, with the help of which novice engineers adapt more quickly in a team and master their profession.
- Sergey Surenovich, "Military-Industrial Courier" congratulates you and your company on your anniversary. We wish Elpa OJSC to continue to occupy a leading position in its field, as well as to produce unique, unparalleled products in the world!
- Thank.