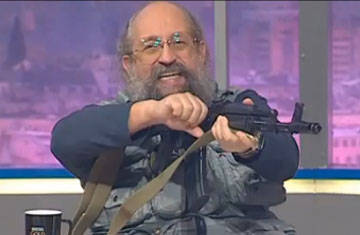 Something about a deserted defense. On Tuesday, the Russian military refused to buy even the latest versions of the Kalashnikov assault rifle, which has been continuously improved for the seventh decade.
September 27 Chief of General Staff Nikolai Makarov said: the Ministry of Defense decided not to buy AK-74. According to him, our reserves are tens of times greater than the needs, and the machine itself is no longer satisfied with the troops. Plant "Izhmash" to replace the hundredth series is developing a fundamentally new
weapon
. New machine promise to submit at the end of this year.
Kalashnikov rifle lives 10000-12000 shots. True, the American M-sixteen gives 86000. But ten times more expensive than AK: for the same money you can shoot more from AK. And in terms of ease of maintenance and reliability of work in the most inconceivable conditions, our weapons have no equal at all. No wonder it is valued throughout the world.
A group of designers led by Mikhail Kalashnikov won the 1947 competition in g. Two years later, large-scale production began. AK became the basis of a large family of military and civilian weapons of various calibers. It is included in the Guinness Book of Records as the most common small arms: its variants comprise the 1 / 7 of all small arms in the world and are in service with 106 countries.
If, as in the late Soviet time, there are only nine rounds of ammunition fired for the whole period of service, then there really is enough stock for our age. If we hope that the nuclear power is not touched, then there is no need to shoot at all, but we just need to bring new missiles to mind.
But against the strong there is a salami strategy. This sausage is cut so thin that the slices shine through. So the claim to a nuclear power is broken down into such petty inquiries that each time it seems easier to concede than to plunge the whole world into a fire. We have already reached out: NATO is a couple of hours drive from Kaliningrad and Minsk.
With non-nuclear resistance, the people cannot do without. This means that it's necessary to save weapons not for the army, but for the whole nation.
The Kalashnikov assault rifle was created from the experience of the greatest war, where tens of millions of inexperienced recruits fought. He gives a novice a good chance even against a professional. When for the first time after the naval department I have to shoot in a queue, a reliable Kalash will be better than newfangled wonders of technology.