Many Kiev residents took 9 May to the street with St. George ribbon and other Soviet attributes forbidden by the President of Ukraine, reports
PolitNavigator
.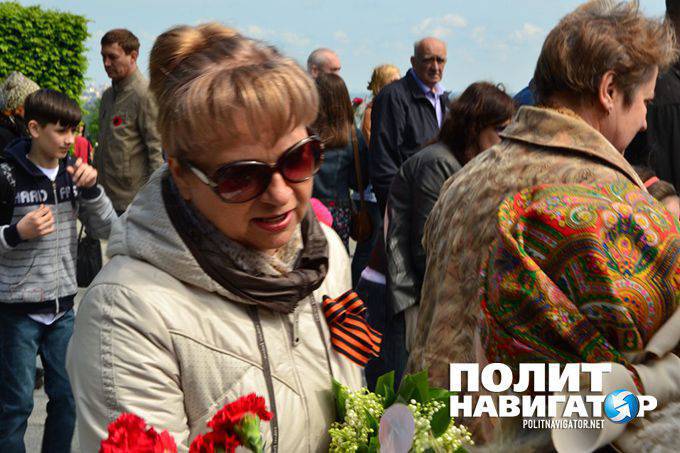 The Victory Day began with a scandal: people were not allowed to the Eternal Flame, because a flower-laying ceremony was to be held there with the participation of the President. At first, however, several people and accredited journalists let through the framework of the metal detectors, but then the command to close access was received. People began to resent.
"Bandits, what are you doing? Every year we carry flowers here, and now we have to wait for something, "the Kiev residents were indignant.
Security officers in response asked citizens to cross the street and wait there for the end of the official ceremony. After that, some began to make claims of a political nature.
"We were tormented with social problems by 24 of the year, then they staged a war and propagandize it, which is prohibited by the Constitution," the woman with flowers threw protection. "And now Victory Day has been taken from us."
"Yes, we do our work," they justified in a cordon. "There is a law of Ukraine on state protection, you can go online and watch."
After some time, accompanied by a guard Poroshenko smiled out smiling. People complained that they were not allowed.
"Nothing, we will go to you then," said the president, then got into the car and drove away. After this, the framework was taken away and opened free access.
"It is worth noting that some people were not afraid to come to the Eternal Flame with orange-and-black ribbons attached to their clothes, the wearing of which in Ukraine actually equals to the support of separatism and terrorism," the newspaper writes.
On some there were caps with a banned red star with a hammer and sickle in the center, others were holding balloons with the image of the Victory Banner. There were red flags, posters "Thank you grandfather for the victory," and photos of relatives killed in the war.
Not done, of course, and without excesses. "Young men in camouflage with stripes" OUN "on Glory Square attacked people with red flags. Nevertheless, a part of the banners was brought to the Eternal Flame, "the politNavigator correspondent reported from the scene.