National Security Council approved yesterday the National Security Strategy of the state before 2020 g, which is the main document in the field of defense planning, reports
Interfax-AVN
with reference to the press service of the National Security Council.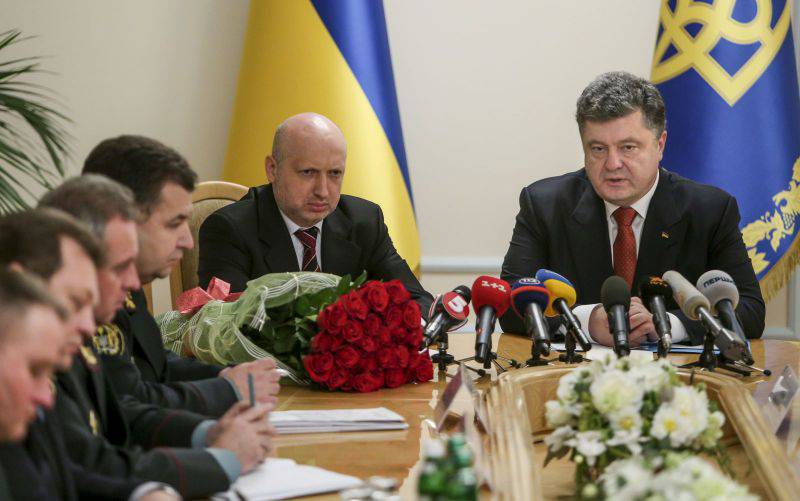 "The main thing in the strategy is the creation of a new system of ensuring national security and defense, capable of guaranteeing the state sovereignty and territorial integrity of Ukraine against the whole complex of possible threats, above all, against armed aggression," the release said.
According to the information, "The strategy is designed to implement the priorities of the national security policy prior to 2020, as well as the reforms envisaged by the Association Agreement between Ukraine and the EU and the Ukraine-2020 Sustainable Development Strategy".
"Also, the National Security Council considered the issues of strengthening the state's defense and taking additional measures to ensure it. Carefully analyzed military threats and possible scenarios for the development of the situation, developed operational measures to counter military aggression, "- said in a statement.
In addition, the Council "made a decision on the development of the potential and control system of the military-industrial complex, providing the Armed Forces and the National Guard with modern armaments and military equipment of domestic production, and improving missile technologies."
It was also decided to strengthen the fight against crime. "The complex of urgent measures to combat crime will primarily be aimed at the prevention and investigation of especially serious crimes using firearms
weapons
such as premeditated murder, banditry, unlawful deprivation of liberty, raiding. "
Earlier, when presenting the draft strategy, the secretary of the National Security and Defense Council Turchinov said that the document, among other things, "attributes Russia's aggressive policy to the main threats." Other threats, he said, are "corruption and an inefficient system of government, the economic crisis, the limited financial resources of the state and the decline in the standard of living of the population."
Turchinov noted that the European and Euro-Atlantic integration remains a priority for Ukraine. "We see in NATO membership the only reliable external guarantee of state sovereignty and territorial integrity of Ukraine," said the NSDC Secretary.
He also said that Kiev is working on the resumption of missile protection. "The focus is on the resumption of the Ukrainian missile shield. Such work is carried out without violating our international obligations, "he said, without specifying what kind of work is being done in this direction.