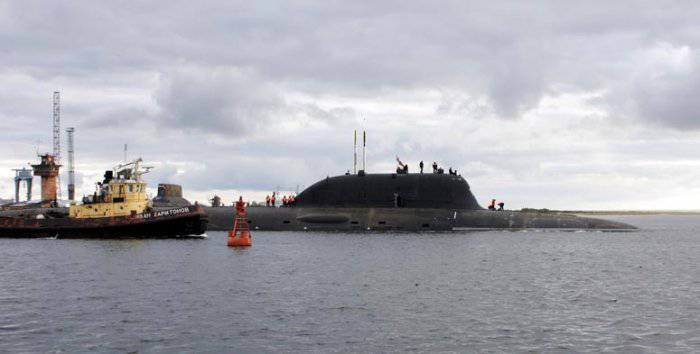 The head multipurpose nuclear submarine (APL) of the new generation Severodvinsk (project 885 "Ash"), built at the Sevmash defense shipyard (Severodvinsk), returned to the pier of the company from the first test trip to the sea. This ITAR-TASS, said a specialist press service of the plant Elena Makovetskaya.
According to Valery Dobrovolsky, the responsible deliverer of the ship, the first exit of the submarine at the factory test was successful. "Testing of the systems and systems of the ship carried out in accordance with the plan," - he said. After eliminating all the identified comments, the Severodvinsk nuclear submarine will again go to sea.
The K-329 multipurpose nuclear submarine Severodvinsk was designed by the Malachite engineering bureau in St. Petersburg and laid down at Sevmash in 1993. The ship was launched in June 2010. As the shipyard representatives explained, the long construction period of the submarine was due not only economic difficulties, but also fundamentally new architecture of the corps and the weapons of Severodvinsk.
According to data from open sources, Severodvinsk is a single-shaft dual-body submarine with a reduced level of acoustic field. For the first time in the practice of domestic shipbuilding, torpedo tubes are located not in the bow of the submarine, but behind the central post section, which made it possible to place a large-sized hydroacoustic antenna in the nose. The armament complex includes supersonic cruise missiles (eight vertical launchers), universal deep-sea self-guided torpedoes and mines. The ship also received the latest communications and navigation systems, equipped with a fundamentally new nuclear power plant. The ship's displacement is 9,5 thousand tons, the length is 120 m, the maximum depth of the dive is 600 m, the speed of the full submerged stroke is the 31 node (about 57 km / h). The crew of "Severodvinsk" has 85 people.
According to the command of the Navy, "Severodvinsk" will replenish the Russian fleet in the current year. In July, the 2009 in the building workshop of the Sevmash laid the second submarine of the 885 project, the Kazan. A total of six submarines of this type are planned.