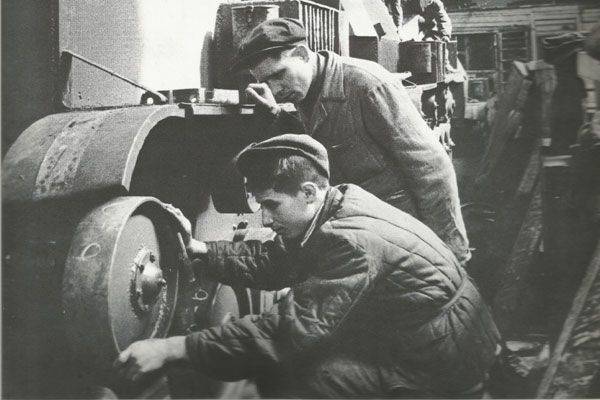 In the rear, too, there was enough space for feats. And they were. We won 70 years ago also because our industry was stronger than the German one. Although Hitler worked all occupied Europe.
So how was the economy of war organized? How did it differ from the German one? What role did money play then? How did the evacuation of enterprises actually take place? And what was the main trump card in the struggle of factories for personnel?
Arseny Yermolov, a military historian and associate professor of the Higher School of Economics National Research University, told Rossiyskaya Gazeta about this.

What is the Soviet economy was stronger than the German, Arseny Yurevich? In Germany, too, they knew how to cast guns instead of butter.
Arseny Yermolov: You know, you can't make a gun out of butter. Here works another thesis: "a gun instead of a butter factory."
In the USSR, engineering, metalworking almost completely reoriented to military needs, from the production of ammunition to tank building. It was a big loan from the future. One can imagine what growth the economy would show in 40-50's, if not for the war.
And in Germany, such a mobilization of the economy was carried out far from immediately. And that is why, even despite the successful launch of 1941 and 1942 campaigns, she did not have the strength and resources to "crush" the USSR.

Summed up overconfidence?
Arseny Yermolov: Yes. The Germans had a no less powerful economy than ours, in many respects even better. But Hitler and the German generals, up to 1942, retained the conviction that Russia could be defeated in a short time. So, they thought, no need to turn to the methods of economic warfare. Therefore, before the Battle of Stalingrad, Hitler continued to create an industrial base for the future economic spurt of Germany. And, for example, the Germans increased the production of metalworking machines.
It didn't help them win, but it helped a lot after the war, because even after paying reparations, they had more machines and other equipment left than they did in 1939.

Money does not matter
What did money mean in war economy?
Arseny Yermolov: In many ways, it was an economy without money. Of course, they did not disappear, the tank was not simply transferred to the troops, it was paid. But financial issues have faded into the background. The enterprises understood that, if necessary, the state would cover any losses, because it has no other way out.

So, nobody thought about cost reduction?
Arseny Yermolov: They just took care of this, but it was called otherwise: reducing labor intensity and material intensity. After all, if money was easy to get from the state, then people, equipment, raw materials are much more difficult.
If we look at the documents of those years, we see that the disputes go for the distribution of materials, fuel, equipment and labor. And the decisions of the State Defense Committee were devoted to this, and not to financing.
By the way, at first the financial position of enterprises was very favorable. Many began to receive excess profits. She, however, was taken from them. But then, in 1943, selling prices were lowered, and then many businesses became unprofitable.
Behind Beria
An episode was described in the Clergyless Notes of the former Prince Sergei Golitsyn, when the military construction part, which during the entire war had to make boards with a hand saw, stole the power-saw bench from another Soviet part. And the commander presented the case so that it was destroyed as a result of an airstrike. But then the deception was revealed, and the real owners of the machine returned it by force. Such anarchic methods of fighting for resources in the rear was not practiced?
Arseny Yermolov: Similar cases were during the evacuation at the beginning of the war, partly in 1942 year.
Many business executives sought somehow to intercept and accommodate the cargo that went in trains to the east. All this was submitted under the guise of the use of "undocumented" cargo - they say it is impossible to establish whose direction they are going to and where.

Raider seizure?
Arseny Yermolov: Yes, we can say that it was a raider seizure of equipment. And the staff at many evacuated enterprises was scattered for a large number of industries, but this happened for a variety of reasons.

And in relatively stable periods of war, how were resources distributed?
Arseny Yermolov: Centrally. There were conflicts between departments about this, and usually they were resolved by someone from Stalin's inner circle - Molotov, Beria, Malenkov, sometimes the head of the State Planning Board Voznesensky was connected to this.
In fact, they were both intermediaries and lobbyists, and from this point of view, Lavrenty Pavlovich Beria, of course, showed himself the most successful. By the end of the war, he became the chief arbiter, and this largely explains the growth of his influence. Despite the fact that he was heavily pushed away from the leadership of the internal affairs bodies.

Was there a competition for personnel, too, or were the workers and engineers attached to the factories?
Arseny Yermolov: Competition for people, of course, was, like for any other scarce resource. It was impossible to apply for resignation and switch to another company.
But transitions happened. And the main trump card in the fight for personnel was the fact that the enterprise had a subsidiary farm, either from the pre-war times or from the 1942 year, when there was a massive distribution of state farms to subsidiary farms. By the end of the war, such subsidiary farms used 5 of millions of hectares of agricultural land.

That is, not all food was distributed on the cards?
Arseny Yermolov: No, of course. On one card it was impossible to live. Subsidiary farm meant additional rations, dining room with enhanced nutrition.
Since people were on the verge of starvation, this increase very often meant the difference between life and death. Many of these farms simply saved.

How did people go to another job if it was prohibited?
Arseny Yermolov: They took, for example, a passport for registering relations in the registry office or for receiving money in a savings bank. And disappeared. The authorities tried to fight this, but the departmental interest ultimately prevailed. And the new leadership of such "defectors" in different ways cover.
Great resettlement to the rear

Let's return to the evacuation. Provided that it can be so big?
Arseny Yermolov: Of course, evacuation plans were not designed for catastrophic defeats of the Red Army.
They covered a small area. Moreover, their goal was not the rescue of production, but the unloading of transport hubs for military goods: the evacuation of only civilian enterprises was assumed. Therefore, for example, the tractor shop was first taken out of the Kirov factory of Stalingrad.
The first attempt to formulate a real plan is the July decision of the State Defense Committee N99. It affected the border zone, Dnieper, Leningrad and Moscow. Interestingly, in Moscow this plan included enterprises
aviation
industry, and
tank
industry - no. So it was in other regions.

What is the reason?
Arseny Yermolov: Apparently, this was determined by the position of the departments. In July, 1941, no one had imagined that the Germans would reach Moscow. Just someone worried about airstrikes, and someone not.
But the July plan was short-lived. Then every major failure at the front led to a wave of orders for evacuation. Often decisions were delayed, as a result, the very "undocumented" goods appeared.

How were the sites for evacuated enterprises chosen?
Arseny Yermolov: For example, in the Urals there were many empty workshops, almost built, but not yet commissioned. Of course, a serious enterprise cannot be transported to a clean field, as it is sometimes presented.
During the war, 1,5 evacuated thousands of large enterprises. This required 1,5 million carsHow long did it take to dismantle before starting production at a new location?
Arseny Yermolov: An interesting question. You can bring a stock of parts, clear the place for the poster assembly, collect several units and declare the beginning of work. But to reach the pre-evacuation level of production required six months from the start of the evacuation.
Due to the effect of scale, continuous improvement of technology, these indicators quickly overlapped.
Return to the citizen
When did you think about conversion and was there a general plan?
Arseny Yermolov: It all began in many ways spontaneously, in 1944. By this time we had a very large complex, one and a half thousand enterprises for the production of ammunition. It was already redundant.
Let's say, obviously it was not necessary to have such a number of 82-mm min or 76-mm projectiles. Here it was possible not only to save and reduce production, but not to increase it. And by increasing efficiency, increasing output in some enterprises, transfer others to civilian products.
And 1944 year - is a series of liberation of Soviet cities, which had to be restored from the ruins. Huge demand for building materials, for products for public utilities. And I must say that the majority of these 1,5 thousands of enterprises retained their branch subordination, that is, they worked for the People's Commissariat of Ammunition, but were not under its jurisdiction. And they were interested in getting rid of this dependence.

So the Commissariat of ammunition, probably, was against?
Arseny Yermolov: Of course. As a result, the matter fell to the same Lawrence Pavlovich. In some cases, the People's Commissariat of Ammunition was able to defend production, in others it was not, and slowly production facilities began to be withdrawn from him.

And spontaneous conversion went ...

Arseny Yermolov: Yes, in many respects the initiative came from the "bottom" - from local party and economic leaders, from departments, sometimes directly from directors of enterprises. Especially Moscow was different in this respect.
Everyone knows that war always begins suddenly, but I have the impression that the world was also sudden. Because the victory took place, and there was no plan to transfer the economy to a peaceful regime.
Instead, in May, after the capitulation of Germany, two resolutions of the State Defense Committee on the reduction of the production of ammunition and armaments were issued. Very strong, several times. At the same time, they still did not touch the tank and aviation industry.
And the question arose: what should they do? Apparently, it was assumed that they would return to the release of their pre-war products. But here's the problem: some of these enterprises were already engaged in military production before 1941, equipment changed on others. Many enterprises had nothing to return to.

So that they themselves were asked to choose their new specialization?
Arseny Yermolov: In fact, they were forced to do it themselves.

And where is the planned economy, over-centralization? Where was Gosplan?
Arseny Ermolov: Gosplan just sat down at the plan. But while he is compiling it, enterprises already had to do something. And there were ideas to fire workers on vacation and give them housing loans. But not everyone could afford such maneuvers to do. As a result, they began to look for themselves.
Actually, even the most prudent directors during the war assumed such an incident and thought through what they would do after the victory.

So after all, there was little to think about; it was also necessary to ensure our own production with design developments ...
Arseny Yermolov: Absolutely. Some enterprises still in 44 created at their own risk and risk special design offices that worked on civilian developments. For example, Uralvagonzavod in Nizhny Tagil, Uralmash in Sverdlovsk.

It turns out that planning in a planned economy turned out to be a weak link ...
Arseny Yermolov: Yes. But this was partially offset by a local initiative. By the way, the Americans, oddly enough, it was the opposite: before the end of the war there was a careful plan, but still after the victory many military manufactures were sold at the price of scrap metal. There were no enterprising people who would buy them at a price slightly higher than scrap metal and tried to use it in some other way.

So when did the general plan of conversion in the USSR appear?
Arseny Yermolov: It was laid down in the first post-war five-year plan, which began to operate from 46. Six months it was the heads of enterprises to determine their own destiny. Someone, of course, just waited for the decision from above.
After the war, those who figured out how to make toys did not fail: for children there's no moneyWith a huge demand it was impossible to miscalculate, for whatever you take ...
Arseny Ermolov: Well, why. After the war, money regained its value, suddenly became a critically important resource.
For some directors, this was a completely new experience; not everyone was able and were willing to count money. And someone produced pans and furniture with such prime cost that it was impossible to sell them. Those who guessed to make toys did not lose: the children didn't feel sorry for any money.
But the best was the position of those who managed to set up the production of investment goods - the first post-war decade was the time of the fastest economic growth in
stories
THE USSR. And this growth was provided primarily by conversion.
It was very hard for the aviation industry. After the war, civil aircraft did not need such a number of aircraft, aircraft factories turned out to be completely unprepared for the release of something else. By and large, they were saved only by remilitarization with the start of the jet aviation race.
** In the 1942, in the USSR, 24,7 produced thousands of tanks and self-propelled guns and 21,6 thousands of combat aircraft, while in Germany thousands of 5,5 tanks and SAUs and 11,4 thousands of aircraft.
** At the Ural tank factory N 183 in Nizhny Tagil, the labor intensity of the production of the T-34 tank decreased from 6,9 to 3 in thousands of hours in 1942-1945.
** 1,5 evacuated thousands of large enterprises during the war. But to understand the scale of what was happening more gives another figure: 1,5 million cars with evacuated goods.
** Where were large enterprises evacuated from? From Ukraine - 550 plants, from Belarus - 109, from Estonia - 62, from Moscow and the Moscow region - 496, from Leningrad - 92. From other places - 212.
** In terms of value, industrial production in the USSR already in 1945 was higher than in 1940, by 15 percent.
But this is if you apply pre-war prices. In fact, the level of production of basic industrial products of the year 1940 was achieved much later.
Electricity - in 1946, in coal - in 1947, in steel - in 1948, in oil production and smelting of iron - in 1949, in sugar sand - in 1950, and in leather shoes - in 1951.