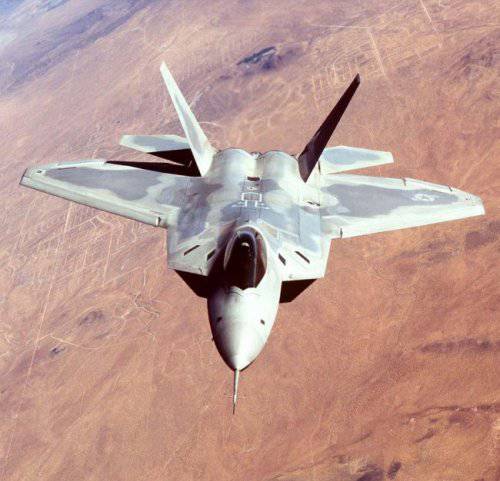 The multipurpose F-22 Raptor fighter has unique fighting qualities, but its use scenarios are limited by confrontation with modern fighters and enemy air defense forces. Such a statement was made by US Secretary of Defense Robert Gates during a visit to 15 April Alabama Military College in Alabama. In his speech to the military, Gates stressed that the F-22 is a "silver bullet", which can be useful only in rare cases.
In deciding whether to stop purchasing the F-22 and assessing its quality, experts from the US military took into account the similar capabilities of another fifth-generation fighter, the F-35, Gates said. It also has a high level of invisibility for enemy air defense systems and the possibility of hitting ground targets. Purchases of these aircraft are budgeted. In addition, the adoption of such a decision is associated with an increase in the capabilities of unmanned aerial vehicles and other means of the US Air Force.
The new policy of financing rearmament programs, as the head of the Pentagon noted, will allow the US to maintain air superiority, which is a prerequisite for providing military power for at least six decades. Gates also stressed that funding for the F-35 program in the long-term military budget will be increased from 6,8 to 11,2 billion dollars. This will speed up the development of the project and the development of the aircraft. In the next five years, at least 500 of these machines should go off the assembly line.
Russia, according to Gates, will be able to develop a similar fifth-generation combat-ready fighter no earlier than six years later. China will need at least 10-12 years to do this. By this time, according to the calculations of the US military, more than a thousand similar vehicles will already be in service with the United States.
Recall that the plans to change the programs of rearmament of the American army, Robert Gates told 6 April at a press conference. F-22 Raptor and Future Combat Systems may be the most redundant. Instead, the Pentagon intends to focus on the development and production of the weapons needed in irregular military conflicts. The cessation of production of F-22 causes discontent of American manufacturers, referring not only to its fighting qualities, but also to job cuts during the crisis.