Well, my dear regular readers and no less expensive newbies, I am writing again. Why again? Understand below.
I'll start today with sex. Not in the sense of love-in-law. And not in terms of gender relations in general.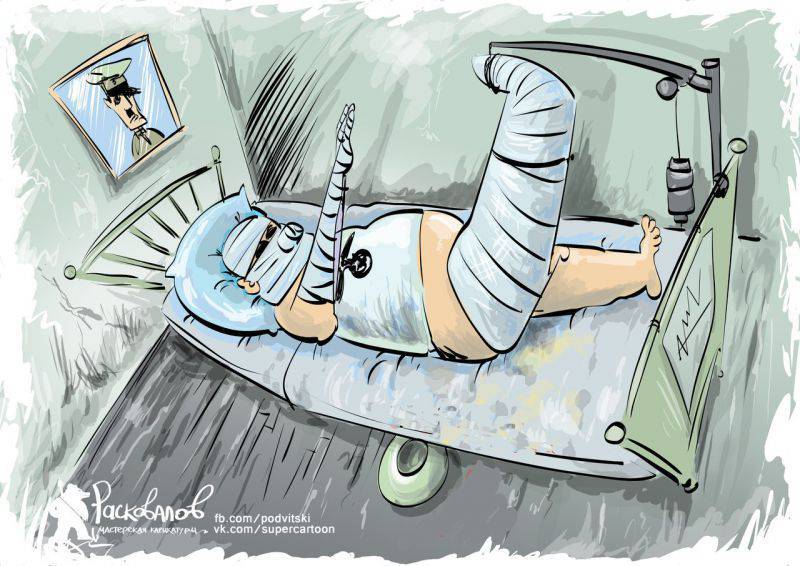 I'll start with the physiological needs. You understand, we have with this about the same as you. On the one hand, it means enters. And on the other hand, it turns out. In a sense, our cockroach products.
Sorry for such a big excursion into the questions of physiology, but without this you don't start a story.
I went, then to the toilet. For a little go like that.
Made a deal. I go out. The father is sitting in the chair.
- Well, what did you write? - He speaks.
In this situation, it would be more logical to sound "written". What I immediately stated. Letters must be hit correctly.
- No, - he says, - it was written! Peacekeepers came to us. Asked if you did this Okoloradsky? Black, angry. In masks. They said as soon as they found it, they immediately lustrated. And then the remains of the SBU surrender.
It became interesting to me. What kind of peacekeepers are such that healthy cockroaches turn into remains without trial?
Found one of ours who know. Tuck lives behind the sofa. Not knocking, but Tooke. Which is Jora. I mean, George.
He told in brief
history
creating this very site "Peacemaker". Well, the appearance of these same peacemakers-killers.
Twisted it all a few young computer scientists. Like the gang, it means. IT-Schnick called. Gang, but Ukrainian patriots to heels. Already from the headset sticks out patriotism.
They fell, it means to Zhore. They took his poor man for ... they took him in short. For between the legs. Or you help to systematize the separators of all kinds, traitors of Ukraine and other enemies of the people, or we tear off this very same interdune. Crimea, it is, escaped. In the east, again, they are going to do the same, but the government does not move his mustache.
Well, Jora is not a blunder. And there is no extra hryvnia. Yes, and do, in addition, how to write, nothing particularly necessary. He is already the chairman ... Just think, not to do anything again. Will not break.
And the soul flew over the bumps. There were so many separators that the small site quickly grew into a large one. They push them into this "Peacemaker", and they, like heads of some ancient Greek creature, grow and grow. And the Crimean, and Russian, and local. But nothing of the "golden eagles" and there is no talk.
In short, this gang turned out a sort of information center. I wanted to kill someone, once on the site. Write what you want. All will publish. A killer, then read and quickly fulfill the order.
True, I was outraged. Type the law there. Any prosecutor's office. Court again. And the answer got clear and hard. Like the war we are going. And in war, any killing of the enemy is a feat.
Only here, again the thoughts in my head appeared different. Somehow these peacekeepers are cowardly. And the enemies of Ukraine have some small ones. Not large-scale, frankly, enemies. Those that can not answer. By virtue of education, faith in the laws, faith in the truth.
And those that themselves can mustache pull up where? Where are those who themselves have gangs, but already with machine guns? Thin gut at "Peacemaker"? Or the knees of these IT-shnik weak? Enuresis suffer from fear?
There is neither Yatsenyuk, nor Lyashko, nor Akhmetov and Kolomoisky in the enemy. Even Dubkina, Kernes, Moskal is not. About myself I will not speak. Absent, by itself. He himself!
In short, I looked at these cowardly uncomforts and realized that it was a shame to even be afraid of them. Let all these SBUs, the Ministry of Internal Affairs and other security officials use their information, not scary.
I wrote, write and will write. And will get their "witch hunt", I will go to gray-green. Writing there, of course, more difficult, but the machine just give.
And about Took this thought. The traitor is the chairman. He is really the chairman. Board of public association "People's rear". Even theoretically, the front does not climb. Mokritsa. Would call immediately ass. Why? Association "People's ass." And it is immediately clear what they stand for! And how, and what.
Turned on the TV with anger. I thought there was some kind of positive. And then the face of the face of the Minister of Social Policy Pavlo Rozenko. For life tells. Including ours, cockroach.
And Temka is important for us - IMF loans. We do not earn our own hryvnia. Neighborhood eats. Only now a neighbor for some reason wants to give less and less ...
Pavlo did not improve my mood.
"Funds provided by the International Monetary Fund and other international organizations should be aimed at supporting the financial and economic stability of Ukraine and the introduction of reforms that in the long term will improve the quality of life of Ukrainians" ...
I scratched my stomach and realized that hell, and not life improvement threatens. Yes, and this will be horseradish imported from someone else's garden.
All sorts of reforms can not be. Because there is no money. And the money that they give, go to pay those who gave earlier. We pay with new money for old ones.
We will survive. Omnivores, after all. And the people?
Speaking of survival. Here our fire in the Chernobyl zone organized. Nothing so kindled.
True, a little not the result was. But still positive. We have no harm to radiation. And people would be injected.
The MChS stubbed out quickly this forest. Put out, but it's done. Now Ukraine will receive so much money on the new roof of this very nuclear power plant that it takes its breath away. Even the aggressor promised to throw. This is what arson means!
In the international arena, too, moved. Polosatiki intensified. On Wednesday, the talking head and bust of the state secretary of the Prime Minister Victoria Nu Land said that the whales "are open to any format that the parties find useful." We declare openly if the countries of the "Norman format" agree that we can play a certain role during consultations negotiation table, we are open to this. "
As we think here, something is not stuck together with the puppet theater. So, the puppets cannot cope with the Kremlin, or ours scored something like a bolt on all the merkel-holland.
And one more important point, for some reason, few people noticed in Victoria's speech. In short, she made a complete nuland to the hopes of the Ukrainians for the arrival of the US or NATO troops. That, means, to help gray-green to disperse.
"... The unpredictability of what Russia has done since the beginning in the Crimea, and then in eastern Ukraine, forces the whales to strengthen the eastern border of NATO."
To put it bluntly, NATO must guard NATO. And you, then, dear Squares, yourself ... For you are not NATO.
In NATA this is not enough soldiers,
tanks
... All is missing.
It's a shame, of course. Only one of the cockroaches in this doubt? No one! Our grandfathers-great-grandfathers, those who went through the whole of Europe in the soldiers' Sidors, told us. Polosatiki always to those who win are glued. They themselves do not like to fight.
For today everything, I am angry at this "Peacemaker". Although why be angry? We live by our own laws. Bandits in their own way.