The Russian Defense Ministry has decided to create a unified machine "Gorets-O", which will be able to "rake debris, punch barriers and demining roads under enemy fire," the channel said
LifeNews
with reference to "Izvestia".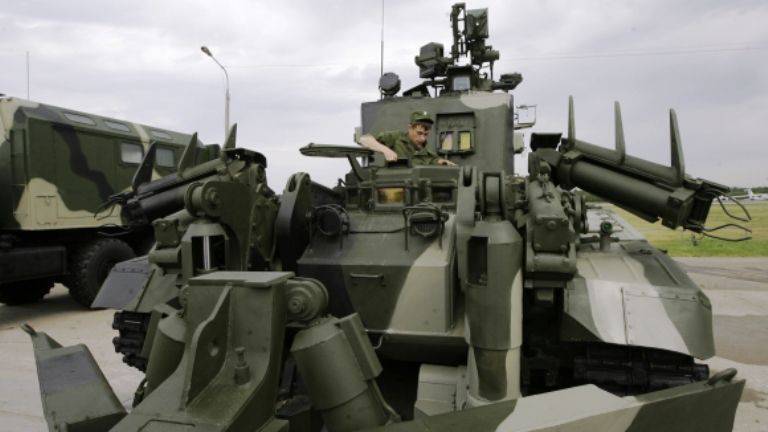 Archive photo
"Gorets-O" is a "large armored tracked vehicle equipped with machine guns, electronic warfare devices and the GLONASS system, in addition, it will also have an excavator bucket and a manipulator, a hydraulic hammer, a crane with a winch and other equipment," informs the publication.
In addition to the crew (commander and driver), two sappers-paratrooper can be accommodated in the manned compartment of the vehicle.
"When carrying out engineering tasks, the Gorets O will be able to drive 600 kilometers without refueling to the required place and after that work for three hours with a capacity from 3 km / h to 15 km / h. When trawling mines with non-contact fuses - up to 6 km / h, "the channel gives the characteristics of a car embedded in a tactical and technical task.
"Now new tools are being developed - they will make it possible to exclude on-foot engineering intelligence, which is conducted at a very low pace. According to the experience of Afghanistan and the fighting in the North Caucasus, this is 1-2 km / h, said military expert Viktor Murakhovsky. "New tools mounted on an armored base will allow to conduct engineering reconnaissance, without leaving the car, at a pace of 12 – 15 km / h."
A characteristic feature of the new machine is a lighter base chassis (compared to current tracklayers), which will allow it to be transported on heavy Mi-26 helicopters and military transport aircraft. According to an informed source of the newspaper, specialists "are working on options for using the Kurganets-25 chassis, the BMP-3 chassis, and the possibility of creating a new one." The machine will protect the crew from rifle
weapons
and fragmentation damage.
A well-known Russian military expert Igor Korotchenko said in this connection: "Such development is needed, it's time to replace the old generation. She will be in demand in the army. The main thing is to have enough money. "
According to the newspaper, "experimental design work costing about 350 million rubles is calculated for three years." At 2017, tests of a prototype are scheduled, after which a decision will be made about the possibility of adopting the machine for service.