In the Chinese military blog "Chusyao" published detailed data on the deck of the aviation wing of the carrier "Liaoning", reports
blog
Center for Analysis of Strategies and Technologies.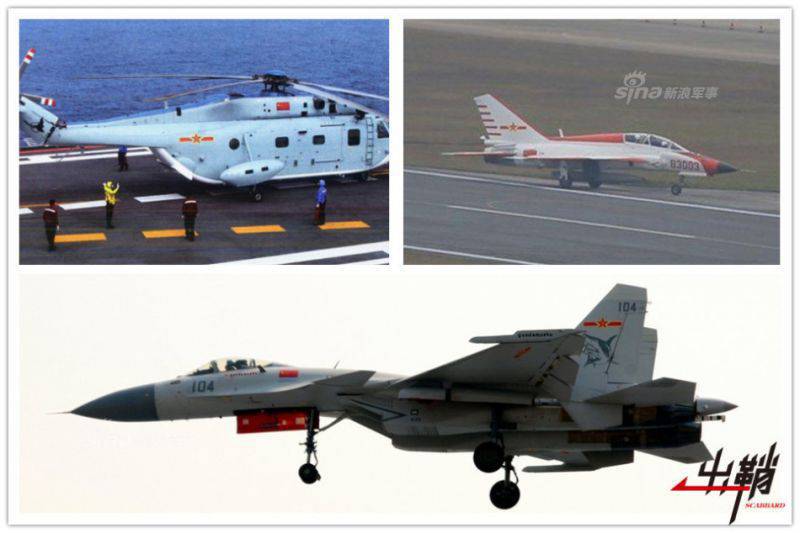 If in Russia deck fighters are part of the 279 separate shipboard fighter aviation regiment separately from other vehicles that are based on an aircraft carrier, in China a new organizational structure has been created for them - the aircraft carrier wing with the status of a military unit with its commander and support services.
In the composition of the wing - shipfighter J-15, helicopters Z-18J (AEW), Z-18F (PLO) and Z-9C (search and rescue). According to the Chinese media, the ship will be X-NUMX aircraft J-24, X-NUMX helicopters Z-15F, 6-Z-18J and 4-Z-18C. In addition, the JJ-2G training aircraft entered the wing.
"The most important difference between the Chinese aircraft carrier program and the Russian one is its political status. In China, the aircraft carrier program is a "national project" with a status similar to a manned space program, high-level coordinators and constant attention from senior management. It is also an occasion for nationwide pride. Russia still does not fully understand what to do with the aircraft carrier program inherited from the USSR and probably does not have a clear vision of the long-term development of ship
aviation
", - noted in the material.