All the equipment that will be installed on the ongoing modernization of the Admiral Nakhimov cruiser will be of domestic production, reports
TASS
message of the press service of the shipyard "Sevmash" (Severodvinsk).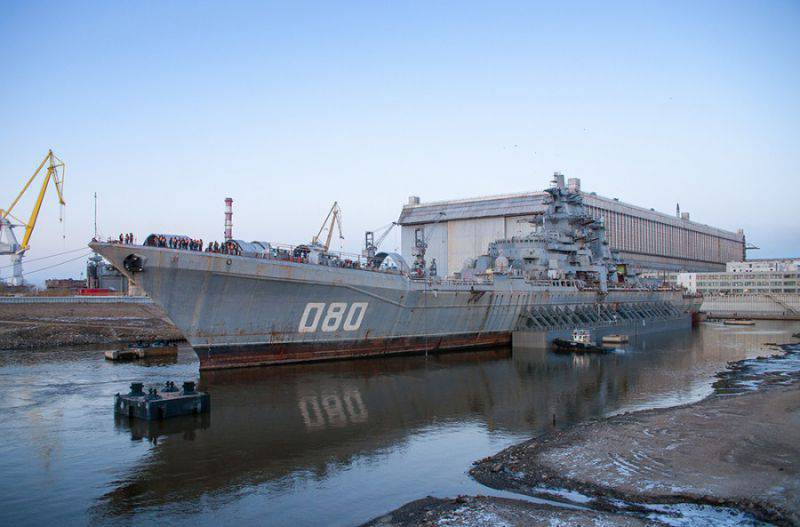 "A large-scale flaw detection of equipment and systems is deployed on the cruiser. During the year, part of the hull structures and equipment will be dismantled. A new equipment is being purchased on the ship, all the equipment will be domestic, "the release says.
Questions of modernization of the cruiser were considered in Moscow at the interdepartmental commission.
"It was noted at the meeting that the timely delivery of working design documentation from the designer of the ship" Northern PKB "affects the timing of the work. At the end of the meeting, tasks were set for the near future, deadlines for the delivery of documentation, the resolution of technical issues and the conclusion of contracts for the supply of equipment were agreed upon, "the press service said.
The Defense Ministry signed a contract for the repair and modernization of the Admiral Nakhimov TARK only in May 2013 g, although the cruiser was stationed at the Sevmash berth from 1999 of the year.
Now the ship is in the open dry dock of the enterprise. As a representative of the Navy, Igor Dygalo, said earlier, "during repairs and modernization on the ship, they will completely replace life support systems, change missile and artillery weapons, and upgrade radio technical weapons." After that, the cruiser will be able to serve about another 40 years.
TASS Help:
"Admiral Nakhimov (project 1144, according to NATO's Orlan classification) was built at the Baltic Shipyard in Leningrad in 1989. Until 1992, it was called "Kalinin". In August 1999, Sevmash was accepted into the planned average factory repair. The cruiser is designed to destroy large surface ships and protect fleet from the air and submarine forces of the enemy. Displacement - 24,5 thousand tons, length - 251 m, power plant - two nuclear reactors with a total capacity of 600 MW, weapons - cruise missiles of the Granit complex, anti-aircraft missile complex Fort, anti-aircraft anti-aircraft system Osa-MA, "Vodopad" anti-submarine missile system, AK-130 artillery mount, three Ka-27 helicopters. "