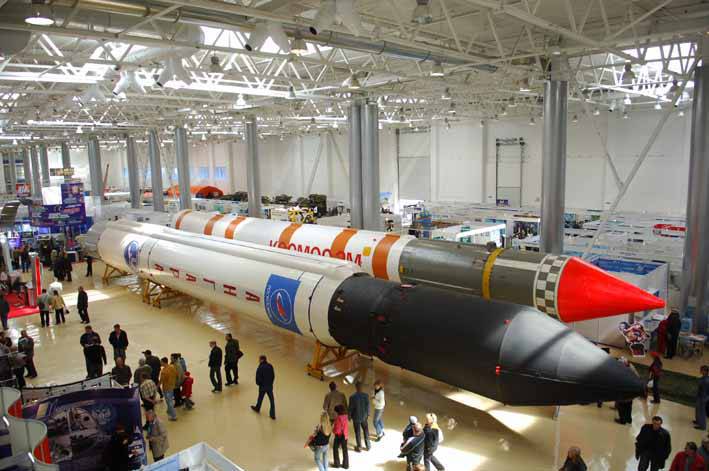 On Tuesday, Russia celebrates the Day of the Space Forces, which is timed to the launch of the 4 on October 1957 by the Soviet Union in October of the first artificial Earth satellite in the world. On the occasion of this date, the Ministry of Defense announced the flight tests of the new Russian space rocket "Angara" planned for 2013 year, which implements the order of Russian Prime Minister Vladimir Putin.
As part of the implementation of the Federal Target Program "Development of Russian cosmodromes on 2006-2015 years", work is underway in the Arkhangelsk region to modernize the Plesetsk cosmodrome. "The most important direction of this work is the creation of the ground infrastructure of the Angara space rocket complex (KRK)," the spokesman for the Space Forces, Colonel Alexey Zolotukhin, told reporters. planned to be implemented no later than 1 of the year ", - ITAR-TASS quotes.
Earlier, Zolotukhin reported that in the future, Angara launch vehicles together with Soyuz-2 rockets of various modifications will form the basis of the means of launching spacecraft into orbit in the interests of the RF Ministry of Defense.
"For launching spacecraft in the interests of the Ministry of Defense, Angara carrier and launch vehicles of the light and heavy classes are planned to be used, which, together with the Soyuz-2 medium and light class rockets, will in the future form the basis of the national launch vehicle system," said Zolotukhin.
As Rossiyskaya Gazeta wrote, the production of the first Angara-1.2 PP launch vehicles (launch vehicle for the first launch) of the light class and the Angara-А5 heavy-class missiles is launched at the Khrunichev Center. The first launch of the light-class carrier rocket Angara is scheduled for the second quarter of 2013, and the heavy-class rocket for the fourth quarter of 2013.
The Angara launch vehicle family is a new generation of carriers based on a universal rocket module with oxygen-kerosene engines. The family of rockets includes carriers from light to heavy classes in the range of payloads from 1,5 to 25 tons into low-Earth orbit.
At a meeting on the development of cosmonautics in April 2011, the Prime Minister of Russia announced the creation of the Angara complex as a task of special state importance.
"In the 2013 year, we must begin flight design tests at the Plesetsk cosmodrome Angara launch vehicles, of the light and heavy class," Putin said.