Last week based
fleet
Den Helder is a part of the Dutch Navy multipurpose ship A 833 Karel Doorman, reports the blog
bmpd
.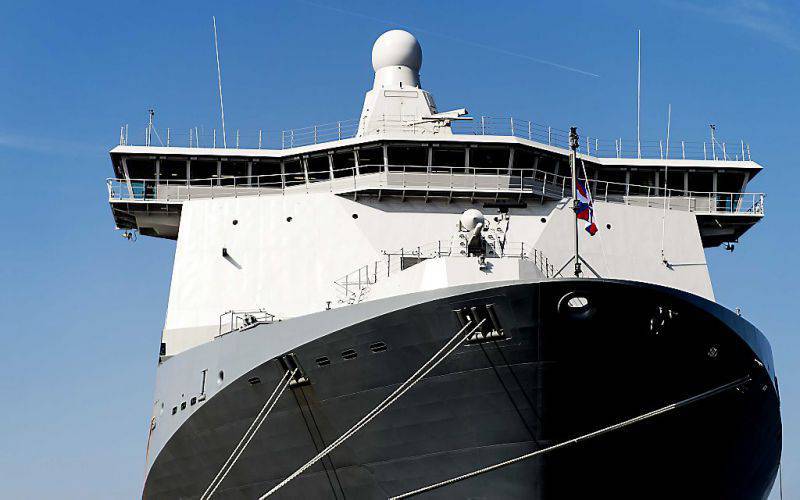 "The ship of the original design with a full displacement of 27800 and length of 204,7 m is officially called Joint Logistiek Ondersteuningsschip (JLOS, also used the English abbreviation JLSS - Joint Logistic Support Ship) and is actually a hybrid of an amphibious transport ship and an integrated supply ship," resource defensie.nl.
Its cost, according to the contract, is € 365,5 million (in fact, it cost 407,9 million).
"The ship Karel Doorman is designed to solve a wide range of tasks to support amphibious operations and ensure combat activities of the Navy. It has cargo decks of 1730 sq. M. m for the placement of military and transport equipment (including
Tanks
Leopard 2A6), an extensive hangar for the permanent basing of six NH90 helicopters or two CH-47 Chinook helicopters, with a flight deck with two runways for heavy helicopters, as well as significant volumes for the transport of goods and fuel - 7700 cubic meters. m. liquid fuel, 1000 cubic meters. m of aviation fuel, 450 tons of water and 400 tons of ammunition and other cargo, "defensie.nl reports.
There are two regular landing boats and 4 motor boats. Kubrick ship designed for 300 people (including the crew - up to 172 people.).
According to the resource, "the ship's armament includes two 30-mm seven-barreled anti-aircraft artillery complexes Goalkeeper and six remote-controlled turret systems - two Oto Melara Marlin WS with 30-mm cannons and four Oto Melara Hitrole NT with 12,7-mm machine guns".