At the Zelenodolsk plant them. Gorky (Tatarstan) is preparing for factory testing of the lead patrol ship of the 1 rank "Polar Star" (22100 project, "Ocean"), the blog reports
bmpd
with reference to the Tatarstan resource "Business. Online".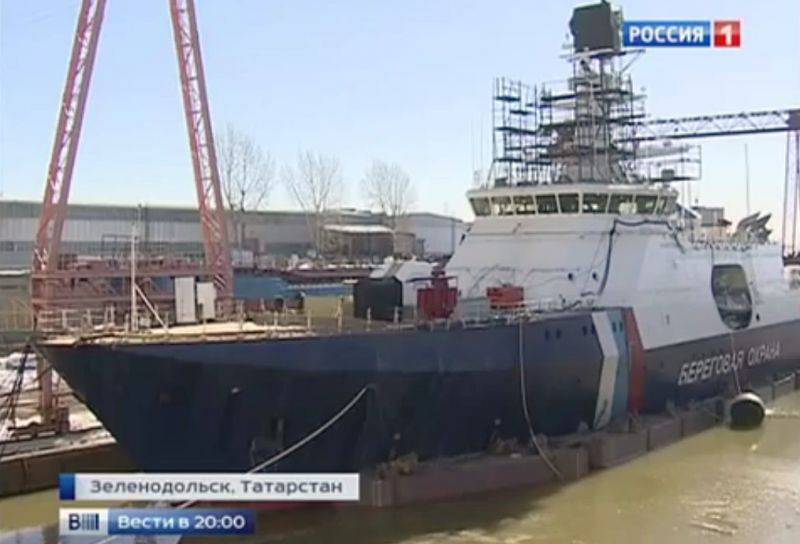 The ship is being built by order of the Coast Guard of the Border Guard Service of the Federal Security Service of the Russian Federation. Last Friday, the FSB signed a contract for the construction of two serial ships of the same project. The cost of one ship is about 8,6 billion rubles.
"Many thanks to the FSB for such an order!" The plant's general director Renat Mistakhov thanked the security officers at the signing ceremony.
"This event is more significant for us than for you," said the head of the logistics department of the FSB of Russia, Yevgeny Nazarov. "Our department orders such ships for the first time."
"The main tasks of the Oceans in peacetime are to guard the border, participate in search and rescue operations, and ensure the actions of special forces. The task for the "special time" - the protection of points-based combat ships. The navigation area is unlimited, but it is assumed that the patrol will operate in the northwestern Pacific Ocean, the Arctic and non-Arctic freezing seas of Russia - the "armor" allows you to destroy 80-centimeter ice bridges between the polynyas. The autonomy of navigation is up to 60 days, "writes Business.Online.
The ship's armament, according to the resource, "is typically light: the X-NUMX-mm artillery mounts AK-76-M and the two sea thunderbolt machine-gun installations Sting." There is a Ka-176 helicopter and "boats that can be launched and raised while the ship is moving."
Chief Designer of the Almaz Central Design Bureau "Almaz" (project developer) Boris Leikis noted that there are a large number of imported components on the lead ship. Then it was not forbidden, but now the situation has changed.
According to Leykis, there will be almost no imported equipment on serial ships. "The Russian engine, according to its characteristics, is comparable to the German one and retains all the characteristics originally incorporated into the project - we do not lose anything. Replaced the entire propulsion complex, as well as other major equipment - electricity, water treatment systems, mooring, descent, raising boats and so on, "he said, noting that in this connection it was necessary to strain the domestic producers.
The case turned out to be difficult, "but we held meetings, including at the Lubyanka, and all the suppliers and developers of the required equipment confirmed their readiness to deliver it on time," he said. "I am convinced that serial ships will not differ in quality from the leading ones," the general designer concluded.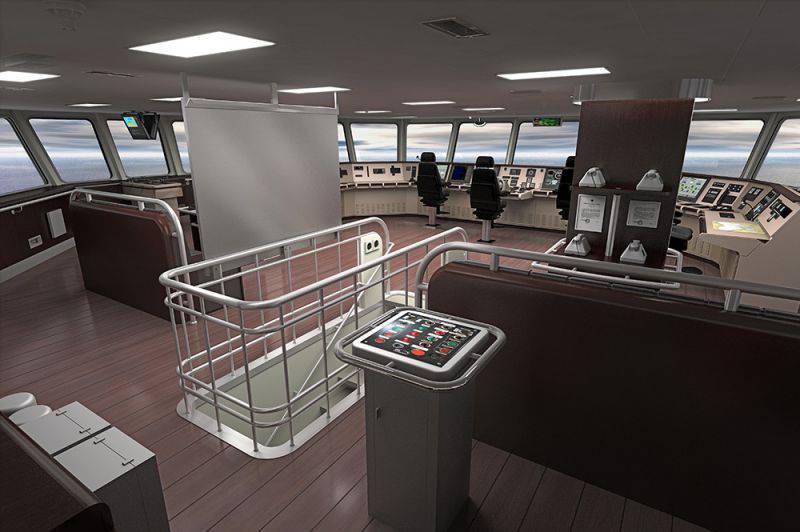 Wheelhouse ship project 22100
Conference hall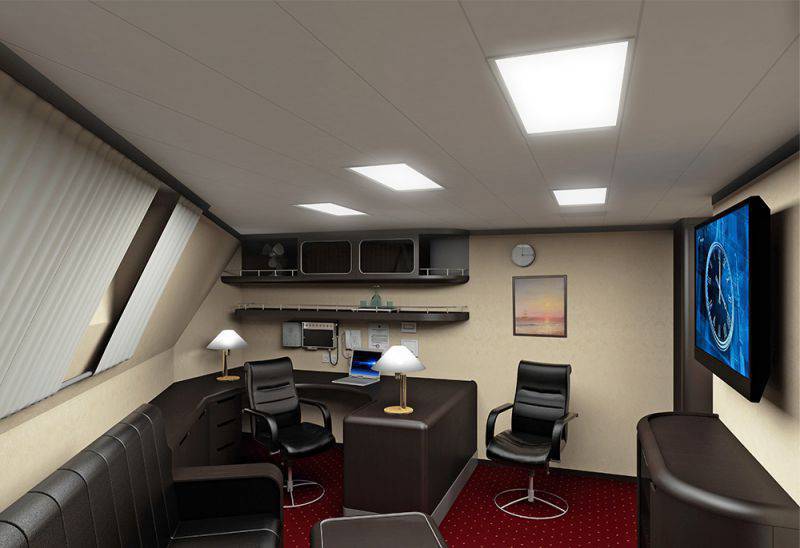 Commander's cabin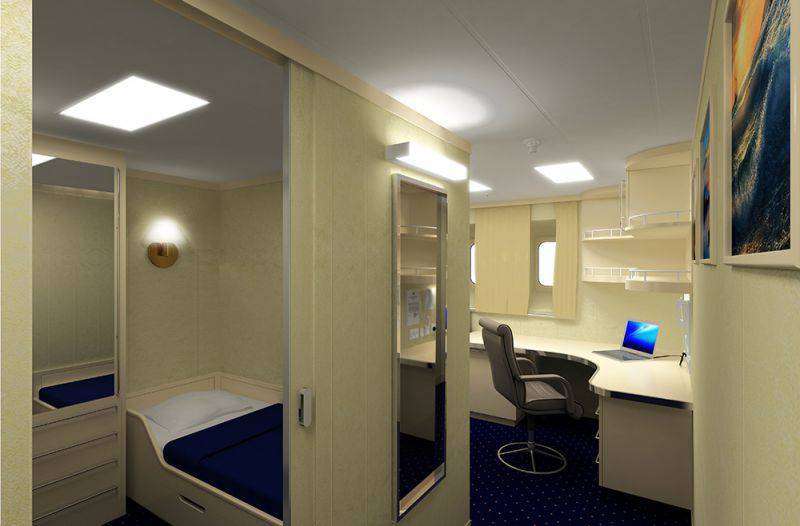 Single cabin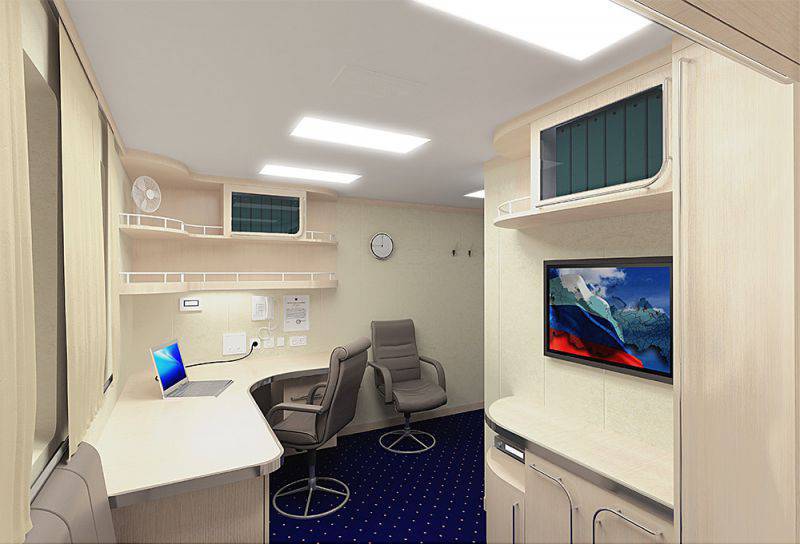 Double cabin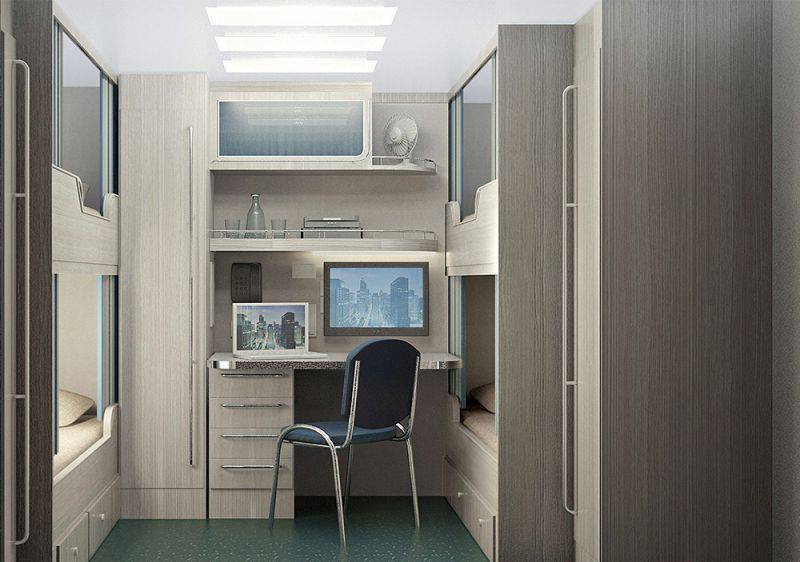 Quadruple cabin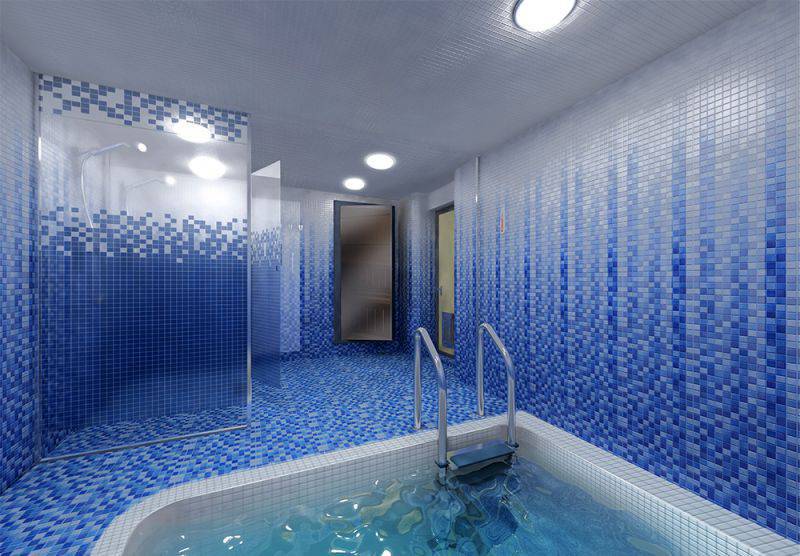 Pool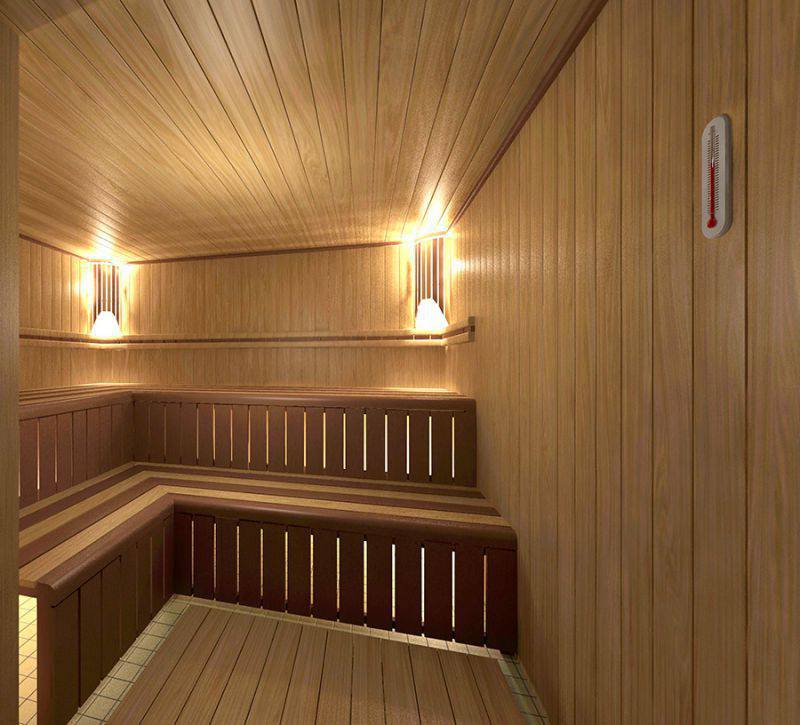 Sauna