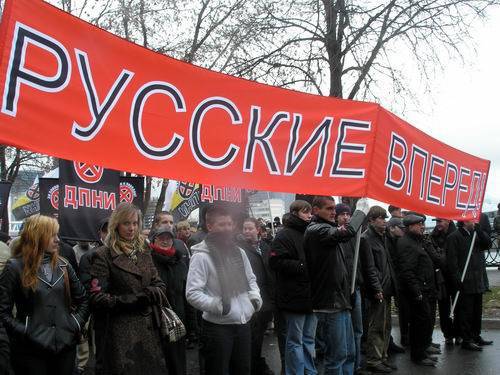 Nationalists filed with the Moscow mayor's notice of holding a mass cultural event "Russian March", according to Interfax. November 4 organizers expect to bring about 20 thousands of people to the streets. Nationalists are planning to go along Leninsky Prospect and Bolshaya Yakimanka Street from Yuri Gagarin Square to Bolotnaya Square.
***
It is necessary to allow nationalist organizations to hold their march on the day of the national holiday. We still somehow worried about this, they say, the day of November 4, which has an official name that no one remembers, is unofficially already firmly called Nationalist Day. Okhali and gasped, how is it bad. And now let's not groan, but let these people walk along the main streets and yell whatever they want.
Of course, we should not allow them to destroy windows and burn cars, catch and beat Caucasians and Tajiks. It is necessary to accompany the procession with a worthy police cordon, to observe the terms and route. But the main thing they need to allow: bring as many people as they want and allow them to make demands. And I will explain to you what it is for. This is necessary so that we all see in all its glory the main threat to our country.
This threat is not in the Zionists, not in the American spies, not in migrant workers, and not even in corrupt officials. Today, the main threat to the country is the evil youth, the evil lumpens, the evil outsiders of life. They hate all foreigners, and foreigners hate them. They would love to interrupt each other. And these people are not hundreds or thousands. There are millions of them! And no one - neither the government nor the opposition do not fully understand this.
The government thinks that it will easily cope with this problem, that it can flirt with these people, control them, manage them, direct them. In fact, the authorities do not control the devil. It can control some organizations or some individual nationalist leaders, but the nationalist movement is completely uncontrollable. It simply did not realize itself as a real mighty force. Until.
And the opposition does not understand this either, considering that there are more terrible things. So I think it would be very useful for everyone to see when not 20 thousands come out to the streets of Moscow, but much more aggressive and evil people. They will come out without coercion, not for time off, not for a hundred rubles and not according to the order - as at meetings of the Kremlin youth, but they will come out because they want to go out. Neither the government nor the opposition will, in good faith, gather as many supporters as nationalists easily gather. Let's allow them to do it and see what happens. Useful will be a spectacle. Sobering.