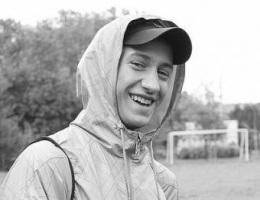 And again, on the Web and in the headlines, the words of the fans flashed ... Manezhka ... This can only mean one thing: another Russian guy was the victim of the roaming mountain guests.
The police take the most urgent measures. For suppression of protest actions this time fans of CSKA. The investigation of the crime itself, so far, according to reports, goes on as usual ... As you understand, it is not about him now.
18-year-old resident of Podolsk, Andrey Uryupin, was killed on the night of October 2 near the SEC "Treasure Island", where he celebrated his birthday with friends. According to eyewitnesses of the incident, within the entertainment center a scuffle took place between Russian young people and a group of people, allegedly immigrants from the republics of the North Caucasus.
The guards of the entertainment center brought the instigators of the fight to the streets, where the showdown continued. Andrei received two knife wounds to the heart area. In addition, his friend Dmitry Mikhailov received three knife: two in the back, one in his hand. Andrei Uryupin died in an ambulance, and nothing could threaten the life of Dmitry Mikhailov after rendering assistance.
As mentioned above, the police are very concerned and are taking all measures. The administration of Podolsk assured that the staff of the district unit to counter extremism "informed of the incident and keep the situation under control." That is, they are not puzzled by the fight against ethnic crime, literally sweeping across Russian cities, but by keeping the situation under control. As the dead guy unfortunately turned out to be a football fan too. That is, those for whom in our country there is someone to stand up for and there is someone to demand. At least posthumously ...
If you think that football fans are pretty often killed here, then Spartak, then now CSKA, you are deeply and cruelly mistaken.
In Russia, they kill everyone. But the usual, unremarkable football fan has one bitter privilege: friends and colleagues in the club will not allow to shut up about his villainous murder ...
.
The investigating authorities of the Investigative Committee of the Russian Federation in the Moscow region on this fact initiated a criminal case on the grounds of a crime under h. 1 Art. 105 of the Criminal Code of the Russian Federation (murder).
According to unofficial information, three natives of Karachay-Cherkessia were detained on suspicion of murder.