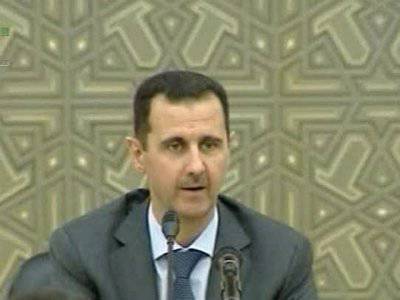 Damascus will deliver a massive missile attack on Tel Aviv if NATO enters its forces in Syria. This was announced today by Syrian President Bashar Assad.
"If" crazy "measures are taken against Syria, it will take me no more than six hours to launch hundreds of rockets on Tel Aviv and the Golan Heights," Assad said during a meeting with Turkish Foreign Minister Ahmet Davutoglu on Tuesday. The president also said that in the event of an attack by NATO forces supporting the Syrian regime, Iran "attacks US warships in the Persian Gulf," ITAR-TASS reports.
Voting in the UN Security Council on the draft resolution on Syria submitted by Western countries should take place today. The draft document "strongly condemns serious and systematic violations of human rights that the Syrian authorities continue to commit," but eliminated direct references to sanctions. The authors of the document, including France, Germany, Portugal, and the United Kingdom, demand "to immediately put an end to any violent actions" and call upon "all parties to reject violence and extremism."