A representative of the main headquarters of the Russian Navy reported that the Rostov-on-Don diesel-electric submarine left the Baltic Sea for landfills of the Russian Federation for deep sea trials. Submarine project 636.3 "Varshavyanka" - "Rostov-on-Don" was built for the Black Sea
fleet
Russian Federation. The representative of the General Staff of the Navy quoted
TASS
:
The submarine was in Kronstadt and 17 April went out from there to make the transition to the Northern Fleet. At the marine polygons of the North, it will pass a complex of deep-sea tests and firing, and then go to the Black Sea Fleet.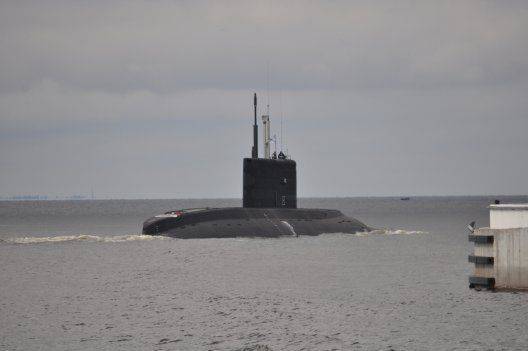 Rostov-on-Don is the second submarine of this project, which for the Russian Navy will be represented in total by six submarines. The first submarine of this series, the Novorossiysk, was transferred to the fleet and underwent deep-sea tests.
The submarine B-237 "Rostov-on-Don" for the inter-fleet transition came out of the Kronstadt Merchant Harbor. According to the site
Flot.com
, from the pier, the submarine was escorted by representatives of the command of the Leningrad naval base and submarine division.