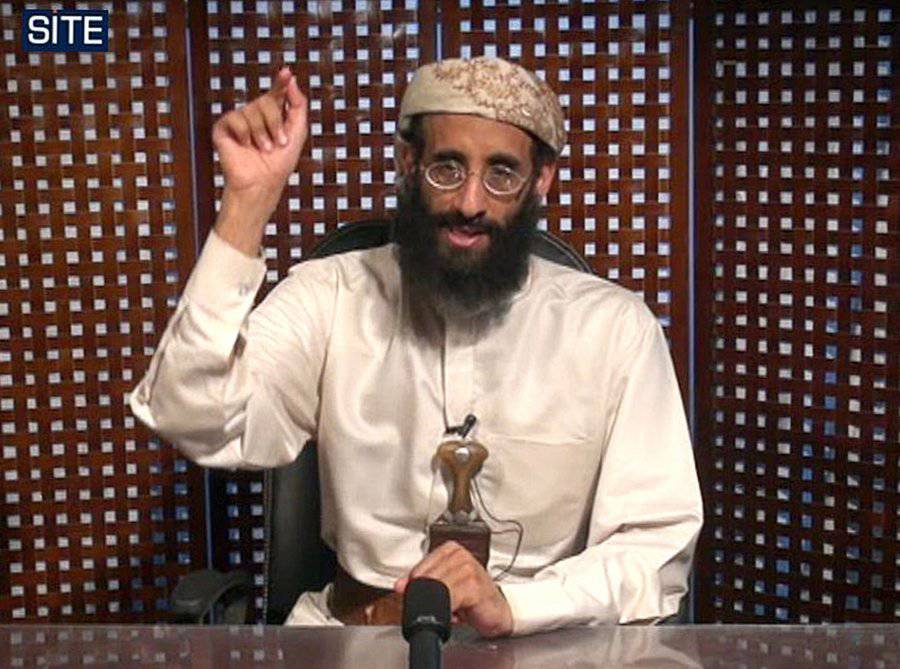 "The terrorist number 1" of the modern world is destroyed! At first 30 of September was officially announced by the Yemeni Ministry of Defense, then
news
confirmed by US President Barack Obama, who did not hide his satisfaction.
In his words, the death of Anwar al-Awlaki "dealt a crushing blow" to al-Qaeda, became a "turning point" in the fight against terrorism. And Obama stressed that none of the leaders of al-Qaida should continue to feel safe.
However, so far no evidence has been provided to support this information. Moreover, the Yemeni military claims that al-Awlaki was killed along with several intimate during a government operation. And before that, the brother of "terrorist number 1" stated that the convoy of cars in which Anwar al-Awlaki was to go, but did not go, was destroyed by a strike from an American unmanned aircraft. Moreover, at the end of December 2009, the Yemeni security services had already reported on the elimination of al-Awlaki, but, as it turned out, they were mistaken.
But be that as it may, the fact is that the US special services, with the help of their agents and allied structures in the Muslim world, are waging a long-lasting war against Islamist terrorism, not always successful, but very tense and risky, sometimes on the verge and sometimes even international law. And if they really succeeded in a special operation in Yemen, then this is a success far more ambitious than the killing of bin Laden.
After all, it was not by chance that the US authorities announced in September 2010 that Osama bin Laden, then still alive, was no longer a terrorist of the number 1 of the modern world. This title, according to the Americans, was already transferred to another al-Qaida activist, a younger, more energetic and educated Anwar al-Awlaki. Which for several years has been included in the list compiled by the CIA for immediate liquidation, since they constitute a special terrorist threat to modern society.
It was not just about the organizer of terrorist actions, but about the influential and skillful ideologue of Islamist jihad, capable of both organizing a network of militants around the world and conducting effective propaganda not only in Muslim countries, but also in Europe and America.
Born in the US in a Yemeni family, Imam al-Awlaki, who recently turned 40 years old, is well known to the radical Islamists of the world thanks to his active use of the Internet and video technology to promote terrorism and mobilize fanatical Islamic elements for a deadly fight with the West. Only in YouTube last year there were some 1900 videos from lectures by al-Awlaki.
Speaking fluently in English, the terrorist carried out extensive and active propaganda, attracting Islamic youth from the EU and the United States to the ranks of extremists. And not only Arabs, Turks, or Indonesians with Pakistanis, but also native Europeans and Americans who converted to Islam under his influence.
According to competent sources, almost all the terrorists who have planned or committed recent attacks in Western countries, had records with appeals from al-Awlaki or were under its direct influence. The Imam is associated with three participants in the September 11 2001 attack, as well as Nigerian Umar Faruk Abdulmutallab, who on December 25 2009 tried to blow up an Amsterdam-Detroit flight. Al-Awlaki was also associated with the major of the US Army Malik Hassan, who, for ideological reasons, shot a group of his fellow soldiers.
Al-Awlaki was once detained: he fell into the hands of the authorities in 2002 at New York's John F. Kennedy Airport on the basis of a court warrant on a criminal charge. Despite the fact that Anwar al-Awlaki was already in the FBI search database for several years, he was released. Most likely, big politics intervened here: some of the sheikhs of Saudi Arabia asked Washington to release "our man."
This was noted by Fox News, citing secret documents. The channel also quoted FBI agent Ray Fornier, who had been following al-Awlaki for a long time. At that time, an employee of the special services was convinced that the preacher was a member of an organized terrorist group. "We were shocked when we learned that he was released. He was a very valuable detainee, especially regarding his interrogation of the September 11 attacks," Fornier said. According to the agent, al-Awlaki had previously visited a mosque in San Diego, California, along with Nawaf al-Hazm and Khalid al-Midhar, who on September 11 2001 hijacked the plane and rammed the Pentagon on it. An FBI official was sure that al-Awlaki knew about the attack in advance, and perhaps he planned it.
Al-Awlaki was born in New Mexico (USA) and grew up in Yemen. Fornier claimed that al-Awlaki fraudulently received a grant to study at the University of Colorado at the beginning of 1990, deliberately indicating the wrong place of birth in the questionnaire. Studying an engineer that cost the state 20 thousand dollars a year, al-Awlaki, using the principles of freedom of speech sacred for the US, preached in the style of radical Islam in the mosques of San Diego and Fort Collins (Colorado).
Al-Awlaki first attracted the attention of the FBI in 1999 year. Investigators believed that he was in contact with an al-Qaeda agent who provided satellite communications to the leader of the international terrorist network, Osama bin Laden. But due to lack of evidence, the case was closed.
Al-Awlaki moved from the USA to Yemen in 2002 and became one of the main anti-government ideologues there, and also temporarily went to prison. In 2009, he was released from prison and started an online blog, in which, in particular, he called on Muslims from all over the world to kill American troops in Iraq. Both Yemen, in which complex and ambiguous political processes are taking place, have become its habitats, and split into parts and non-existent as a single state of Somalia, where one of the centers of Al Qaeda activities has shifted (in particular, some local pirates are engaged in hunting for valuable under ideological banners, stating that their activities are a component, as stated on the Internet, "the establishment of an Islamic order from Alaska and Chile to South Africa and from Japan to Russia."
Thus, whether the operation to destroy Anwar al-Awlaki was a success for the US special services and the military of Yemen, but the main thing in all this is different. Replacing traditional ultra-conservative activists, the world's leading Islamist terrorism comes a new generation of leaders — well-educated, who feel at home on the Internet, can speak European and American youth in their language, appeal to cultural sentiments close to them — and strive along the way. certain success. But still, the goal of the warriors of planetary jihad remains to ensure that not a single infidelity, not a single kafir remains on Earth.
Therefore, the global war of Islamist forces with modern civilization (not only with the West) and with the "wrong" Muslims will continue for more than one year. Until significant changes happen both in the West and in the East, the consequence of which will be that such educated and talented people as Anwar al-Awlaki will stop choosing terrorist methods to build a fair and true world.