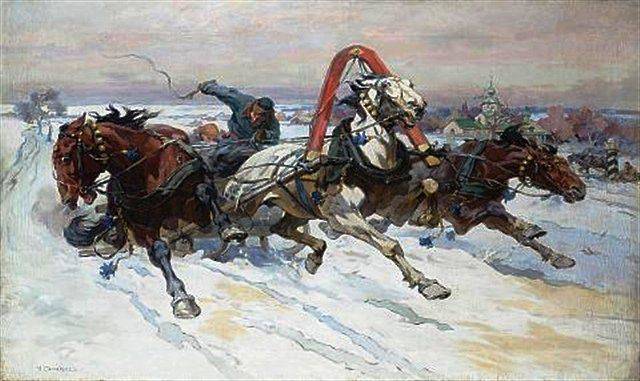 Of all of today's three-hour not quite intelligible and in many ways messy talkers, I would single out one moment, which, perhaps, explains a significant part of the transformations that have occurred over the year with Russia, its leadership, and Putin personally. When in just a year they turned from confident political subjects into shaky and gray mice, similar to schoolchildren, when the teacher uttered the ominous phrase "Go to the blackboard ...."
Putin's words that we do not have imperial ambitions, we have no enemies, and we don't consider anyone as such - this is perhaps the central theme of the entire speech.
It would have been difficult to make a more conciliatory and, frankly, humiliated statement.
Russian rulers for the most part did not know well and know the country they ruled by chance. The sad fate of the last Russian emperor, who quite sincerely believed that he was living among the God-bearing people, adhering to his personal convictions, is very revealing in this regard.
The words of Putin, except for their next trick, say about the same thing. To declare that Russia is not an empire, this is about the same thing as informing surprised consumers that the Lamborghini car is not for a quick ride. And in general, he is not for driving, this is not a car, but only a work of design ideas. And as proof to show an empty engine compartment.
Russia historically developed as a country that grew by territories and mastered them after growth. Movement is life, stop is death. Therefore, there were only two scenarios in which Russia had the opportunity to develop - either extensive expansion or intensive development. The periods of Russia's highest power and subjectivity came at the time of combining these two strategies, when the expansion of territories caused a breakthrough in development, and development became the basis for further progress. It was during these periods that Russia began to reckon, its interests were respected, it became an example for imitation, adoration and hatred. The presence of enemies in this case was a mandatory element of the program. It only said that everything is done correctly - and the more powerful adversaries became our enemies, the more confidence appeared in the loyalty of the chosen path.
Yes - this is imperial politics, yes, this is empire. But for Russia there was simply no other way of development.
It is clear that nothing can be eternal, and a change of development priorities, development models is inevitable - but it requires what the current government runs from, like crowds of zombies from Mila Jovovich. Ideology. Goal setting The unity of the country based on traditional values, which are shared by its population, and power, and society. Without an idea, nothing at all is possible - neither live as before, nor build a new world. You can rot - for this the idea is not required, the enropic process is good because nothing depends on you. Lie yourself quietly and calmly - dead bodies will do everything for you.
The refusal at the highest level of the imperial idea should have meant the promotion of a new, at least a framework position, which will be offered to her in return.
Without this, Putin's refusal can only be interpreted as a surrender and surrender without a fight at the mercy of the winner. If Putin humbly asks for recognition of Russia as a partner from such an insignificant puppet as a Ukrainian politician, then there is no reason to talk about the depth of the self-assessment of the Russian leadership - just below the core of the Earth.
Yes, we heard a message in a certain sense. And not to the people with whom it would seem, there was a straight line. The people - he stayed there, amid a dirty rural landscape and a barnyard. This message is about abandoning the empire - it is directed strictly outside. We are good. Forgive us. We will no longer. The error came out.
Otherwise, it is difficult to interpret what happened. Or in this case it will be necessary to take for granted that this ruler also has no idea which country he is in charge of. Everything can be - but most likely, we are talking about the external message.