At the French shipbuilding association DCNS in Loriana, the construction of the head corvette of the project Gowind 2500, intended for the Egyptian Navy, began, the blog
bmpd
with reference to fr.dcnsgroup.com.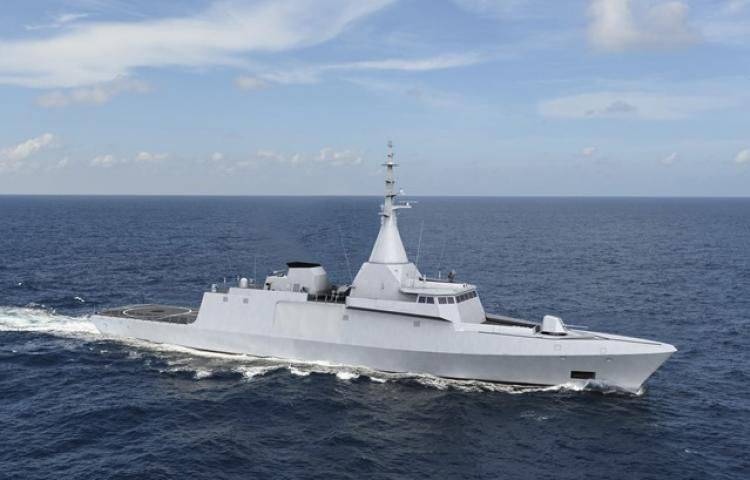 The contract for the construction of 4's corvettes was concluded in July 2014, its cost is about € 1 billion, excluding purchases of missile weapons. Under the terms of the contract, the lead ship will be built in France (delivery is scheduled for the summer of 2017 d), and 3 others will be built in Egypt with the participation of DCNS specialists.
"The Gowind 2500 Corvettes for Egypt will be large enough for their class ships with a full displacement of 2600 t, having a length of 102 m and a width of 16 m. They will have a diesel-electric power plant with a total power of 10 MW with two diesel engines and two electric motors. The full speed will be 25 nodes, and the cruising range is up to 3700 miles on 15 nodes, "writes the resource.
The crew strength is 65 people, there is the possibility of taking on 15 people (for example, paratroopers) who can use two semi-rigid speedboats.
According to the blog, the "armed Egyptian corvettes will make two chetyrehkonteynernye launchers for anti-ship missile systems MBDA Exocet MM40 Block 3, 16 vertical launchers of anti-aircraft missile systems MBDA VL MICA, 76-mm universal artillery installation Oto Melara Super Rapid, two remote-controlled small-caliber artillery systems (allegedly 20-mm Nexter Narhwal), 324-mm torpedo tubes for MU90 torpedoes. " The hangar provides space for a helicopter to the 10-ton class.
"The electronic armament of the Egyptian corvettes will comprise the SETIS ASMU (similar to the FREMM type frigates), the integrated mast with the Thales SMART-S three-coordinate radar under the fairing, the Thales Vigile 200 EW complex and the Lacroix Sylena firing jam complex. Anti-submarine capabilities will be provided by the Underkil GAS Kingklip and the towed GAS Thales CAPTAS 2, "the blogger cites data from a French resource.