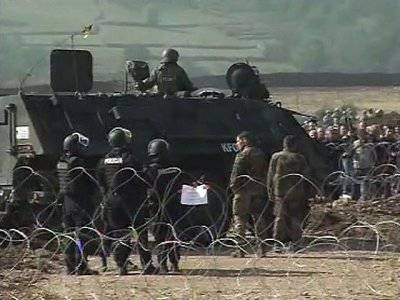 As a result of an unidentified attack on Serbs in Kosovo, one person died, another was seriously injured. According to local police spokesman Hazir Berish, law enforcement agencies have already conducted several raids and searches, but have not arrested anyone yet. The motives for the crime are also unknown.
Two Serbs - father and son - were attacked by intruders when they left a restaurant in the village of Zrze. The father died on the spot, and the son was taken to hospital in critical condition. The mayor of the city of Orahovac Marjan Saric, next to whom the attack took place, said that it was committed by Kosovo Albanians and is "ethnically motivated", ITAR-TASS reports.
The Serbian Ministry of Kosovo and Metohija condemned the attack on two Serbs in the province and demanded that the Mission in the field of the rule of law in Kosovo (EULEX) take up its investigation. "It is necessary that the investigation be conducted by EULEX, since the Serb community in Kosovo and Metohija does not trust the Albanian police," the ministry said.
"This tragedy is of deep concern, so we ask international forces to ensure the safety of all Serbs who are in Kosovo south of the Ibar River," the document says.
Police fear that the crime could further destabilize the situation in Kosovo and Metohija and lead to new clashes between Serbs and law enforcement agencies and NATO forces.