The main outcome of the negotiations of the foreign ministers of the "Norman Four", which took place in Berlin, was an appeal to the Contact Group with a call to immediately create working groups on Ukraine. In addition, the parties supported the OSCE proposal to replenish the list of weapons that should be removed from the contact line.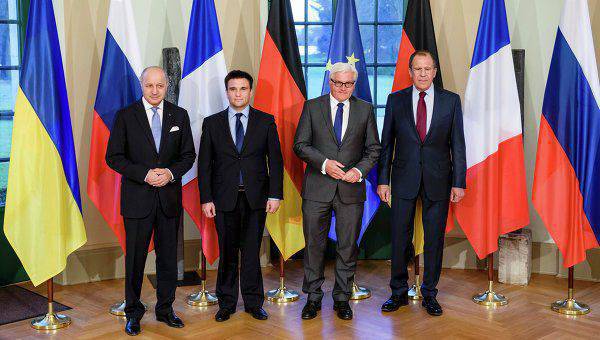 At the same time, the topic of entering the peacekeeping contingent into the territory of Ukraine, which Kiev advanced, did not find support among the negotiators.
Russian Foreign Minister Sergei Lavrov said that the meeting was "useful," and although "many controversial ideas" were suggested, Russia defended the agreements reached by 12 in February during the summit in Minsk.
As a result, the foreign ministers agreed that the Minsk agreements should be implemented in full, "not only in their military units, but also in the political, economic, humanitarian."
The main outcome of the talks was the decision to establish working groups on security, humanitarian issues, the political process and issues of the economic restoration of Donbass.
"We understand that the implementation of the appeal (to the contact group for the creation of working groups) will take some time, but our common determination to achieve concrete definition of all the steps agreed by our leaders is encouraging. I think that in the near future we can see concrete results, "RIA quotes Lavrov as saying.
"News"
.