Despite the accusations of interfering with European policy, the United States continues to dictate the line of conduct in the international arena to the European Union, State Duma speaker Sergei Naryshkin writes in his article for the Vedomosti newspaper. Excerpts from the article quoted
RIA News
.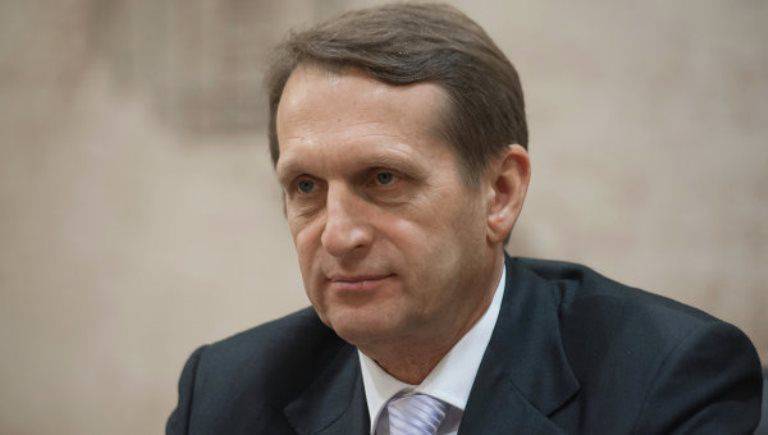 "The longer the resolution of the Ukrainian conflict is delayed and the more persistently Kiev does not fulfill the Minsk agreements, the more often the topic of the special role of the US in unleashing this military-political adventure emerges," considers Naryshkin.
"They continue to dictate a line of behavior not only to Ukraine, but also to the European Union. They are not stopped either by accusations of interfering with European policy, or by the fading reputation of the leaders of the two leading EU states who participated in the conclusion of the Minsk agreements, "reads his article.
According to the speaker, "it is difficult to get rid of the feeling that the continuation of bloodshed in the Donbas is necessary for the States to achieve something important for themselves."
"Yes, access to the riches of Eurasia through the Ukrainian" window ", as well as the deployment of new military bases there are in the US plans. But remembering how shamelessly they pressed on the EU on the topic of anti-Russian sanctions and how they "ram" them on the issue
armory
deliveries to Kiev, you understand: they are playing for time not in vain, "he writes.
According to the speaker, Washington needs this entire sanctions saga and bloated informational hysteria to continue the "unpunished economic robbery."
"The long-lasting, in violation of international law, sanctions epic and the atmosphere of informational hysteria are necessary for America to continue the" unpunished economic robbery. " Its ultimate goal is not a bright European future of Ukrainian citizens, but a tough and inclusive economic agreement with the EU, where Europe seems to have the role of junior partner, "Naryshkin says.