In the early 70s, the Germans tried to create their long-range decentralized rocket launcher of decent caliber to partially replace the existing LARS-1 MLRS. I strongly suspect, by the way, that her main task would be remote mining on the ways of breaking through the Soviet
tanks
. Already the first estimates showed that missiles with a flight range of 60-80 kilometers are rather rather large and heavy, which means they require an appropriate chassis. To assess the solidity of the missiles - we can say that the six-barreled installation created in 1976 required neither more nor less as the chassis, but a Leopard-1 tank. However, it is likely that questions of escorting tank units also played a role, but nevertheless, more than six missiles did not fit on the tank chassis.
Launcher "Rocket System 80" was placed instead of the standard turret of the tank and was deployed trunks back in the direction of travel. Why is that? I guess. for reasons of balance of the design, so that there were no problems with the weight distribution of the tower. On the other hand, the car should not go on the attack, do not shoot direct fire. What does it matter where the trunk looks in the traveling position?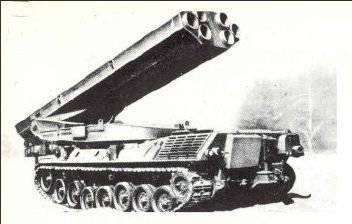 So, six 280-mm trunks allowed to throw about a ton of combat load at a distance of 80km, it would seem normal, but other considerations interfered. Namely - the program of modernization of the MLRS LARS to the level of LARS-2
And let the range of these machines in 2.5 times less than that of the rocket Leopard - but the cheapness of the launch and a rich assortment of shells forced the military and economists to prefer this modernization - the adoption of such a narrow-minded monstrous machine.