At the Nuremberg exhibition IWA-2015, the NIIPH (Russian Research Institute for Applied Chemistry) presented the announcement of a new non-lethal model
weapon
. We are talking about the non-lethal gun NEO, which is a modernization or the next stage of development of the famous "Wasps", the website reports
http://www.all4shooters.com
.
The tubeless "Wasp" (PB-4 pistol), as well as its numerous modifications, is intended for firing traumatic, signal, light-sound or gas munitions. For a decade and a half, this gun is considered a real hit in the self-defense market. Its variants PB-4В and PB-4CP are even adopted by the security forces. There are many evidences of how a non-lethal gun Osa helped its owner to repel the attack of intruders. And the collection of these certificates is replenished, as the number of owners of the "Wasp" is constantly growing.
Pistols "Osa" are operated not only in Russia, but also abroad - in Switzerland, Kazakhstan, Germany, South Africa.
The rapid acquisition of the "Osa" at once several foreign markets and its simultaneous success in Russia led the designers to the idea that it was necessary to create and upgrade a pistol. Experts from Sergiev Posad decided to create a gun, called the NEO. It was under this name that the gun was presented at the international exhibition. The gun is really a lot of new things: from design ideas to its design features.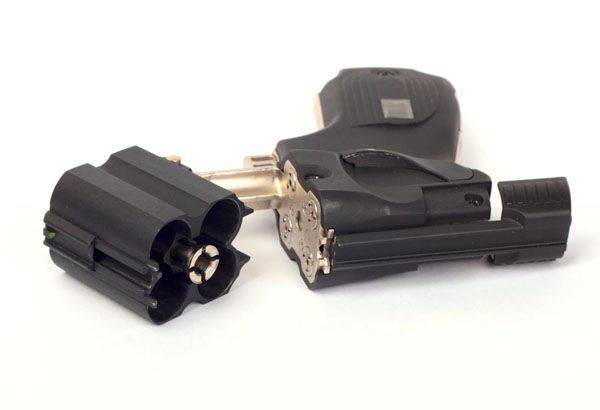 The NEO Pistol uses ammunition 15x40 mm (for the "Wasps" standard ammunition caliber were the following: 18x45 mm, 18x55 mm and 18X60 mm. The new caliber is smaller, and it means that the NEO ammunition means less ammunition and the 12,7x50 mm.) Moreover, in addition to non-lethal cartridges, the lethal ammunition is included in the NEO complex. The caliber of NEO cartridges in real performance is 15 mm (.12). Then why was the value mentioned above in 220 mm higher? In fact, this is the outer diameter of the sleeve. thick-walled and this allows On the inner side of the rifling. If you can put it that way, the muzzle energy of this pistol (and it is, as we recall, barrelless) is as much as that of the PM. The 25-gram cylindrical bullet accelerates to the impressive speed of this weapon XNUMX m / The total weight of the tubeless NEO cartridge is XNUMX g.
NEO uses durable metal as a body material. The weapon therefore became more massive, and accordingly - and reliable too. Gun dimensions: 117,5х32х105,9mm. This suggests that the upgraded version of "Wasps" smaller. This allows you to use the option of secretive wearing, which is important for a person who expects to use a gun in the case of self-defense.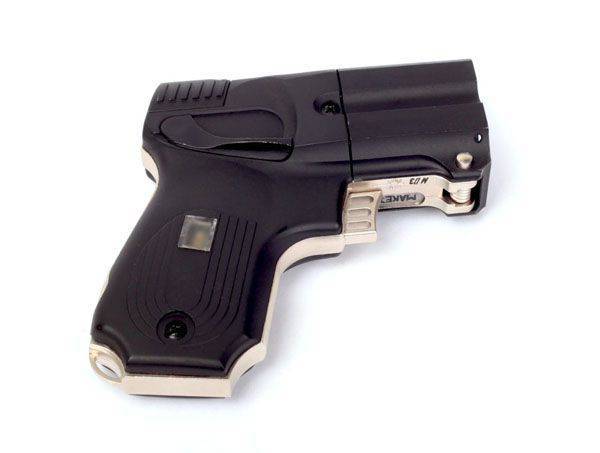 The gun does not have a trigger guard, and therefore uses a non-automatic fuse. The pull force is in the 15-25H range.
The gun has a built-in laser designator, open mechanical sights. The principle of reloading and ignition of a pistol is unchanged: a four-shot barrel-free weapon with a flip-up chamber chamber and an electric ignition of a cap. The NEO Pistol can be used to trigger signal charges.