Night vision gogglesIf in the previous part topwar.ru "Soldiers night vision systems and night sights for rifle weapons"all monoculars were described that can be used as night-vision goggles, especially in doubles, this section describes systems that were actually thought of as night-goggles from the very beginning. But when the cost is at stake, one-tube systems usually also are considered.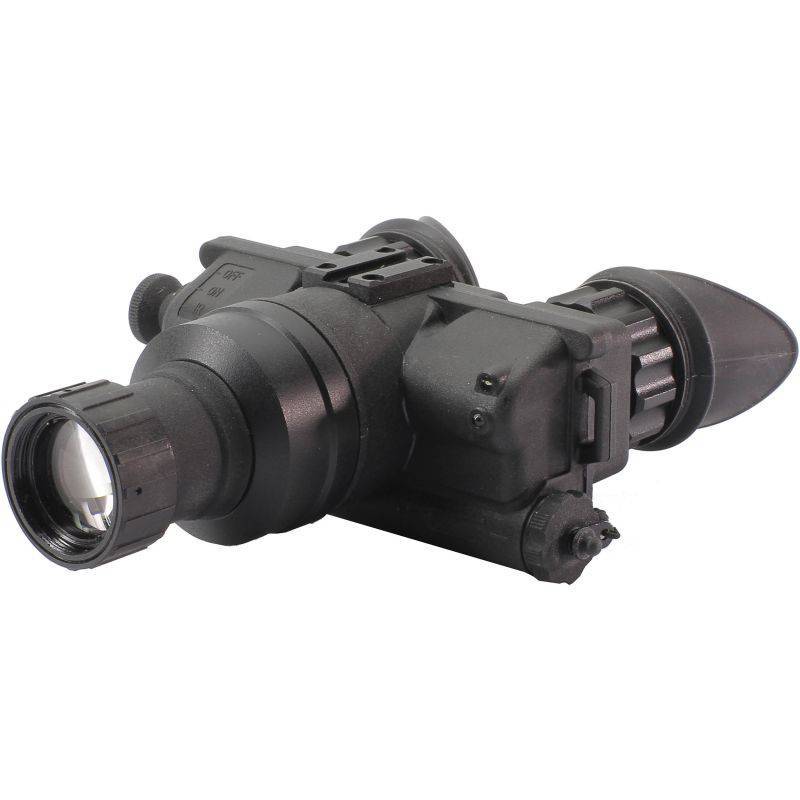 One of Newcon Optik's bestsellers, night vision goggles NVS-7, is from the American project AN / PVS-7.
As usual, the equipment of the American army looks more solid than the others, at least with regard to the number of devices released, almost by hundreds of thousands. AN / PVS-7 night-vision goggles have been in service since the end of 80's, at least in 4 variants from "A" to "D"; New devices of the latest installments are equipped with Gen-3 tubes. A single-tube system with two eyepieces with an x1 magnification can be mounted either on the face mask or on the helmet. An AN / PVS-7 lens with a 26 mm focal length and 1.2 aperture provides the 40 ° field of view and ensures, with starlight, a detection range over 300 meters and a recognition range of more than 200 meters. A device weighing 680 grams is distinguished by an infrared illuminator and is powered by two AA batteries, which provide around 80 hours of operation when the illuminator is off.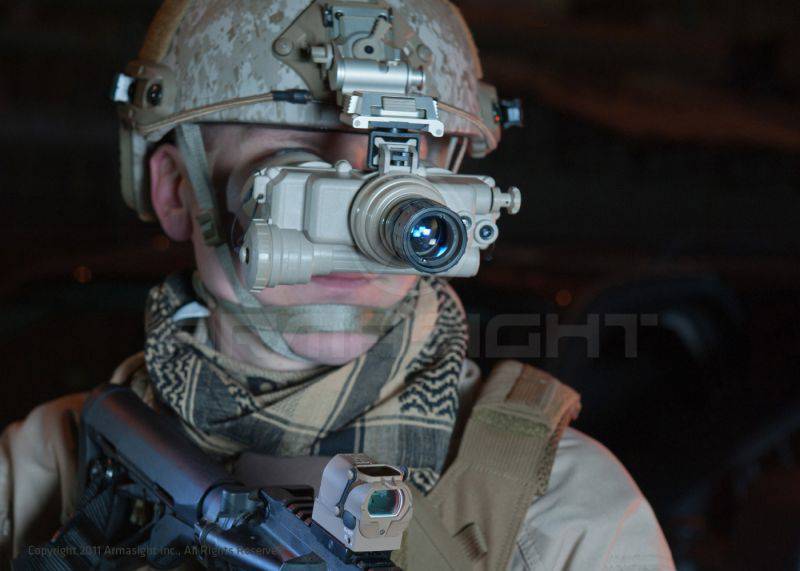 Night Vision Goggles AN / PVS-7
The US military has placed manufacturing contracts with four manufacturers: ITT Industries (currently Exelis), Litton Industries, Northrop Grumman and L-3 Communications; now they are all part of L-3 Warrior Systems. This system is still in the catalogs of companies and exported to many countries.
In addition to American companies, other countries also manufacture systems according to AN / PVS-7 requirements. The NL963B device from Nightline and the PVS-7 device from N-Vision Optics are also based on the AN / PVS-7 device and have similar characteristics.
The NVS 7 device from the Canadian company Newcon-Optik, depending on the tube used (all Gen-3), receives either the 3XT index, or 3AG (with auto gating), or 3AGBW (with black and white phosphor and auto gating). It features an integrated light sensor that automatically turns off the tubes after 30 seconds under normal ambient light, which drastically reduces the likelihood of tube burnout. The system is compact (length 150 mm, width 120 mm and height 55 mm); All Newcon-Optik NVS 7 device variants have been sold to more than 50 countries and are still in great demand.
PYSER-SGI
The PNG-M biocular monotube system was developed by the British company Pyser-SGI in parallel with the PNP-M universal monocular, many components and component parts are the same, such as optics and tubes. When developing, the center of gravity was shifted as close as possible to the back of the device in order to minimize neck deformation when mounted on a face mask or helmet. PNG-M is equipped with a conventional locking mechanism with a lock, 137 mm long, 147 mm wide, 51 mm high and weighs 425 gram with an AA battery, which provides more than 40 hours of operation. A powerful infrared illuminator is built into the device for reading maps and other similar tasks.
Pyser-SGI was very attentive to the mass in the development of single-tube PNG-M biocular night vision goggles; polymer case allowed to reduce weight to 263 grams without one AA battery
THALES
At the end of 90, Thales introduced the Lucie single-tube biocular system, in which it was possible to install Gen-2 or Gen-3 tubes - and optionally - auto-gated tubes. It differed in two key characteristics: a wide 51 ° field of view compared to the standard 40 ° field of view and very compact dimensions (depth of the entire 69 mm), which in turn made it possible to bring the center of gravity closer to the helmet and, therefore, reduce the load on the neck.
Lucie glasses are equipped with an infrared illuminator, they can be immersed in water for two hours; are powered by a single AA battery of different types (standard on 1,5 or 3,6 volts or rechargeable on 1,2 volts; battery on 1,5 volts provides 45 operating hours at 20 ° C). A magnifier x3.8 or x5 can be installed, which reduces the field of view to 9 ° and 10 °, respectively. Lucie night vision goggles were a great success; more than 50 000 units were manufactured and supplied to the armed forces of ten countries.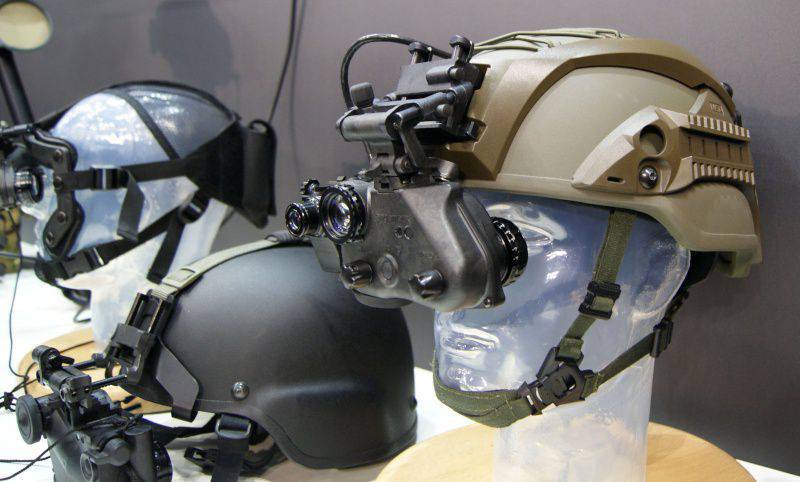 Thales's Minie-D / IR was chosen by the German army for its IdZ-ES soldier modernization program, which currently supplies this device
This design was retained in his successor, designated Minie, which in its basic version weighs less (340 grams with battery compared to 435 grams), but its depth is slightly increased (to 75 mm against 69 mm). In the new Minie there is also a manual adjustment on the power button, while the interpupillary distance varies within 56-74 mm. Energy sources are the same, but the battery life under standard conditions is increased to 50 hours (it was 45 hours).
Considering that the digitization of the battlefield is becoming a reality, Thales went further and refined its night vision goggles to the Minie-D standard. They have Minie characteristics, but they added a micro-display of 800x600 size with a diagonal field of view 42,5 °, which allows you to overlay the video and data stream on the night channel. The 800x600 video is displayed in the middle of a round image and may contain various types of information: when connected to the navigation system, data such as position, distance to the reference point, etc. can be output via the RS232 connector; or when connected to a tracking system, a map is displayed with the location of the allied and enemy forces.
RS170, VGA, SVGA or CCIR inputs are supported in video mode, you can view images from other sensors, that is, images from a weapon sight, which allows a soldier to see or shoot from behind a corner without the need to use a special head-mounted display. All this is achieved with a minimum increase in weight and size characteristics compared to the base case, the mass increased by only 30 grams (plus cable for external devices), the width also slightly increased from 112 to 125 mm, and the depth is only two millimeters. The power source is now one AA battery on a 1,5 volt with the same service life as the Minie, but when using video, a set of five AA batteries is needed except when Minie-D is connected to the soldier's power supply system. The Minie-D device was adopted by the French army for its modernization program for the soldier Félin, as well as for arming other unnamed customers.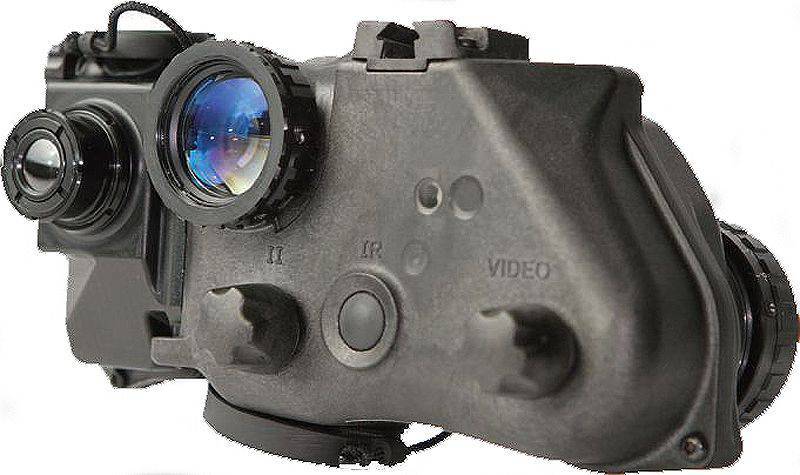 Two Minie D / IR sensors are clearly visible in the photo: the thermal imaging module on the left, and the image brightness enhancement tube on the right.
Monalescent image brightness Monie developed by Thales based on experience gained with a Minie device.
The last upgraded Minie is Minie-D / IR night vision goggles. The last two letters mean that an infrared module (in other words, a thermal imager) has been added to the existing image brightness enhancement module, which allowed us to obtain three different modes, namely, full infrared, threshold and so-called "contour". The infrared module has a field of view 36 °; the image is provided by an uncooled microbolometer 336x256 matrix operating in the 7,5-13,5 micron range. It is displayed on the SVGA 800x600 display, also used to overlay data or video images. In Minie-D / IR glasses, the thermal imaging module is located on the right, which increased their width to 142 mm, the depth remained the same as that of Minie-D, at the same time the mass increased to 500 grams. If not necessary, the infrared module can be disconnected, while the connector protects the cover. The device is powered by one AA battery, the operating time depends on whether the infrared module is on: 2,5 hours of operation with the module, 40 hours without it. A unit with five batteries raises these numbers, respectively, to 18 and 150 hours. Minie-D / IR was adopted, including by Germany, whose army chose the modernization program for the IdZ-ES soldier; The first sets of glasses were delivered in March 2013.
Thales advertises its Minie as the most compact and lightweight glasses available on the market, in the same way Monie advertises only in the monocular field. While maintaining the same optical characteristics as the Minie, the Monie monocular weighs only 280 grams and has a depth of only 69 mm. Directly derived from the biocular version, it can also be combined with a collimator sight on the weapon or used in a binocular configuration to obtain a greater depth of perception, but in this case the mass, of course, doubles.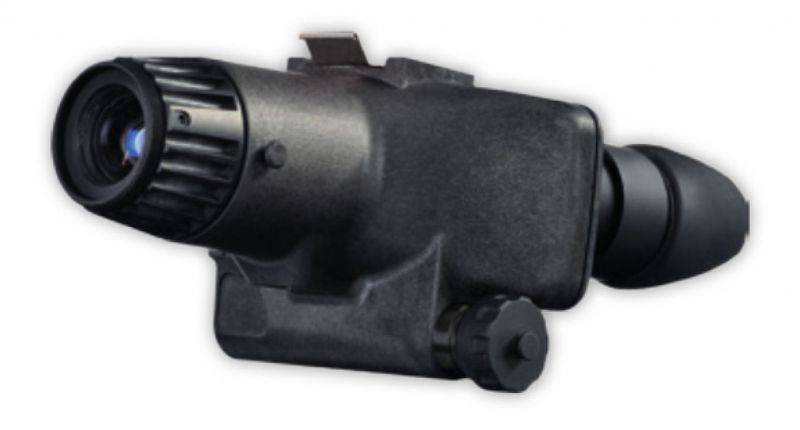 With a weight of about 500 grams without batteries and accessories, the OIP Felis device can be equipped with additional lenses to increase its range
Oip
The Belgian company OIP Sensor Systems is well known for its night vision systems. Her newest night vision goggles are designated Felis; A single-tube biocular device provides the 51 ° field of view and features an integrated infrared backlight device that allows you to improve visibility at close range if necessary.
The Felis device has absorbed all the best from the 18-mm image intensifier; It can also be used as a manual surveillance system when not used in combination with a face mask or helmet. The built-in light sensor provides automatic control of brightness enhancement, in addition, Felis has a programmable controller that allows you to adapt the glasses to the needs of the customer. The device is powered by a single AA battery, if it is alkaline, the operating time is more than 48 hours at 20 ° C, which is reduced to 25 hours when using a nickel-cadmium battery without auto-gating and without an illuminator; a locking mechanism with a shutdown function ensures reduced energy consumption and a longer battery life. In order to increase the range, especially in the case of manual use, Felis can be equipped with additional lenses with x3 or x4 magnification. In its basic configuration, the system weighs less than 505 grams without battery and accessories; The device has a length of 160 mm, a width of 122 mm and a height of 80 mm.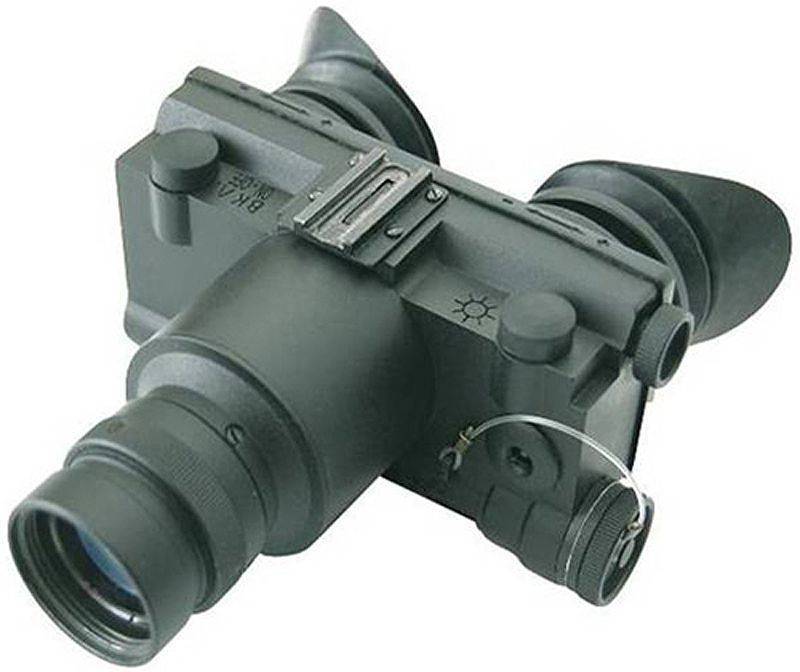 Single-tube night-vision goggles from the Bulgarian company Optoelectron are designated OENG-G; The company most often uses Photonis tubes for its image enhancement systems.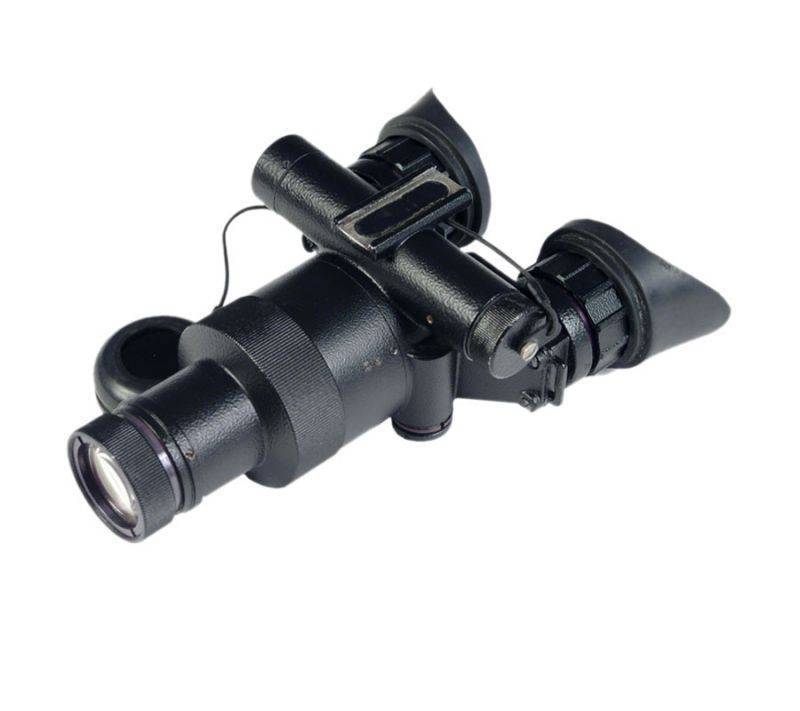 Biocular night vision goggles Shvabe Mon-14K available with three different lenses with magnification from x1 to x5
OPTICOELECTRON
Opticoelectron has OENG-E night vision goggles. This is a single-tube biocular system with a Photonis XD-4 tube and optional auto-gating. Glasses with x1 magnification with a standard field of view 40 ° allow you to adjust the interpupillary distance from 58 to 72 mm; unit weight is 440 grams, depth 150 mm, width 123 mm and height 61 mm. The device is powered by two AA batteries on 1,5 volts, in order to extend service life or to operate at low temperatures (-40 ° C) they can be replaced by two lithium-ion batteries to 3,6 volts.
SHVABE
In the catalog of the Russian company Shvabe there are single-tube two-eyed glasses PN-14K, which can be equipped with Gen-2 + or Gen-3 tubes and lenses of different types (x1, x3.6, x5 and x8); the basic soldier version comes with a lens with x1 magnification. It has a focal length 27 mm and aperture 1.25, as well as a field of view 40 °. Like all Shvabe image intensifying systems, the PN-14K has an infrared illuminator and is powered by a single AA battery per 1,5 volt, which provides 10 hours of operation without an illuminator. When used as a handheld device, the PN-14K weighs 530 grams, has a length of 182 mm, a width of 124 mm and a height of 64 mm. With two holders for the head, the weight increases to 770 grams.
Twin tubesThere are other single-tube biocular devices on the market, although some armies prefer two-tube systems for a better depth perception. Such devices, for example, are preferred by pilots, but when the budget allows, ground units can also receive them, and not only for drivers.
In the United States, the AN / PVS-15 device was not supplied to infantry, although it remained in service with special forces. The same is true for the next version of AN / PVS-21, also known as LPNVG (Low Profile NVG - low profile night vision goggles), which is in service with conventional units, as well as deployed in several allied countries, such as the UK , Canada and Italy. The device was developed by Special Technical Services-Electro Optics (currently a division of O'Gara Sensor Systems); its main difference is that the two tubes are arranged vertically and the lenses are lowered down (approximately on the cheeks of the operator), while the image is displayed on two transparent lenses located in front of the soldier's eyes.
When the outside light is enough, the tubes are automatically turned off, providing the operator with an "unarmed" field of view 160 ° x95 °, compare with the field of view 40 ° in the mode of enhancing the brightness of the image. Two infrared illuminators are built into the glasses. AN / PVS-21 are equipped with connectors that allow to display images or text lines from other sources on the lenses, which actually turns them into a helmet display. The device is powered by a single AA battery, weighs 760 grams, but its low profile depth of less than 80 mm significantly reduces fatigue and makes it optimal for urban operations. AN / PVS-21 was qualified to work at 10 500 above sea level and for parachute operations. The company also offers a low-profile monocular version of the Model 2740 Low Profile Night Vision Monocular.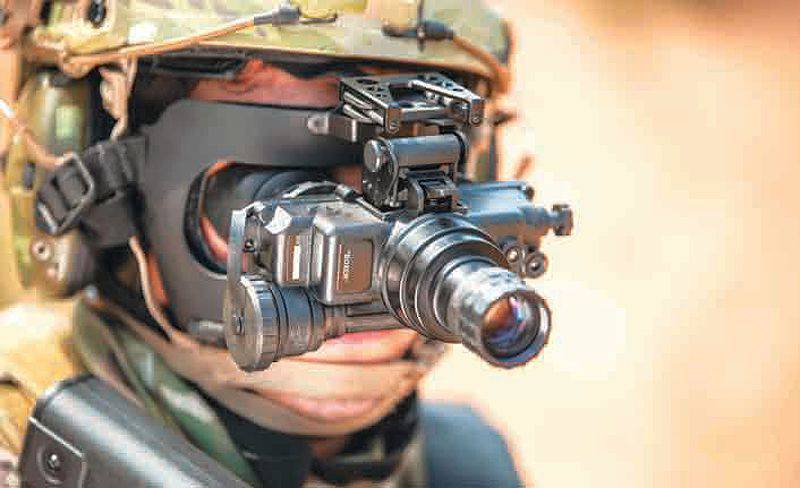 Israeli company Meprolight offers Boxer NVG, which provides the classic 40 ° field of view and can be equipped with additional magnifying lenses.
MEPROLIGHT
The Israeli company Meprolight offers a Boxer NVG biocular system with one Gen-II + or Gen-III 18-mm tube, which provides an x1 magnification and 40 ° field of view; the mass of the device without batteries and masks is 0,5 kg, and with them 0,81 kg. The Boxer features a lens with a focal length 26 mm and an aperture 1.2, additional lenses with x3, x4 and x5 magnifications are available. The mask allows you to adjust the interpupillary distance from 55 to 72 mm, pupil removal is 15 mm. Meprolight NVG is powered by two 1,5 volt batteries or one 3,6 volts, providing 80 hours of continuous operation.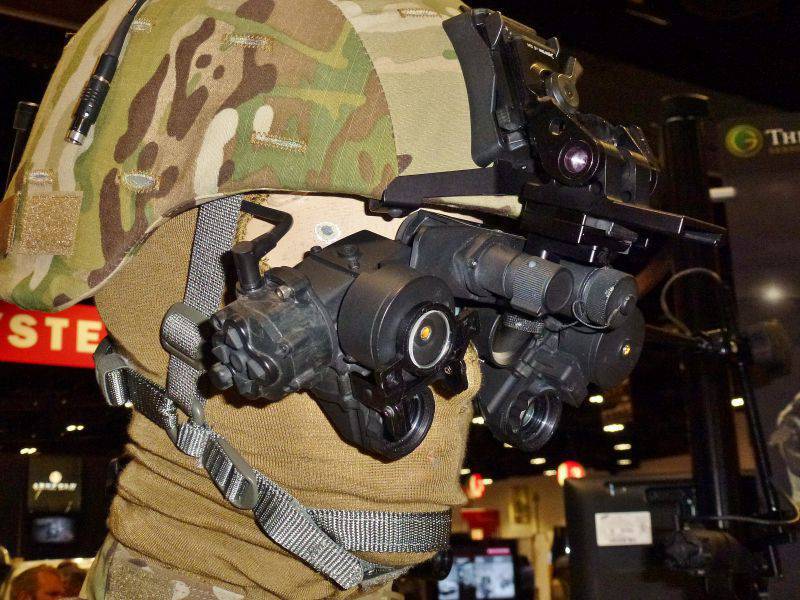 The AN / PVS-21 device, developed by STS (part of the O'Gara group), was originally developed with a view to reducing the frontal dimensions and therefore has such an unusual design
EXELIS
Exelis, for its part, has developed i-Aware Tactical twin-tube glasses, also known as TM-NVG (Tactical Mobility NVG), whose main channel also displays information, pictures and videos in a way that turns them into a kind of helmet-mounted display. In addition, TM-NVG allows the operator to record images, either photos or videos, and transfer them to another user via the network. Undoubtedly, TM-NVG glasses belong to high-level systems. It was put into service by the two first customers, an unnamed army of one of the countries of the Middle East and the Italian army, the latter chose this system for its program of a future soldier Soldato Futuro. Exelis manufactures its own Gen-3 handsets, which thus weakens export restrictions and allows Exelis to offer auto-calibrated handsets with higher performance.
The main monocular of the TM-NVG device has an image channel enhancement field of view greater than 40 °, while the SVGA 800x600 display (data and images are displayed on it) has a diagonal field of view 33 °, the brightness is automatically adjusted to the lighting conditions. The imaging sensor has a matrix of pixels 960x680. In video mode, the frame rate is up to 10 frames per second, images are exported via the 2.0 Highspeed USB interface. Video input supports different formats, such as SVG A / VGA, RS-170, NTSC or PAL. The auxiliary monocular is a standard electro-optical converter, and depending on personal preferences, the user can swap tubes. Each monocular is powered by an AA lithium battery, which allows you to work more than 15 hours at a standard temperature, although this time, of course, decreases when using the display or image recording. The entire TM-NVG device with a main and auxiliary monocular, jumper, helmet mount, but without batteries, weighs less than one kilogram. The system was created with the aim of maximally simplifying integration into soldier modernization programs. Exelis is currently working on a thermal imaging element for TM-NVG to combine it with an enhanced image. The company expected to receive its first order for an upgraded version at the end of 2014.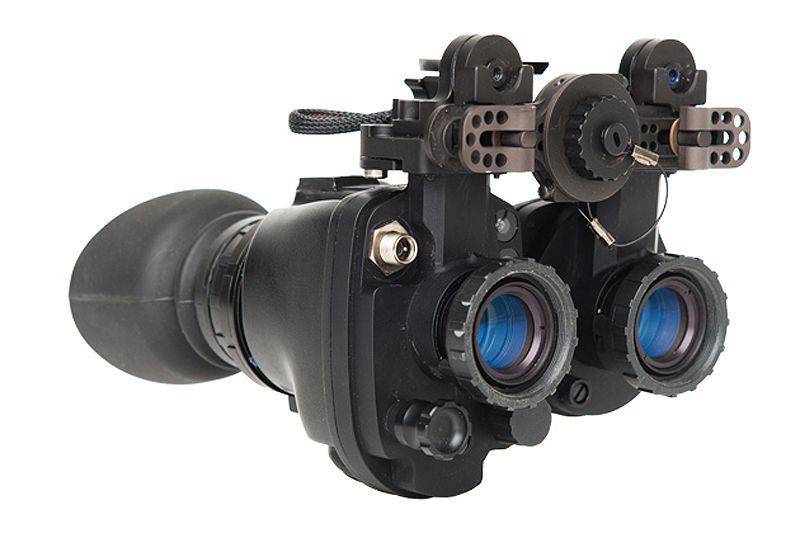 The Exelis Tactical Mobility NVG night vision module (left) allows the soldier to see not only the night image, but also photos, messages and videos received from other sources.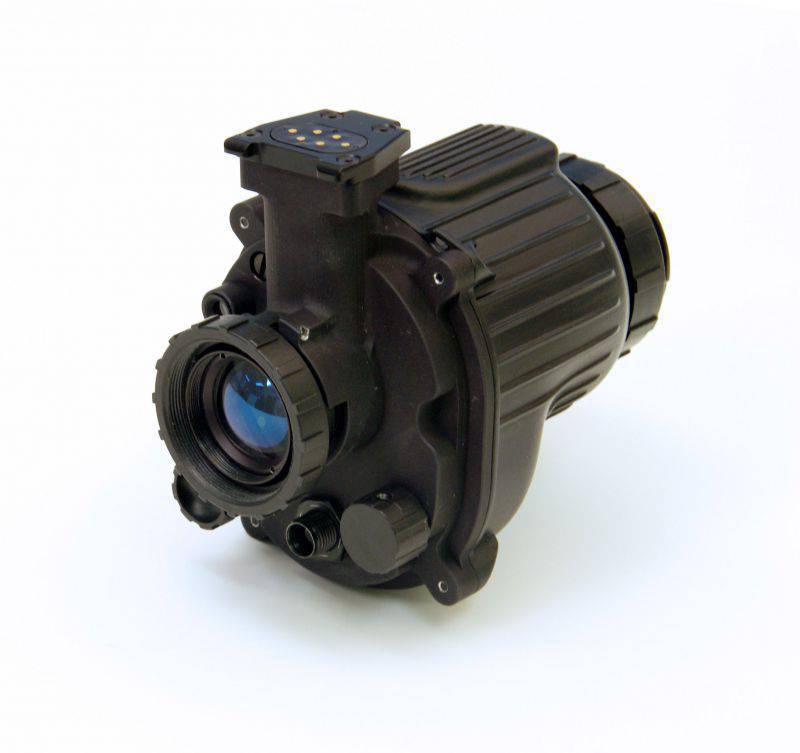 Middle plan of the main monocular Exelis TM-NVG; when used in the binocular version, the additional monocular acts as a standard device for enhancing the brightness of the image
SELEX
The company Selex Galileo (currently part of Selex-ES) from the very beginning participated in the Italian program Soldato Futuro; its main area of ​​activity is the development of night vision systems for military personnel. However, the task was not to design and manufacture separate systems, but to create a series of systems that would be fully integrated into the soldier system. The company developed the Nimos night vision system, the first version of which was based on a CCD camera for low light levels; The picture from it was displayed on the screen in front of the operator's eye. Although the system complied with the original army specifications, it was considered obsolete and, as mentioned above, the company signed an agreement with the American company ITT Exelis, which provided i-Aware technology. As a result, Selex ES added this technology with the components necessary for direct integration into the Soldato Futuro kit. Selex ES is not standing still and is working with its American partner to merge images from the image intensifier and thermal imager. Other innovations include built-in helmet functions, such as navigation.
WILCO
Wilco offers the standard WWS 8 night vision goggles. In this one-tube biocular device the same tube and lens are installed as in the WS 375 device described in the section dedicated to universal monocular image amplifiers
topwar.ru
. This functionally flexible system and therefore, in addition to the standard configuration with the 26-mm lens with x1 magnification and 40 ° field of view, you can install an 250 mm lens with magnification up to x10 into it. Points in the x1 version weigh 490 grams and are powered by two batteries, guaranteeing more than 60 hours of operation.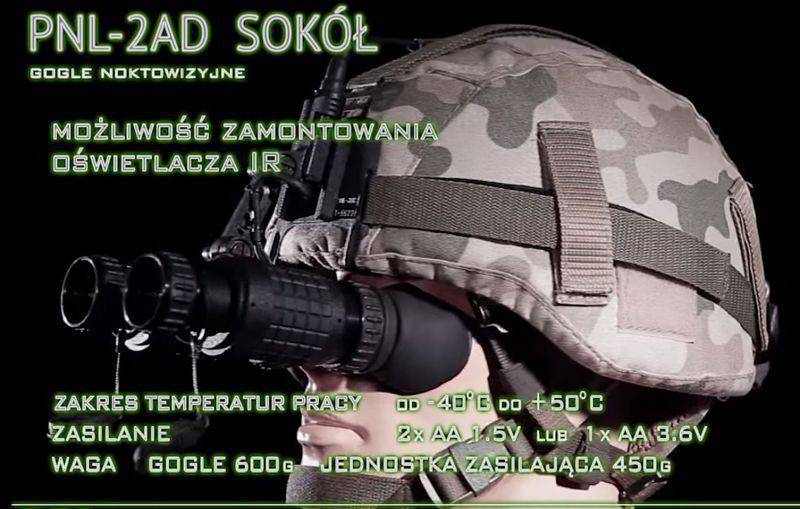 Until the middle of 2014, PNL-2AD Sokół, equipped with XD4 / XR5 tubes or their equivalents, were top two-tube glasses in the catalog of the Polish company PCO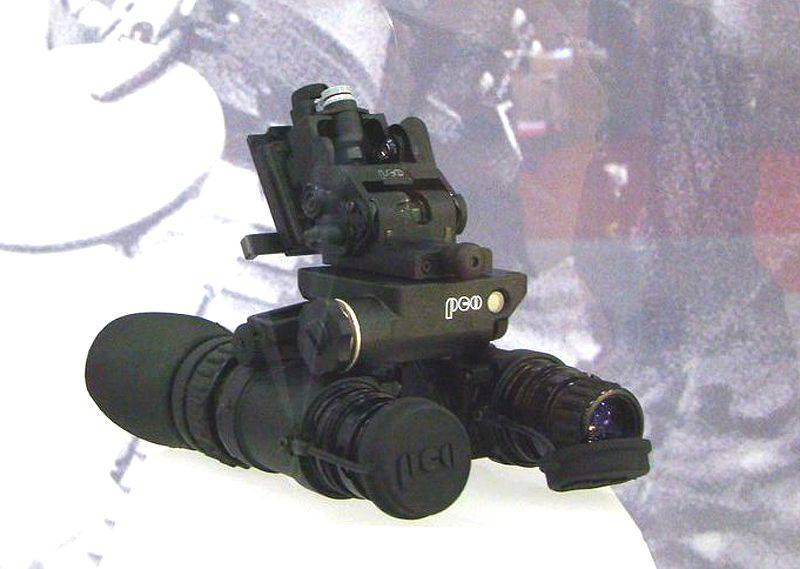 The Polish company PCO presented at the MSPO 2014 exhibition the latest PNL-2AD / M Szpak glasses with the newest Photonis Intens tubes
PCO
The latest entry into the catalog of the Polish company PCO is PNL-2AD / M Szpak night-vision goggles, shown at MSPO 2014, which are a further development of the existing PNL-2AD Sokuł twin-tube glasses. The newest version weighs 590 grams without batteries, 110 grams less than the previous model. They are more compact, but retain the x1 magnification and 40 ° field of view of the previous model. The main advantage of these glasses is that they are equipped with modern tubes Photonis Intens with excellent performance. The water resistance of the glasses is ensured to the depth of 9 meters; Sokuł glasses are powered by a AA lithium battery on 3,6 volts, which provides 15 hours of operation at 20 ° C, or rechargeable AA batteries on 1,2 volts.