Polish President Komorowski visited Ukraine and spoke before the deputies of the Verkhovna Rada who had temporarily unblocked the rostrum. The main idea of ​​Komorowski during this speech was the need to jointly confront Poland and Ukraine with the "revival of Russian imperialism". President of Poland quotes the portal
"PolitNavigator"
:
Poland is shaking hands with Ukraine ... Poland is doing everything to ensure that other powers, the peoples of the free Western world, also shake hands with Ukraine. The Polish hand is not a political situation, but our understanding
historical
processes. This is not about the past, but about the future of Polish-Ukrainian relations.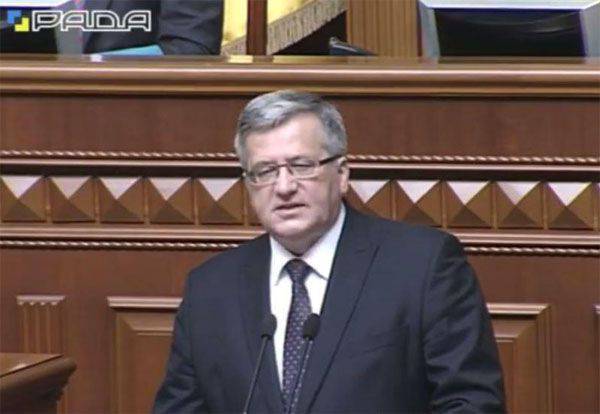 The powers and peoples of the free western world? .. Is it Komorowski about Poland? .. About that Poland itself, whose authorities are afraid even to get to the dressing room without the permission of the Washington trustees? ..
Komorowski reminded the deputies of the VRU that Poland and Ukraine even have similar hymns: that some "did not even die", that others ...
Komorowski:
We are united by a common historical experience, a long period of general statehood, as well as severe repression of other hegemons. The occupation of Crimea and Russian aggression in eastern Ukraine ended the joyful celebration in Poland of the 25th anniversary of freedom in our part of Europe. Russian aggression is brutally trying to take away the right of free choice from Ukraine. Today, the sons of Ukraine are dying in the east, they also protect Europe from the return of imperial thinking. In Ukraine
Tanks
, Armored personnel carriers, anti-aircraft mounts of the aggressor ... The Western world must understand: it will be safe only when Ukraine is safe.
He mentioned Komorowski and about the conflicts related to the actions of the Ukrainian Nazi groups during the Second World War, but mentioned so that it turned out the following: according to Komorowski, Ukrainians are not at all guilty of this, since then "neither Ukraine nor Poland had of freedom. " They say they are not themselves ... They were forced to burn, shoot and hang women and children ...
It seems that Komorowski (like Merkel and McCain) also needs to be congratulated on Victory Day en masse and send him "postcards" with images of Red Army soldiers who were in Polish concentration camps at the beginning of 20's tortured by Polish "warriors" ...
PS
If Komorowski advocates for the rapprochement of Poland and Ukraine, then why not, in his case, cancel visa regime and write off debts?
P.P.S
When will he take off near Smolensk? ..