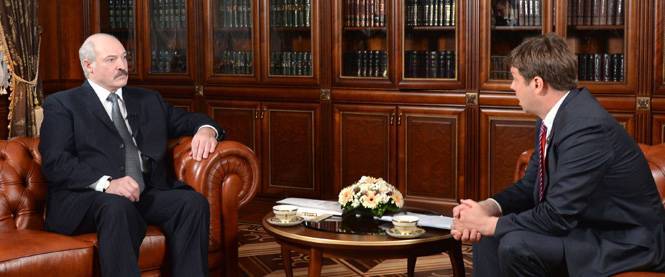 President of the Republic of Belarus Alexander Lukashenko 31 March gave a detailed exclusive interview to the media holding Bloomberg (USA).
The president answered a set of questions related to the process of resolving the situation in Ukraine after the achievement of the Minsk agreements in the Norman format.
"The most alarming thing is that the United States of America was not openly connected to this process. I believe that without the Americans in Ukraine no stability is possible. And meeting recently with representatives of the United States of America, official representatives who have visited us, I strongly conveyed this point of view to them, declaring that I do not know what the Americans want here, in Eastern Europe, in Ukraine in particular but if the Americans want peace and stability here, they should immediately join this process, "said the Head of the Belarusian State.
Alexander Lukashenko focused on the role of the world's leading players in resolving the Ukrainian situation and in maintaining military and political stability in the world as a whole.
The interviews also touched upon the prospects for the development of the Eurasian Economic Union, monetary integration among its members.
The head of state expressed his vision of some aspects of the current economic, domestic political situation, including in the context of upcoming important political events in the life of the country.
Alexander Lukashenko answered several personal questions.