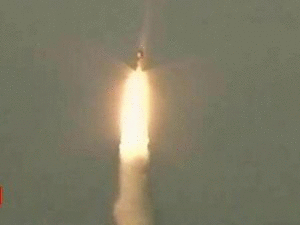 In Russia on Thursday, a successful test launch of the new strategic sea-based missile "Liner" from the nuclear submarine of the North
fleet
"Tula," said Colonel Igor Konashenkov, spokesman for the Russian Defense Ministry.
"The launch of the Liner rocket was made from the nuclear submarine cruiser Tula from the Barents Sea at the Kura range in Kamchatka. The launch took place normally. At the appointed time, the head parts of the rocket reached a predetermined area," said Konashenkov.
According to him, the Liner rocket has similar flight characteristics with the Sinev sea-based missile system, a significant flight range and has more sophisticated systems for overcoming the missile defense (ABM) lines.
"Successful rocket firing at the Kura test site in Kamchatka as part of testing the ballistic missile Liner was carried out by the crew of the captain of 1 rank Arkady Navarsky," said I. Konashenkov.
Earlier, the State Missile Center (GRTS, Miass city, Chelyabinsk region) named after Makeev said that a sea-based strategic rocket "Liner", the flight tests of which began with a successful launch of 20 in May of this year, can carry from 9 to 12 low-power combat units military equipment missiles "Bulava".
The "Rocket Liner" can be equipped in 1,5 - 2 with a larger number of warheads of a small power class than the Bulava rocket.
The Bulava missile can be equipped with only six small-class combat units.
The report of the Makeev State Research Center also noted that the Liner rocket could be equipped with a mixed assembly of warheads of different power classes.
Rocket Liner "in terms of energy and mass perfection (the ratio of the mass of the missile's combat load to its launch mass, reduced to one flight range - IF-AVN) surpasses all modern solid-fuel strategic missiles of Great Britain, China, Russia, USA and France. And in combat equipment (four blocks middle class power) - not inferior to chetyrehblochnomu (in terms of START-3) American "Trident-2", emphasized in a press release.
The report said that, thanks to the Sinev and Liner missile systems developed by Makeev GRTS, there was a real possibility of the existence of a north-western grouping of submarines of the 667BDRM project for 35-40 years, that is, up to 2025-2030.