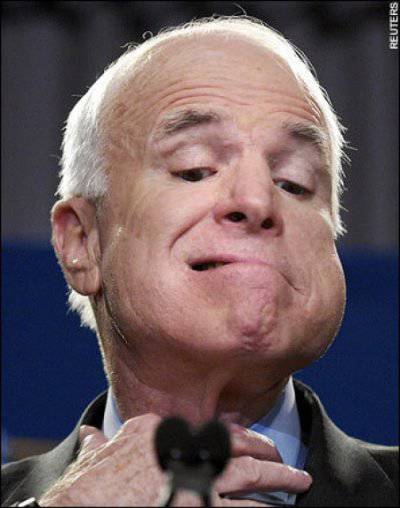 American Republican Senator John McCain again threatened Russia. He called the revolution in Libya a source of inspiration and an example for the peoples of Iran, Syria, China and Russia, reported Agence France-Presse. McCain made this statement at a press conference in Tripoli, the capital of Libya, where he and three other senators from the Republican Party arrived on September 29.
According to him, the United States is confident that the Libyan people "inspire people in Tehran, Damascus and even in Beijing and Moscow. They inspired and inspire the whole world. "
For John McCain, this is already the second visit to the Libyan state this year. In April, the senator came to Benghazi, a stronghold of the Libyan rebels. During his first visit, the Republican expressed support for the Libyan opposition and invited the United States to recognize the National Rebel Transitional Council (this was done in July 2011 of the year).
According to the Associated Press, during the trip, John McCain and Republican Senators Mark Kirk, Lindsay Graham and Marco Rubio who came with him met with the Chairman of the National Transitional Council Mustafa Abdel Jalil and other senior leaders of Libya.
Earlier, heads of countries such as France, Great Britain and Turkey visited Tripoli. The world community for the most part recognized the power of the Libyan rebels, and in mid-September 2011, the Libyan NPC was able to represent the state in the UN.
It should be noted that McCain has long been a consistent opponent of Russia and other "enemies" of the United States. He was even called "the main Russophobe of America." In 2003, he declared that Russia did not share American "basic values" and therefore could not be a partner and friend of the United States, risking "to put itself among the enemies of America" by its own behavior. In 2005, he and Senator Joseph Lieberman submitted a draft resolution to the Senate demanding that the Russian Federation be excluded from the G8. In the same year, McCain, along with Senator Hillary Clinton, nominated Viktor Yushchenko and Mikhail Saakashvili for the Nobel Peace Prize. In 2007, McCain lobbied for the accession of Georgia and Ukraine to the North Atlantic Alliance.
In August, 2008, when Russia (after the aggression of Tbilisi against Tskhinval) recognized the independence of South Ossetia and Abkhazia, McCain called for recognition of the independence of Chechnya and the North Caucasus.
In August, 2011, McCain already made a statement similar to this one, he said that the events in Libya should be a warning to the Russian leadership. According to him, Syrian leader Bashar Assad will follow Gaddafi, and in China and Russia, there is restlessness and people want freedom.
Recently, Western politicians - American, French, English, very unrestrained language. Threatening Syria, Iran, "black marks" are sent to China, Russia, Pakistan and other countries, which retain a certain independence. It is time for the powers of Eurasia to think about an alternative NATO, a military-political alliance.