During his visit to the Chernihiv region, President of Ukraine Poroshenko was marked by another populist statement. The head of the Ukrainian state said that in a short time Kiev intends to impose personal sanctions against the Russians, who are involved in the "annexation" of the Crimea and the "aggression" against the Donbass. Poroshenko noted that such a decision is being coordinated through the Council of National Security and Defense of Ukraine, which is now headed by Turchinov.
Petro Poroshenko quotes
Russia Today
(style saved):
(...) there will be measures to be taken regarding the seizure of individual assets and the arrest of accounts.
After that, Poroshenko announced that he was ready to submit to a referendum questions about federalization and the status of the Russian language. However, Poroshenko immediately added that there was no need to hold such a referendum, since the citizens of the country "will never vote for a second state language and for a federal structure." But Poroshenko, how do you know about how the citizens of Ukraine will vote?
Ukroprezident visited one of the military units. During the visit, Poroshenko sat at the table in the soldiers' canteen, along with the prepared privates.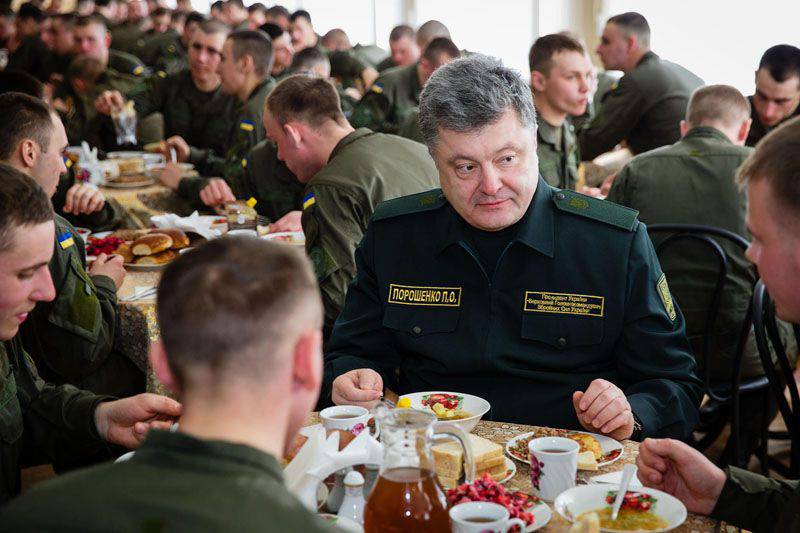 Judging by the photo, the Ukrainian soldiers at Poroshenko did not earn more than half a half of the soup and the cutlet with a side dish placed on a plate the size of a saucer ... It was impossible to ask the Supreme Commander-in-Chief about a thousand hryvnias a day ...