March 29-30, seven Su-35S fighters of the 23rd fighter aviation regiment, based at the Dzemgi airfield in the Khabarovsk Territory, the 303rd Guards Mixed
aviation
divisions of the 3rd command of the Air Force and Air Defense of the Russian Federation made a flight almost over the entire territory of the country along the route: Dzemgi - Tolmachevo (Novosibirsk) - Bolshoye Savino (Perm) - Lipetsk, reports
blog
Center for Analysis of Strategies and Technologies.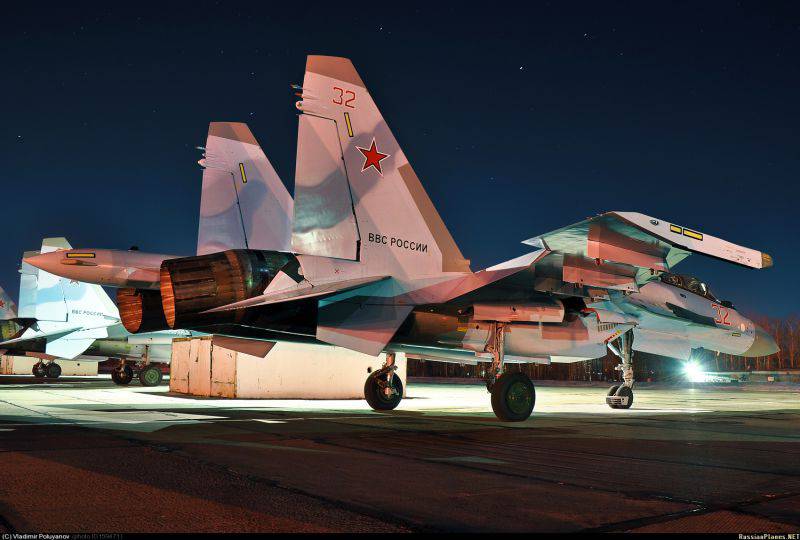 In Lipetsk, at the aerodrome of the 4 State Aviation Personnel Training Center and Troop Tests of the Russian Defense Ministry named after V.P. Chkalov, the crews of the vehicles will prepare them for participation in the Victory Parade, which will be held in Moscow on May 9. It is planned that six aircraft will be held in the air part of the event.
The article notes that seven Su-35С who arrived in Lipetsk are included in the last batch of "the construction of the Komsomolsk-on-Amur Aviation Plant named after Yu.A. Gagarin (a branch of JSC "Company" Sukhoi ") program 2014 of the Year", which became part of the 23-th aviation regiment at the end of 2014 year.