President of Ukraine Petro Poroshenko said another crazy speech. During his speech, he said that "the Ukrainian army does not kill the peaceful inhabitants of Donbass." According to the ukropresident, the Kremlin propaganda is to blame for everything again. Petro Poroshenko quotes
UNIAN
:
I can responsibly declare: the Ukrainian army does not kill the civilian population. Ukrainian patriots who live on the other side, they remain under the influence of Kremlin propaganda, which, no matter what they do, tries to present it in a distorted way. And this, by the way, is also a separate topic, how to counteract the Kremlin propaganda.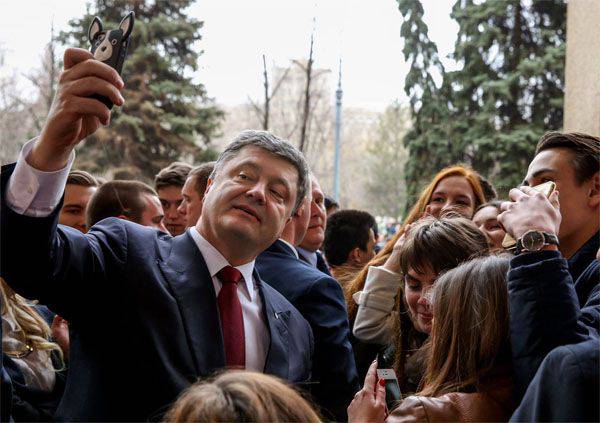 That is, Mr. Poroshenko is trying to declare that the bombing of Lugansk and Donetsk by the Ukrainian Air Force, shelling of the cities of Donbass with cluster bombs, the use of phosphorus bombs, recorded, among other things, by Western journalists and representatives of the OSCE mission - is this all "Kremlin propaganda"? The shooting of residential areas from howitzers, large-caliber mortars with ukrosilovikami and drunk mobilized, thousands of dead, tens of thousands of wounded - also "Kremlin propaganda"? The UN report on more than 6 thousand civilian casualties - is it also propaganda?
If Poroshenko "responsibly declares" that the Ukrainian security forces do not kill the civilian population, then this is yet another proof of the deceitful nature of this man, who got to power and kept power only thanks to the support of overseas henchmen and the launch of the repressive machine against the Ukrainian population.