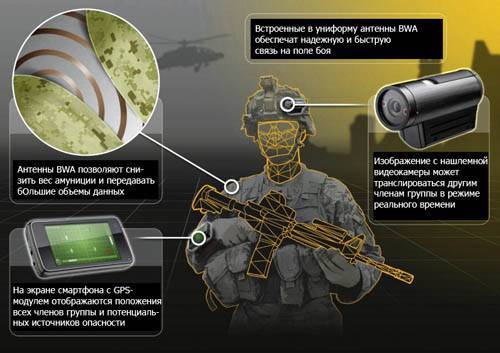 To ensure soldiers on the battlefield are fully reliable and effective communications, antennas will be woven directly into the fabric of the uniform.
For the modern army, communication is as important as air. For effective data exchange between soldiers, commanders and command posts, rod antennas are used that are bulky and reduce stealth. Yes, and with that absolutely can not rely on them. For example, the signal of a short antenna of a portable radio receiver can be blocked by the fighter's own body and its ammunition. The developers of BAE Systems intend to solve these problems.
The project "wearable antennas" (Body Wearable Antennas, BWA) should provide soldiers with an 360-degree, uninterrupted and reliable means of communication: for this, the antennas are woven into uniform fabric.
The already created working prototype of the system demonstrates that it can not only provide increased reliability of communication, but also provide a channel for the exchange of voice and video information from a microphone and video camera attached to the helmet of the fighter, as well as GPS navigation data. In fact, at the right time, any soldier can see the picture with the "eyes" of his companion, or show him the position from his position.
The image is displayed on the screen of a regular smartphone, which is mounted on the wrist. Special software here shows a map of the terrain on which the location of other fighters is marked - of course, the situation is displayed dynamically and changes in real time. On the touchscreen, you can mark objects important for combat - safe shelters or, conversely, potential sources of danger. Reliable exchange of all these data is ensured by BWA antennas sewn into the uniform, while their weight is lower than with standard antennas.
In parallel, developers are looking for ways of non-military commercial use of the BWA system - for example, for firefighters, rescuers and the police, in geological exploration and other areas where constant and reliable individual communication is required.