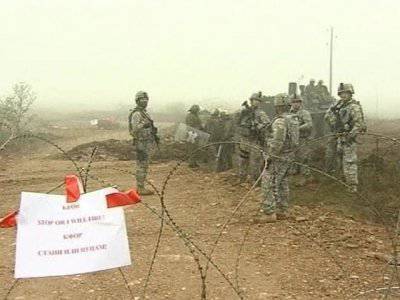 The Serbian authorities have announced the cancellation of negotiations with Pristina until calm is restored on the Serb-Kosovo border. On the eve of the clashes at the checkpoint "Yarinje", at least 16 Serbs and four NATO soldiers were injured. According to the Alliance soldiers, the locals were the first to use force. The protesters, in turn, say that peacekeepers shot unarmed people.
Stones, bottles, and even improvised bombs ... Locals strongly attacked NATO peacekeepers after they bulldozed one of the barricades erected by Serbs on the road to the Yarinie checkpoint. In response, the military used force. KFOR speaker Ralph Adamec said: "" We are not politicians, but soldiers, and when we are threatened from the outside, we act accordingly. We have enough weapons and skills to respond to aggression adequately and decisively. "
Representatives of KFOR claim that they used tear gas and stun grenades in self-defense, and shot only with rubber bullets. As a result, the list of injured around 20 demonstrators, four are in serious condition. They were taken by ambulance to the hospital Mitrovitsy, and the ambulance which took out the injured also came under fire. Who opened the fire and what kind of ammunition is unknown for certain.
The hospital's chief physician, Milan Yakovlevich, said: "I don't know if the peacekeepers used rubber bullets, but someone's bullet cartridges were definitely shot, because all the victims who came here had just been shot and wounded.
weapons
".
Participants in the protest claim that NATO soldiers shot unarmed people. However, there are victims among the peacekeepers - four soldiers were slightly injured. The reaction of the European mission in Kosovo followed immediately, and responsibility for the unrest was placed on the local Serbs. The spokesman for the EU mission in Kosovo, Nicholas Houghton, said: "A group of people tried to break through the cordon of peacekeepers, several people were injured. This is a serious incident. Local residents should not break the law."
The situation on the administrative border of Serbia and Kosovo worsened in mid-September this year. Then the Kosovo Albanians unilaterally actually captured the Yarinie checkpoint, placing their customs officers and police there. Kosovo Serbs, trying to hinder their work, blocked both roads through the checkpoint. In 2008, local residents completely destroyed this crossing point in protest against the declaration of independence of Kosovo. Now the settlement of the situation on the border is the main task of the Serbian diplomats. According to them, until the tension subsides, there can be no talk of a new round of negotiations between Belgrade and Pristina.