This week, the Republicans in the US Senate sent a strange open letter to Iran's leaders, informing them that any nuclear deal they made with President Obama would be blown apart by Congress. At first glance it may seem that Republicans want Iran to create a nuclear
weapon
. But it is not. With this letter, they make it clear that they do not want Obama to conclude a deal that will allow Iran to go dry. In addition, heating up passions and tensions is a good way to insure that he will not be able to do this.
But why is everyone so afraid of it? Can Iran really become the second North Korea? Will one day they be able to press the red button and strike at the very heart of Tel Aviv? Will they use this argument to intimidate us and take away our access to foreign oil? Or, despite all our fears, Iran will become a responsible member of the international community, albeit with a nuclear arsenal?
To find out what the world could be like if the Islamic Republic of Iran starts producing nuclear weapons, I asked two experts to clarify the situation: William H. Toby, a senior researcher at the Harvard Harvard Center for Science and International Affairs at Harvard University, and Kamran Bohari, Business Advisor Middle East and South Asia in Stratfor.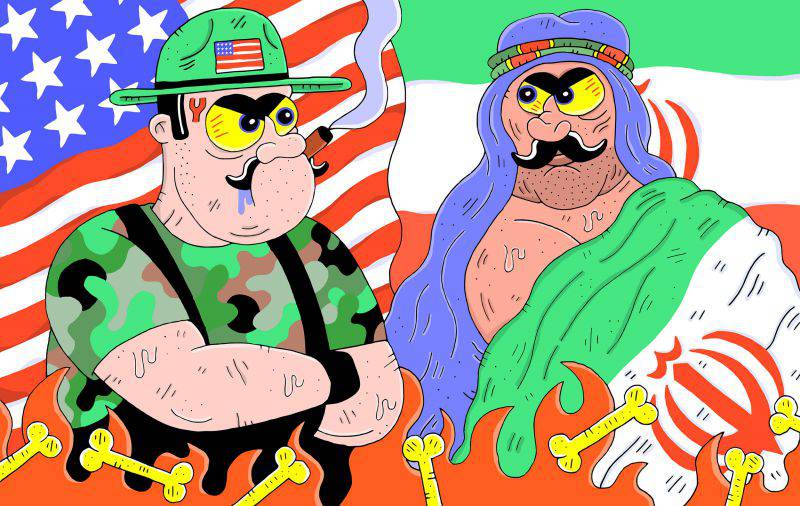 The artists depicted two competing warriors, not two of our respected experts.
VICE: Before we get to the discussion of hypothetical scenarios, what is the likelihood that Iran could develop nuclear weapons?
William H. Toby: They took some steps that caused quite serious actions by the International Atomic Energy Agency and the United Nations Security Council, so I don't think that this is possible. But things can change at any time.
Kamran Bohari: The main question is: do they want to have a nuclear weapon or want to have a geopolitical influence. What is more important for them? Maintaining influence in Syria. Cooperation with ISIS - a threat to get retaliatory harsh steps from the US? To be sure that the Shiites will hold power in Iraq? Hezbollah remains the dominant force in Lebanon? To be sure that the Houthis continue to dominate Yemen? These issues interest Iran more than nuclear weapons.
Well, well, suppose they got a weapon. What can happen?
Bohari: They would have developed the technology in a quiet way and would not have experienced it until the coast was cleared. Or do not experience it at all. If I were an Iranian, then why should I test technology, knowing that it would anger the international community? I'm already under sanctions. I am already negotiating to get rid of sanctions, and here I am doing something that can only aggravate sanctions. This would mean leveling all the concessions they have achieved, especially in negotiations with the United States over the past two years.
Toby: It completely changes the risk calculation for Iran. This will give Iran opportunities to destabilize the situation in the region. This may lead to an escalation of conflicts with their neighbors. They would know that Iran could go to extreme measures and this could cause, for example, a wave of terrorist attacks in the region.
Is Israel scared by this?
Bohari: If you look at the size of Israel, you can understand that the existence of an enemy state that could potentially use nuclear weapons against Israel, for the latter, is equivalent to the end of the world, and they will not survive even a single blow. The fact is that countries such as Israel cannot afford to build several scenarios, whether the enemy will do something or not. Usually, the military-strategic doctrines of such countries are based only on the worst scenarios.
Tobi: They hear that people in Iran say that "Israel is a country for one bomb," and they fear that a slightly more extreme government than the current, with certain religious convictions, may find that the apocalypse is useful with some kind of their point of view. So think the people who are now in power in Israel, for them it is a question of existence. And if nuclear weapons appear in Israel, people will not want to live there. This weapon causes great destruction.
What happens to Israel in the event of a nuclear strike?
Toby: First of all, people discuss the political and economic effect. For the remaining people, this would mean the realization that they are no longer safe. One bomb will not destroy the whole country literally. A single nuclear strike cannot destroy Israel, but if the economic and political viability of the country is undermined, in essence, by eliminating a sense of security, Israel could fall apart as a state. This, of course, is difficult to imagine, but, unfortunately, there are people who want it. Not the bomb itself, but secondary effects, will have major consequences.
Bohari: For many years, the idea existed that "Israelis are going to attack Iranian nuclear facilities." Let's talk about the fact that this may entail: this operation requires a certain number of aircraft, fuel, the possibility of refueling in the air, the calculated flight trajectory, in order to penetrate God knows how many meters of concrete, under which Iranian nuclear facilities are buried, which spread over many kilometers. Not to mention the fact that Iran is physically located in 1200 km from Israel. If you make some simple calculations, you will see that there are certain physical and technical difficulties that must be taken into account before conclusions can be made about whether Israel can successfully strike at nuclear facilities.
Toby: I think the real threat will be that it will give Tehran the opportunity to be more active in supporting groups like Hezbollah, and fear of a response from the United States or Israel will decrease because nuclear weapons reduce the chances of action against forces im possessing it. Hezbollah is now present in Lebanon and Syria. From the point of view of the [non-nuclear] attack on Israel, the attack could begin from the north.
Bukhari: The United States will not go for it, because —and again, you can never be sure — but by negotiating with Iran, you are keeping Iran in the role of the "bad guy." You do not want to attack him, which will result in sympathy for him all over the world. The Chinese and Russians will then refuse to negotiate. I am sure that the Europeans would be shocked as well.
Tobi: The Iranians will argue that for the past or so 300 years or so their borders have remained almost unchanged, and that Iran does not wage wars of conquest, and if we analyze
history
over the past few centuries, it turns out that in essence, such an assertion is true. But what Iran did was use its controlled groups or the authorities of other countries to spread its influence. Thus, in Yemen, Iraq, Syria and Lebanon, the Iranian influence is very strong, and this is done at the expense of other countries in the region, namely the Sunni countries. Shia spread is a strategic goal of Iran, [although] probably not only that. I am sure that it is much more profitable for Tehran to have a friendly government in Baghdad than, for example, the government of Saddam, which waged a very complicated and long war against Iran.
Will it have an economic impact on other countries, such as the United States?
Bukhari: I think Iran itself will feel the greatest economic effect. This will lead to the introduction of new sanctions.
Tobi: The cold war between Iran and Saudi Arabia has been going on for quite a while. If the cold war heats up, it can affect oil flows, because oil production or refining capacity in Saudi Arabia can be damaged, which can affect oil prices and our economic interests. We are not so sensitive to such a development of the situation, because now we produce enough oil in our country, and China is the largest buyer of Saudi oil. But global economic flows are so interdependent that a recession in China can affect the United States.
Does Iran know how to deal with nuclear weapons, or can they do something stupid?
Toby: If you put a nuclear weapon on board, the possibility of an accidental or unauthorized launch increases. There is a whole new country that owns nuclear weapons. You do not know what the start rules are for them, for example, there are special locks on the American systems that exclude unauthorized starting. Will Iranian weapons be equipped with such mechanisms? And even if they had them, what would their command and control structure look like? Who is responsible? Supreme leader? The president? Can one person give an order to use nuclear weapons?
Bukhari: You can miscalculate, but you are not going to intentionally do something stupid. [For example, when the militants of the Islamic state] burned the pilot, which was an act of barbarism, I am sure there was a certain logic behind it. It does not happen like this: "You know, I want to cut off my leg today. May I go and burn another Jordanian pilot. " This is not a deliberate mistake. Behind the madness is the goal.
Is it possible for Iran to transfer nuclear warheads to such groups as Hezbollah or Hamas?
Toby: There are people who are worried about this, and there are people who object that this is unlikely, given that such weapons will lead to the trail of Iran, and the consequences will be so serious, up to a military operation against Iran, so I think refrain from such. But I think this is a hard question. We know that Iran has supported terrorist attacks on civilians. Can such a policy be continued in the form of nuclear transfers to terrorists? I dont know.
Bukhari: You can not find a nuclear weapon lying somewhere on the shelf, take it and go to use. It is not so easy. It is in a deactivated state, unless there is a situation in which the weapon must be brought to full combat readiness. We at Stratfor dealt with this issue in 2006. We have conducted a large study of chemical, biological and radiation weapons that could be at the disposal of non-state actors and, frankly, we came to the conclusion that taking into account the infrastructure necessary for such weapons, possession of such weapons by non-state actors is almost impossible. You need territory, resources, technical know-how and opportunities, so it's just impossible. It's like the horror story that the Taliban tribes in Pakistan can get their hands on a nuclear bomb, which sounds absolutely fantastic.
Can obtaining such weapons by Iran turn out in some not horrible way?
Bukhari: One cannot rule out the possibility of working with Iran to counter Deschamps and jihadists. The idea that the United States and Iran can share some ideas does not go beyond the bounds of decency. We did this in the past. The United States has a history of working with questionable actors. Washington worked with Stalin to defeat Nazi Germany. He worked with communist China, dealt with the Soviet Union. We overthrew the Taliban regime, cooperating with the Iranians, and also coordinated actions and collaborated on the issue of overthrowing the Saddam regime. These actions are not black, but not white.
Toby: I just don't know. I hope this can be avoided.