Oceanographic vessel "Yantar", produced by order of the Russian Defense Ministry at the plant of the same name in Kaliningrad, yesterday went to sea for sea trials, reports
TASS
report of the press secretary of the company Sergei Mikhailov.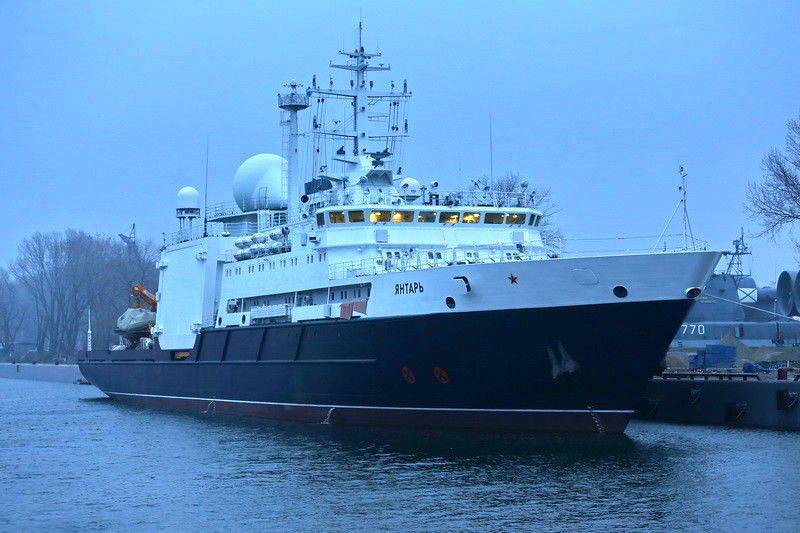 "Today the vessel left the transfer base in the port of Baltiysk and went out to sea," said Mikhailov.
According to him, "within the maritime part of state testing in the Baltic, representatives of the factory acceptance team, together with the crew of Yantar and members of the state selection committee, will check the maneuverability and speed characteristics of the vessel, the reliability of all units, systems and components, navigation equipped this new generation ship. "
He also noted that "according to the results of the voyage, which will last 10 days, conclusions will be made about the readiness of the oceanographic vessel for transfer to the customer, or the need for new outlets at sea."
"Yantar" (project 22010) is a vessel of a new generation with an unlimited coverage area, in its performance characteristics significantly exceeds similar vessels of Soviet construction. According to its developers (KB "Almaz"), "the ship has no analogues in the world and is intended to study not only the thickness of the World Ocean, but also its bottom."
It is reported that "for these purposes, the vessel is equipped with deep-sea habitable vehicles capable of diving to a depth of more than six kilometers, in addition, it is also possible to use Yantar for rescue purposes, its equipment will allow searching for sunken objects on the sea and ocean floor.
The vessel was laid in July 2010, its displacement - 5,2 thousand tons, length - 108,1 m, width - 17,2 m.