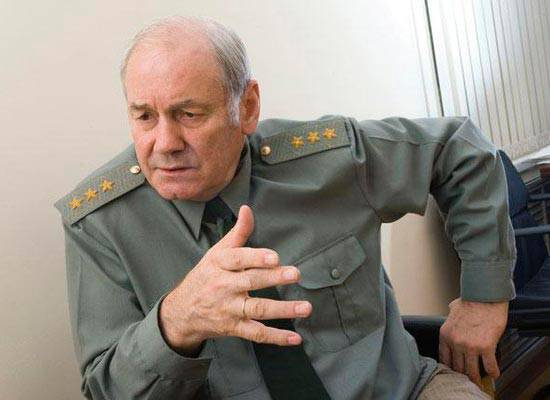 On Monday, Chief of the General Staff Nikolai Makarov made a lot of surprising statements. One of them concerned the intention to increase the number of snipers, whose role in the army today is increasing, especially when fighting in cities. What enemies does the army intend to fight in Russian cities? The interviewee.ru discussed this with General Leonid Ivashov, President of the Academy of Geopolitical Problems.
- Makarov said that he does not exclude unrest in Russia according to the "Arab scenario". And that the army should be ready for the worst possible development of the political situation in the country. Is it to suppress riots included in the tasks of the army?
- Of course not. Military experts have repeatedly noted that in the development of the Russian armed forces there is complete degradation, they are less and less able to solve the tasks urgent for the defense of a large country. Look, the scattered material and technical remains of the army and
fleet
lined up so that they can be docked to NATO structures. Confirmation of this is the transition to an organizational structure close to the structure of NATO forces, the purchase of military equipment of NATO countries, the introduction of standards for command and control adopted in the North Atlantic Alliance, etc.
On the other hand, there is a reversal of the Russian Armed Forces to suppress domestic political protest.
And that is why the so-called Chief of the General Staff has repeatedly discredited the Russian Armed Forces and the domestic military equipment.
He says: we do not need
Tanks
, but we need sniper units ...
- Does one exclude the other?
- Of course not. But there are no large sniper units in any army in the world. These are special elite soldiers. Snipers - not for mass use in battle. They are needed to defeat the most important goals. And they may well cause a great indignation of the people, if someone needs it ...
I think the statements by Makarov sounded quite by chance against the background of the recent unrest in North Africa. I was in Syria in July, I saw several shots (there were foreign special forces' snipers) who suddenly hit a woman, a child or an old man ... And the crowd began to boil again. And the police went there without
weapons
.
And in 1993, in October, at our White House, when Alpha and Vympel special forces units refused to take part in the assault, an unknown sniper killed an Alpha officer. And - the assault, as you remember, began ...