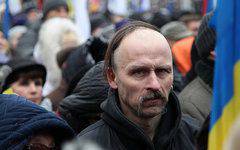 Ukraine is a kind of disease, more precisely a political sect disguised as a nation
I always liked simple reasoning. That is, those that are understandable to anyone, with any education.
If you have to search for and use any special momentum to explain the essence of the topic, then something is wrong.
And then - absolutely no one wants to be clever. Even if it turns out.
And from these very positions of simple presentation of my own thoughts, I decided to express my opinion about what is happening in Ukraine and around it (and even then, it's true who don't speak on this sore subject in our time).
I am convinced that the truth is banal. This is what we have heard many times and dismiss regular conversations on such topics literally - well, okay, in short, everything is clear, we are talking and ... we forget about the main thing.
This is an amazing thing: taking something as banality, for some reason we are not trying to "embed" it in our everyday life or, especially, to rebuff those who are trying to somehow cancel this banality, give white to black and vice versa. Often we are looking for some complex descriptions and explanations of what is happening, either by complexing, or acting under the pressure of some circumstances, or by not wishing at all to follow the "trends" (often artificially created)).
But, rather with the introduction, in fact, I proceed to the main point, the reasoning on what is happening in Ukraine.
Friends, we are all with you (and I would like to add - sensible people), obviously, we understand that "Ukraine is Russia." I put quotes solely in order to just somehow highlight this thought. Banal thought.
And let us begin to say this banality out loud, often and in spite of any criticism from any side and who and what thinks about this somewhere far or not.
Actually, this is the first thesis and the first, most important statement that I would like to fix.
We can begin to argue - right away - this or not. But it is long
история
, but I would like to say a few main things in a not very long article, without leaving much attention to the details of my thoughts.
I do not run from disputes and counter-arguments, but the format of the article does not imply a bilateral dispute. Details and disputes can be presented in other articles or at round tables, etc., I am ready to further argue on these topics and deploy hot and long discussions, but here I would just like to formulate the main thing in the form of theses or something like that.
And so:
1. Ukraine is Russia. This is the first thesis.
Ukraine is a part of Russia, which due to a number of circumstances, is completely man-made, cut off from Russia by forces interested in weakening Russia, the Russian people and the Russian world.
I didn't say anything new, I understand that this is just another commonplace thing (for sensible people), however, we are all the time embarrassed to say it out loud. And in vain. Less hypocrisy and playing giveaway with our enemy is more truth and common sense. It would be more useful for all of us.
Kuchma, the former president of Ukraine, wrote his book Ukraine — Not Russia — a few years ago, guided by a political order and a false understanding of his place in history. He wrote it, by the way, in Russian, which he himself frankly and frankly admitted.
And the second point I would put the following:
2. The inhabitants of Ukraine are Russians, in their overwhelming majority ethnic Russians, and if you take even higher - generally by 99% (the conventional value, if someone does not like it - let it be 98 or 95% or even 90%, this is not so important, the main thing that it is close to the upper threshold in 100%) people of Russian civilization. Regardless already from ethnicity.
The fact that ALL UKRAINE SPEAKS IN THE RUSSIAN LANGUAGE CONFIRMS THIS BANALITY.
In general, for a person's identity, the key role is played by THREE FACTORS: language, history, religion.
What we see today in Ukraine - the demons of the current government (and the past, especially in 1991) try to get rid of the Russian language as much as possible, to limit the influence of Orthodoxy and the churches of the Moscow Patriarchate, the history has already been rewritten and as it happens in such situations of fairy tale writing - it It turned out the most "ancient" for the true "Ukrainians" ("it was foldable on paper ...").
They try to make non-Russians out of Russians, changing their identity and, most importantly, SELF-IDENTITY, the way a person perceives and positions himself in society.
The third point in importance, complementing the second, but also having an intrinsic value — and I would like to point out in particular the following:
3. Ukraine is a kind of disease, although it would be more accurate to say - POLITICAL SECTOR MASKING TO A NATION in the generally accepted sense of the word. Belonging to the "Ukrainians" - is belonging to the sect.
Once again, in other words: involvement in "Ukrainians" is the involvement of Russians in a certain community with their rules, invented by the leaders and ideologists of the sect, involving, of course, using the technologies of involvement in the sect, whatever it may be.
At the same time, there are all signs of a sect in "Ukrainians"
A) Rituals and slogans: "who does not jump ...", "glory to Ukraine", "heroy glory", "Ukraine - the price of Europa ...", "Putin is a bad person" and so on and so forth.
This is very exciting, especially for young people, they are generally greedy for everything new, hormones in their blood are raging, they are looking for activities and adventures, they need a way out of energy, they are ready to run after any newly appeared prophets. By and large, young people do not care - to build or destroy, wherever you direct their energy - there they will rush.
Modern technology allows you to direct the crowd in almost any direction. It is necessary that the whole country jumped - they will jump. It is necessary to shout all sorts of nonsense - they will shout, including infants. These are all technologies that are particularly effective after preliminary training in schools and universities. If the media and social networks are connected to this, then how far can you go to a given goal. And the youth of Ukraine for more than 20 years daily and consistently processed in the right direction.
B) National heroes: the old ghouls are swept away and pulled out onto the white light and made heroes - murderers and ideologues of murderers, even recognized as such by the Europeans (which, of course, is not the main thing for us, because of the fact that the Europeans are actually limited in fact) Bandera, Shukhevych and let's face it - a completely mediocre poet Taras Shevchenko (yes, a poet, but a poet, let's say, of the third level, if I'm wrong, correct it and the main thing - prove the opposite).
AT). Images of the future: Ukraine is Europa. Here, simply an element of religion - we, "Ukrainians, do not understand what it is, what follows from this (we have beautiful pictures before our eyes), we only theoretically imagine how this can affect our life, but we just need" Ukrainians " to believe in it. This is an analogue of "paradise" for believers. No one in Ukraine seriously tries to analyze the realism of his dreams, the main thing here is to believe. We see an absolutely fantastic belief of "Ukrainians" (Russian patients, in other words, or Russians in a sect) in "paradise on earth" - europeanism.
4. Symbols, values. Here it is more than appropriate to make the main values, for example, embroidery and the "Holodomor".
It is necessary to invent WHAT WE ARE DIFFERENT FROM OTHERS, FIRST FROM RUSSIANS, and to make this the central elements of propaganda always and everywhere. Hence the "marches embroidered" candles for the victims of the "famine". Of course, the "Holodomor" is also a technology of mind control. Here you can add the value of "European" and the value with the opposite sign, for example, "we are not padded jacket".
The "Holodomor" was created as a value for a long time, tediously, but stubbornly and consistently. Yushchenko did his job. Everyone laughed at him, his passion for "folk pots", and he consistently did his job. And he prepared the ground (then it was too early to revolt the Natsik and "Ukrainians"). The Holodomor was created, like the Holocaust in its time, on lies and distortions of historical truth in order to create a "pivot point", in this case Ukrainians. The nature of creating a "famine" is on 100% technology for creating an important element of the sect.
Now the summary (repetition is the mother of the teachings), repeat the CANTERITY:
1. Ukraine is a part of Russia.
2. Ukraine is a sect.
3. Ukrainians are sect members, "sick" Russians (they need to be treated and most can be cured unequivocally).
4. The control of the West by the current situation in Ukraine is the technology of separation of part of Russia (Ukraine) from Greater Russia, used by our enemies - the Anglo-Saxons (mainly the United States, but also Great Britain) and Germany (unfortunately, unnaturally and never became our natural ally ).
Of course, this article is very tempted to give a recipe for "what to do." There are a lot of actions that are needed, I will not dwell on this article, but I will limit myself to one, too commonplace advice / reasoning: it is impossible to win the battle while sitting in a fortress.
In the defense of war is not won. To defeat the United States — and this is today the main enemy of the Russian World and Russia — you need to move the theater of war into their territory.
Returning to Ukraine.
Imagine that a huge angry dog ​​grabbed your "cookie" in the teeth and, holding her teeth tightly, holding it. If you, wanting to pick up a cookie, pull it and continue to pull, then most likely it will fall apart into several parts. At best, you will get only a portion of this cookie. And you need the whole cookie. So - this is a bad strategy.
Now imagine that this angry dog ​​is the United States (or rather, Omerik is a country that is now very different in all respects, say from the classic US country 50-60x), a cookie is Ukraine (part of Russia, see p.1 above), and you (the one who is trying to pull a cookie from an angry dog) - and there is Russia.
The correct strategy is not to pull the cookies at the risk of breaking them, but to hit the dog in the head. She opens the jaws of pain and thereby gives the cookie, it will not be up to her. This is the solution to the problem. She herself will release from the mouth of that in a fit of greed and captured that does not belong to her.
Can it become cynical (to the extreme)? A couple of snipers in Ferguson, acting the same way as illegal and sneaky ACTED Americans in 1993 year at the Government House in Moscow or Kiev IN FEBRUARY 2014 years, are able to change the situation with the stability in the United States beyond recognition. Heavenly hundred Omariki.
But Fergusons "there" can (or - should?) Be a lot. These elites of the Western world understand only power. This is commonplace. Well, it is necessary to implement it without any complexes. And we thereby preserve millions of lives, by the way, and on all continents.
We will save billions and trillions of dollars, rubles and yuan that can be spent by mankind on research, medicine, the extension of people's lives, science, the development of civilization in general, and not on the arms race and on wars.
Trite?
Once again - yes.