The British Defense Ministry plans to put more than 2015 new combat reconnaissance vehicles into its armed forces before 1300. At the exhibition of armaments, including British "defense", held in mid-September in London, a new version of the BRM Scout SV was demonstrated. It must be said that this is still a completely "crude" development, which should soon become a functional complex, allowing the British army to perform complex tasks on the territory of the enemy. It is planned that Scout SV will definitively replace the obsolete Scimitars ("Scimitars") and Spartans ("Spartans").
New technology is presented as the integration of technological developments from the British company Lockheed Martin and General Dynamics. These companies, with General Dynamics to a greater degree, will implement their ideas for obtaining innovative technical development in the military sphere.
So, it is already clear that the new BRM will be a fairly heavy equipment with a mass, according to one 35 data, and on the other, all 40 tons. In this case, the new "Scout" will be put on the tracked chassis ASCOD2, which has already managed to recommend itself in other versions of combat vehicles. The tower will be manufactured at the Lockheed Martin plant. The BRM cannon will be an 40-mm cannon, which may be changing its length thanks to the telescopic system. It is planned that during safe movement the weapon will be "minimized" to the minimum length in order to increase the speed of movement of the combat reconnaissance vehicle and its maneuverability. However, the manufacturers did not demonstrate such functions at the exhibition, so the telescopic configuration of the gun still remains evident only in semi-official releases.
The British Scout SV will perform the reconnaissance functions using a series of upgraded vehicles, one of which is an electronic ballistic computer equipped with a laser rangefinder. Other detection tools include a unique thermal imaging system, which will show the crew, consisting of two people, the places from which the fire is fired, as well as clusters of enemy personnel. New thermal imagers will determine the location of enemy armored vehicles, even if it is in the mode of economical fuel consumption.
Front projection of the new development of British military designers made in such a way as to ensure maximum protection of the tower armored vehicles. Compared with previous models BRM armor frontal projection is enhanced by more than 15%.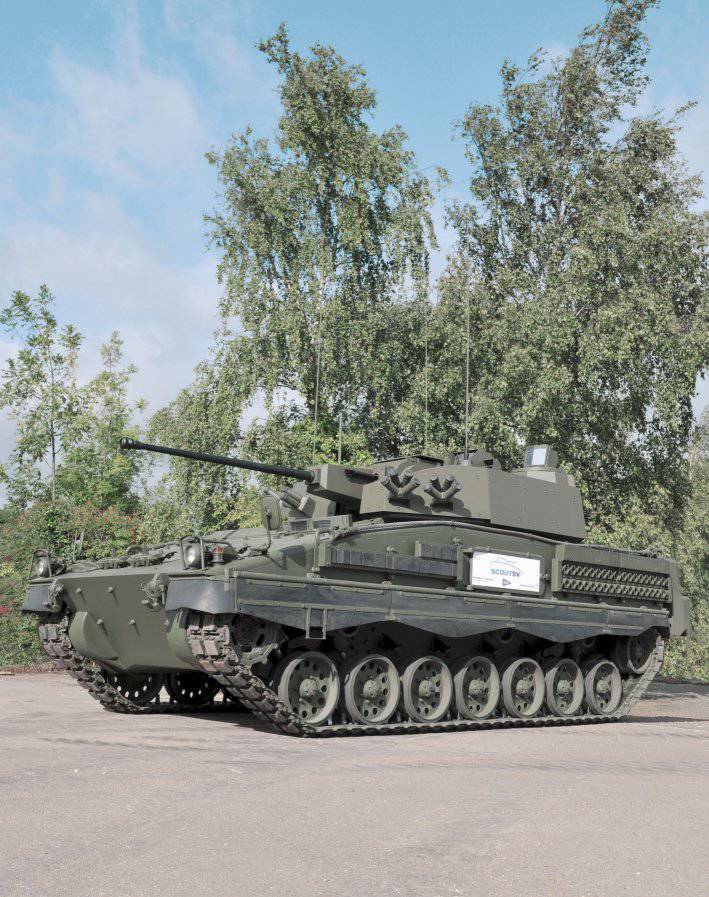 The resource of the engine is also increased, and therefore the BRM will be able to operate in difficult terrain conditions. This especially attracts the British military.
It is planned that the UK will produce new BRMs not only for their own needs, but also for the realization of Scout SV in other countries. Today Scandinavian states, and especially Sweden, have expressed interest in Scout SV.