Poroshenko again booed in Berlin, where he arrived on a visit. The President of Ukraine was met by Berlin's anti-fascists, shouting one word: "Killer!" Representatives of the anti-fascist organizations in Germany said that they intend to hold protests wherever the Ukrainian president will appear in Berlin.
It should be noted that Poroshenko in an interview with
picture
announced that he was going to Germany, including, with the aim of discussing the supply to Ukraine of "non-lethal"
weapons
. We are talking about protective equipment, optical sights, night vision devices, UAVs, etc.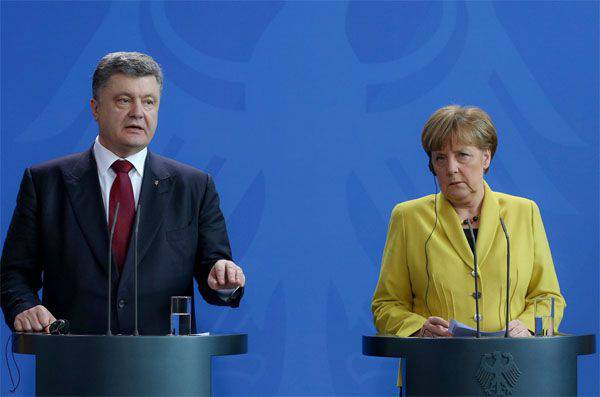 Meanwhile, Poroshenko has already managed to meet with German Chancellor Angela Merkel and make a statement (publication on
site of the Ukrainian president
):
The main thing from the statement for the media of the President of Ukraine on the results of the first official visit to Germany:
- Our clear and common position - there is no alternative to Minsk. Minsk should work, and all parties should clearly fulfill all their obligations. Ukraine stresses: we are implementing a cease-fire.
If it does, then what happens in the area of ​​Shyrokyne and the Donetsk airport, where mines fly from the Ukrainian positions?
- Russia and the militants supported by it are not fulfilling their obligations to a great extent. This also applies to the cease-fire. The question of the withdrawal of heavy equipment and artillery, the termination of the so-called humanitarian convoys is not resolved. The hostages are not released.
And what about the statements of representatives of the Ministry of Defense, which say that Ukraine will not be able to divert completely heavy equipment from the line of contact?
- We insist and emphasize that, as a result of clear and effective coordinated actions, the Russian side and the militants, with which they support, are returned to fulfill their obligations.
Wasn't the Russian side and the militia forced Kiev to sit at the negotiating table in Minsk?
- Ukraine is fighting not only for peace, independence, freedom and democracy. We are fighting for European security, for global security, and this is why this issue is now very important, and we expect appropriate decisions from the Council of the European Union, which will take place on March 19, which we discussed with the Madam Chancellor in detail during our meeting.
It is already possible to lay down legends about "independence, freedom and democracy in Ukraine" - especially after a whole series of political assassinations, persecutions of the media, reprisals against political opponents in the dungeons of the SBU.