PNS: banned weapons found in southern Libya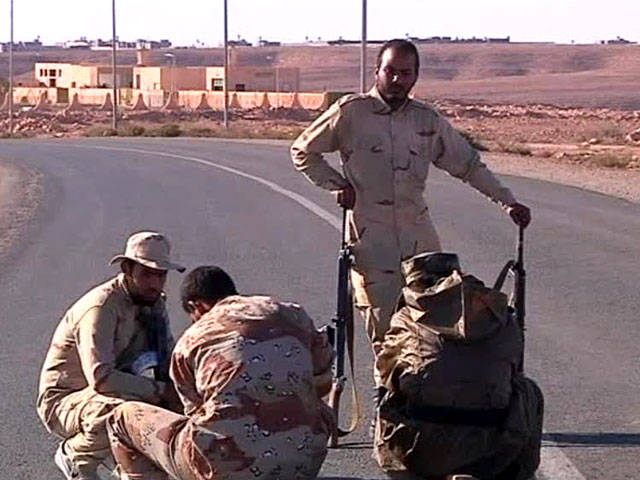 Libya's Transitional National Council (PNC) declared that its fighters had found prohibited by international conventions in the south of the country
weapon
.
As the head of the PNS Mustafa Abdel Jalil said, the weapon was found between Waddan (which is 300 kilometers south of Sirte) and Sebha, the last few days ago was occupied by the PNS troops who managed to overcome the resistance of the supporters of Muammar Gaddafi.
"There are many weapons banned internationally," said Jalil, without specifying the truth that he was found. "Currently, he is under our control. Now we intend to seek the help of local experts and the world community to safely get rid of this weapon. "
Recall last Friday the International Atomic Energy Agency confirmed that a warehouse with uranium concentrate is located in the area located in 750 km south of Tripoli Sebha. In Waddan, the previous authorities kept chemical weapons, reminds ITAR-TASS.
Meanwhile, armed confrontation in the outbreaks controlled by supporters of the previous authorities continues. Despite the intense fire of the snipers, on Saturday the PNS forces broke into the city of Sirte, Gaddafi's hometown. Alliance aircraft are circling over the city. In recent days in Sirte, more than 150 civilians have died as a result of NATO missile strikes and artillery shelling by rebels.
The second stronghold of Muammar Gaddafi, the city of Bani Walid, located south-east of the Libyan capital Tripoli, continues to put up fierce resistance to the forces of the Transitional National Council, despite attacks by NATO aircraft. According to local doctors, all in the battles for the city killed 30 fighters PNS, 50 more injured.
Ctrl Enter
Noticed a mistake Highlight text and press. Ctrl + Enter