The Internet is a terrible thing. Harmful thing. The source of information that keeps a huge amount of pernicious and negative. But this is only one side of the coin. In the affairs of good and necessary Internet can be an invaluable assistant. One of these cases is the search for information about the dead and missing participants of the Great Patriotic War.
This article as a whole does not give any unique recipe and guarantee that you will succeed. But it allows you to prove that if you really want to and make a little effort, then, most likely, you will be able to find information about your loved ones who gave their lives for our homeland. In this case, do not even need to leave a comfortable chair.
First you need to collect the most accurate information about who you are going to look for. With this question you need to contact the representatives of the older generation. Last name, first name, patronymic, date and place of birth. This is a great help for future searches.
Well, now, actually touch on the topic of the Internet.
Below is a brief description of those sites where some of the largest databases of the dead and missing during the Great Patriotic War are stored.
http://mod.gov.kz/memorial
- this is a data bank of soldiers killed and missing in the period of the Great Patriotic War, called up from the territory of Kazakhstan. Here the following data is collected in alphabetical order: full name, date and place of birth, date and place of call, last duty station, rank, reason and date of departure.
The peculiarities of this site is that there will not open any additional data forms here. In fact, this is an online directory. It is very, very detailed and voluminous. The data is separated by alphabet. One page reflects 10 thousands of surnames. To speed up the search, you can advise you to press the key combination Ctrl + F when opening the page you need. A field will automatically appear in which you can score, for example, the surname you need. We press the Enter key, and the computer will automatically show the data that matches the one you entered.
http://www.obd-memorial.ru
- this is without a doubt the largest databank on the Internet about the defenders of the Fatherland who died and went missing during the Great Patriotic War and the post-war period.
On the site you can find information about the rank of the deceased, the part in which he served, the date and cause of death (killed, died from wounds, went missing) and the place of burial.
Moreover, the site contains scanned copies of all processed source documents containing personal information.
These documents make it possible to identify with great accuracy the fallen, since they often contain additional information, in particular, the names and addresses of the relatives to whom the funerals were sent.
Within the framework of the project, more than 13,7 million sheets of archival documents and over 42 thousands of warrior passports were scanned and made available on the Internet.
This site presents several search options.
On the Advanced tab
"Set Fate"
You can find the data by simply specifying the name, date of birth and rank of the person.
On the Advanced tab
"Advanced Search"
You are given the opportunity to find the data about the deceased literally from fragments of information known to you To do this, just fill in the required fields for the search. In addition, in this tab you can choose in which specific types of scanned documents will be searched.
In extreme cases, you can use the tab
"Feedback"
where you can send your request to professionals involved in the work of collecting and filling out information for this site.
In addition, I would like to give you advice: do not be lazy to scroll through all the information that matches your request. On a personal example, the author of this article was convinced that the same person can appear in different archival documents available on this site. It is possible that in some of them you will find some very important information for you.
Below we compiled a list of links to sites where the data for the dead and missing in the war are stored, depending on the country in which they were called.
Ukraine:
http://memory.dag.com.ua/
.
Belarus: since 2007, a catalog has been created on the dead and missing in the fields of war. But you can use it only by personal request to the Ministry of Defense of Belarus or local authorities.
Uzbekistan:
http://memory-book-uzb.com/forum/
.
Azerbaijan:
http://xatirekitabi.az/
.
Another place where information about the participant of the Great Patriotic War you need can be stored is books of memory. Most of them today are also scanned and posted on the Internet. Where can I find directories of these books of memory?
To begin, enter into the Internet search engine a query indicating the desired region. For example, "Kostanay region is a book of memory." If you are lucky, and such data is available, then further you will find the information you need.
[Center]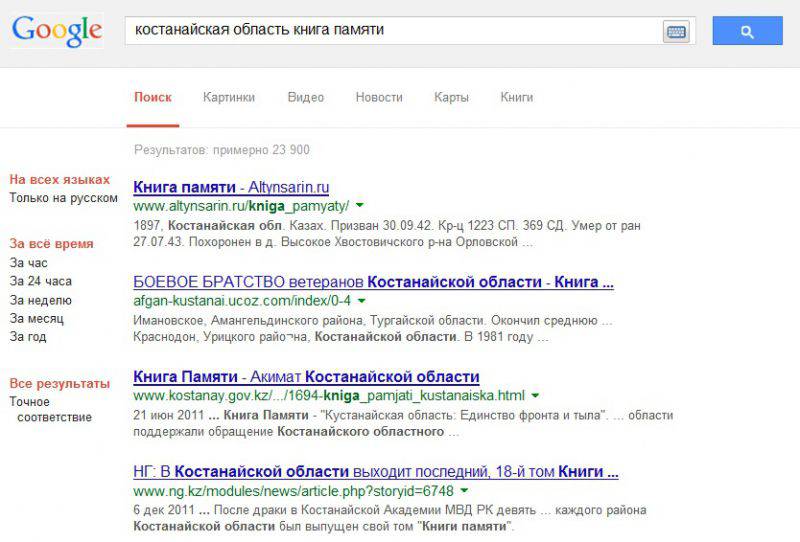 Well, if there is no such book of memory, then you can search it in electronic databases, links to which will be given below.
http://bdsa.ru/index.php?option=com_content&task=view&id=3873&Itemid=192
- a catalog of Internet links to various books on the memory of those killed on the margins of World War II compiled into a single list. Links are divided by region.
http://forum.vgd.ru/112/29613/
- another catalog of Internet references to various books on the victims of the Great Patriotic War collected in a single list. Links are divided by region.
http://poisksvoih.ru/viewforum.php?f=64
- catalog of electronic books of memory. It is divided into separate topics, each of which contains books of memory from a particular region or country.
http://www.soldat.ru/links/?group=3
- Another catalog of electronic books of memory.
http://www.google.ru/url?url=http://www.nlr.ru/ibo_ws/_aspid/_record_docs/7/knigi_pamyati.doc&rct=j&frm=1&q=&esrc=s&sa=U&ei=DHABVdmgI4eoygOE44GABQ&ved=0CB4QFjAB&usg=AFQjCNGE8leyufAOlUZZLmB9ZSLlunzHTw
- very good and detailed text list of books of memory published in print. Books are also divided by region.
In addition to all the sources listed above, you can send requests for information to various state and regional archives.
Also, do not hesitate to contact your requests to regional groups registered on social networks. For example, you need to find a specific burial place or at least find out what state this cemetery is at the moment. Select the group where the townspeople living in the given locality are gathered, and give them your request. Believe me, there is a kind and understanding person who will either share the information you need, or spend 5 minutes of his time to find out what you are looking for.
That seems to be all. As you can see, in many regions and countries, data on the dead and missing in the margins of the Great Patriotic War is not only carefully collected, but also digitized in order to save for descendants who do not like to waste time browsing books, information about their loved ones who sacrificed their lives.
Perhaps, thanks to the above information, readers will discover some new pages from
stories
their families. Someone will be able to clarify the fate of their ancestors, learn about the place of their burial, and may, once visit their grave, in order to pay tribute to their immortal feat.
On the eve of the 70 anniversary of the Great Victory, such searches will be particularly relevant. A huge amount of data posted on the Internet. "No one is forgotten! Nothing is forgotten! "Enough to find the right page on the Internet.