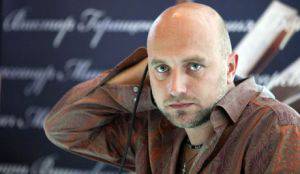 Zakhara Prilepin can be safely called one of the most titled writers in modern Russian prose. In 2011, the writer received the Super Natsbest award for the best book of the decade. Among the nominees was Victor Pelevin and Alexander Prokhanov, who was close to Prilepin in views, with "Mr. Hexagen". But most of the jury members then opted for the Sin collection of stories. Critics wrote that if the "zero" and were the best time for evil and sometimes aggressive prose Prilepin, then later his time will pass. However, their predictions did not come true: in 2014, the new novel by Zakhar Prilepin, "The Monastery" received the "Big Book", passing "Tellurium" by Vladimir Sorokin. In addition to literary activity, Prilepin is the editor-in-chief of the Free Press website, writes articles with the headings "Why Russia is not Europe" and occasionally criticizes conditional "liberals." Recently it became known that Zakhar Prilepin will arrive in Kaliningrad as part of the Year of Literature events.
The RUGRAD.EU poster tried to contact the writer, but at that time Prilepin was in the Donbas, where he once again went with humanitarian aid. Fortunately, the writer agreed to a written interview by replying via e-mail. Zakhar Prilepin told why literature is of little interest to him now, as liberals and national bolsheviks scattered on opposite sides of the barricades, why the "fifth column" and horoscopes with Cossack regiments would fit in Russia.
"Now, when they talk about Zakhar Prilepin, they usually begin to discuss some articles that he wrote, ambiguous statements in Facebook that he collects help for Donbass, and the work itself is moving somewhere to second place. Do you consider it a normal situation when the political views of the writer, and not his book, are primarily discussed?
- I have no idea whether this is true or not. Everything is as it is. Someone chisels, someone reads books. In general, the more one toothgun, the more others read books ... In general, I like this yours - "ambiguous statements". And the statements should be "unambiguous"? Definite there are only articles of the Criminal Code and stupidity. A normal Russian writer is always "ambiguous", and people no less, and even more of his texts discuss his yellow jacket, card games, wives, crosses of St. George, xenophobic antics, drunkenness, monasticism, theomachy, and so on and so forth.
- There is a feeling that after the release of the novel "Resident" you completely disappeared from the literary field and turned into a purely political character. Is it just a pause after a lot of work?
- We have a war in general, already a whole year. What does "literary" me or "political" matter if cities are bombed in the Donbas? Last year I am interested in literature very little. This postmaid disgrace will end - we will think about new novels.
- Your "Abode" is accused of trying to justify the Solovki camps. The book still feels such a moment that "there is no punishment without any guilt".
- I read several articles and a dozen or two statements that I wrote a vicious anti-Soviet book, and therefore I am a scoundrel. I think it makes no sense to look after all the fools at once and also comment on them. Fools - they are, like chickens - run each in his own way, but not far.
- Maybe it was a moment of conscious outrage, an attempt to show a figurine of a conditional "liberal intelligentsia" that does not love you so much? Position in the spirit of "now I will come and write about the same as Solzhenitsyn, but quite the opposite, to scare you all"?
- You can epatiate when you sit in a pub and want to attract the attention of a brunette at the next table. Write a thousand pages for the sake of outrageousness ... this, you know ... not in our part.
- Did you expect that you will be given a "Big Book" for the "Resident"? Your competitors had Sorokin and Telluria, and Bozena Rynska said that "anyone but Prilepin". It seemed that everything was against you.
- Bozena Rynska is not "everything". This is one Rynska. There were still dissatisfied, there were a lot of them, but it turned out the way it did. I, yes, understood that they could give me a bonus. I'm not a teenager to say: oh, I didn't even know, there was such a surprise ... I was aware of everything: about Rynsk and about what I wrote.
- You received the award from the hands of State Duma Speaker Sergei Naryshkin. He even called you "one of the most brilliant authors of our time." If you remember 2012 the year when Bolotnaya was and you and Naryshkin were on opposite sides of the barricades, it's hard to imagine that you could accept some kind of reward from his hands and that someone from United Russia would praise you so much.
- Let me remind you that several years ago I was awarded the Super National BEST award for the best prose of the decade, and it was presented by Dvorkovich. Generally, there are some officials in most literary awards, I crossed with them a hundred times, spoke with Putin twice, was eight years ago visiting Surkov in the Kremlin, which was never the case ... Look, recently I even saw Limonov and Ironstone on the same stage. So let's not pretend that we have a 1905 year here, a Cossack company is storming the barricade on Presnya, and we have a selfie with Naryshkin. Finally, I hasten to remind you that I was neither at Bolotnaya nor for Sakharov. I was on Triumph, followed by Revolution Square, from where the deceased Nemtsov, in front of my eyes, led off to the Swamp column of Protestants. I stood beside this system with a megaphone and urged people to stay. But only Lemons and three hundred natsbols remained in the Revolution Square. On the same day, on Echo of Moscow, I said that I did not want to have anything in common with the Russian liberals, because they were privatizing everything, including popular protest, out of old habit. In the evening I repeated the same thing on the air of "Rain". The above does not mean that I automatically became a friend of Naryshkin. I simply explain that the situation is much more complicated and much simpler than it is described in your question.
- If the new realism was set up critical with respect to the surrounding reality, now there was a certain turn and you, such a feeling, with power turned out to be on one side of the barricades. Previously, you asked Vladimir Putin not very convenient questions about Gennady Timchenko, and now they put you at the opening ceremony of the Year of Literature for a place of honor next to the president. It is clear that such issues are no longer in question. What made you forget about Timchenko?
- And who told you that I was "made to forget"? And why is everything so "clear" to you? Maybe you, on the contrary, something is not very clear? Do not allow this option? I found myself not on one side of the "barricades", but with the people who took the situation in Ukraine as their own tragedy and as a challenge to the Russian statehood. The fact that the authorities perceived this in the same way does the honor of the authorities. If I have the opportunity to ask a question about the conditional Timchenko, I will ask it. Actually, I periodically ask them in my journalism. I hope they reach the addressee. As for the Year of Literature, Putin did not sit next to me, and I could not ask him any questions by definition.
- Alexander Prokhanov in the discussion with Eduard Limonov once said that he was not interested in all these rights and freedoms, and most importantly, that there were parades on Red Square. Are you ready to agree with this thesis that for the sake of the greatness and power of the country you can forget about civil rights? The National Bolsheviks once very actively demanded political freedoms. Now, after the Crimea, they are no longer needed?
- You have some kind of picture of the world - as consisting of two cubes. Literate government competently combines all of these things: a mobilization movement, a certain level of civil liberties, and all other "rights, rights, rights". As for the National Bolsheviks, here at the moment I'm in the middle of the National Bolsheviks in the city of Lugansk, where they have a separate combat unit. They are fighting here. And another division is still being created in Donetsk. And there they are fighting too. And my comrade, the natsbol from Peter, Zhenya Pavlenko, just died. And this is not the first loss. Therefore, the National Bolsheviks still have other tasks - yes, of course, more important at the moment. As for me, personally, my civil liberties limit little. I cannot say seriously that I live "without feeling the country". It makes me laugh. Another question is that the Crimea, of course, cannot serve as a justification for any United Russia party that is crazy about lawmaking - yes, nobody argues here. Just today, priorities have shifted somewhat. Shoot because.
- So now the hero of your book "Sankya" would not storm the city administration with his children, would not shout: "We hate the government!", But rather, at a rally for joining the Crimea, would make evil faces at the TV channel "Rain"?
- "Sankya" lived as he lived, just in the final he stormed not the administration of the Russian city N, but the administration of Slavyansk, Kharkov or Donetsk. That is, doing exactly the same thing. As to the "evil faces" in the camera of the TV channel "Rain", you know, I sometimes get the feeling that the people asking such questions were not reading the novel. Actually, this novel is about the opposition of the National Bolsheviks to quasi-conservatives (there is one character representing the conditional United Russia) and liberals (Bezletov and, to some extent, Lev from the hospital, where Sanka was sewn up after the beating). That is, using your terminology, "face" on the TV channel "Rain" Sanka has always built. But, as your countryman Oleg Kashin wittily remarked, the Russian liberals were so fascinated with themselves that they were too lazy to look at the program "Other Russia", to realize their views, aesthetics and future plans. The not very long tactical alliance of the National Bolsheviks and the Liberals was somehow perceived by the Liberals as a voluntary transition of the National Bolsheviks under their "progressive", "universal" wing. When we shouted "We hate the government!", We shouted it because the government, for example, did not annex the Crimea. Let me remind you that one of the first actions of the National Bolsheviks was the seizure of the observation tower in Sevastopol, from which the National Bolsheviks scattered leaflets "Sevastopol - Russian City". It was still in 1999 year. And our liberals shouted with us "We hate the government!" With exactly the other promise: so that never again Russian imperialism - this is a monster - does not lift its head. That is, we hated the government with them for opposite reasons. You are for the fact that the government is not "European" enough, and we are for the fact that it is not "Russian" enough. Only we understood everything about you even then, and you out of habit did not even think about us.
- You often talk about your warm attitude towards the USSR, but let's say honestly that in the Soviet Union such books as Sankya or Pathology would be simply impossible for ideological reasons, and no writer Zahara Prilepin would ever exist. At best, they would have been a writer of some kind, a writer about birch trees and a leaning church on a hill.
- "Any" Valentin G. Rasputin wrote "about the birch trees"? Vasily Makarovich Shukshin? Vasily Ivanovich Belov? Did you have a deuce in literature at school? Or do you just think little when you ask questions? In the Soviet Union was the most powerful post-revolutionary literature: naturalistic, bold, mad - Sholokhov, Babel, Artyom Vesely. Later, on the same material, such frank and terrifying books were written and even published, such as, for example, "Already written by Werther" by Valentina Kataeva. Not read, no? There was a remarkable military prose: from "In the Trenches of Stalingrad" by Viktor Nekrasov, for which he received the Stalin Prize, to Bondarev and Baklanov; was Yuri Trifonov, was Anatoly Rybakov, all of whose books were published in the USSR, including "Heavy Sand" and "Children of the Arbat"; what just was not. "Sanka" - just for your understanding - from a distance in China, just from a distance in Cuba, and I think the next country where this novel will be published will be North Korea. And nothing happened to these countries. And with the Soviet Union, too, would not have happened. The Soviet Union is not a concrete monument. This country has changed video. There, over time, "Sanka" would have found a place, and "Pathologies" would have been published from afar — as the terrible stories of Vasil Bykov were published - well, except that the mat would have been cut, but I would have survived. But in general, this is a typical liberal question: when you talk about a colossal country that has, frankly, achieved some success in geopolitics and building a more or less socially-oriented society, they immediately say: "You wouldn't have your books published!" I could not go to Turkey. What is your small-scale picture of the world, by golly?
- You often call yourself left in political views. But, in fact, we have all those who call themselves leftists (and you, in my opinion, among them) are such real conservatives: they are for family values, public order and so on. Why the Russian left is not May 68 of the year and the slogan "It is forbidden to prohibit!", But a man with an icon and a portrait of Stalin in his hands?
- Do you ever run out of stamps? Or do you think them? The left one is a peasant with an icon and Stalin, and a liberal is a sadomaso-gay with a Bandera badge, right? Or is a liberal a good, adequate, educated person, and the left is still a "man"? Russian left - yes, conservatives. This is normal. The European "left" movement is either absolutely marginalized, or it will also "move" in the same direction. In fact, the main "leftist", say, in France is Marie Le Pen: she is for the support of the social sphere, for preserving France as France, and not what the hell knows what, for her own people. In general, the world is fluid and diverse. Liberals, too, for example, were all Orthodox at the end of 80's - the beginning of 90's: they were so worried that the people "live without God." And now everyone has become such anti-antique, such "Pussy Rayot" is going on around them. No one stands as a pillar in place. The Russian "left" began to rule not now and not even under Stalin, but under Lenin and Trotsky. When actually appeared the term "National Bolshevism." This is already a dozen books written.
- In principle, it was always clear that Zakhar Prilepin was for family values ​​and a "strong state." But now in your articles you not only denounce this "strong state", but also attack conditional liberals. That is, it turns out that practically together with Dmitry Kiselev we provoke popular hatred for the "fifth column". And all this ends with the murder of Boris Nemtsov, with whom you once were on one side of the barricades. You do not feel here and their responsibility?
- Well, how do we know what "ends" with. The murder of Nemtsov could have happened for the reason that he was too loved by women. Or that he too wanted to like Ukraine. Or because he borrowed money and did not give it away. With your picture of the world, you can go to the doctor, and I am not a doctor. Edak, I can ask you: the Russian "fifth column" so quickly jumped over the Maidan, and now the Maidan went to the Donbass and killed thousands of civilians in 10. Do you feel your responsibility here? But I know that you will answer. You say: this is not us, this is Kiselev. And, of course, Moscow Kiselev. Not Kiev. All this is boring.
- Sometimes it seems that the public had just a request for such a hero - a normal man with family and children, a war veteran, for all the good against all the bad. Maybe there was some moment of populism on your part? Do you understand what stories Now in the book market will be sold, and publishers picked up this topic?
- Well, take a couple of times a trip to the war, give birth to four children, raise them, and you will have fame and complete "populism" who bothers you.
- You confessed in love to the work of Mark Almond, for example. If we imagine that a "strong state" is still built: around the church, regiments with red standards, airplanes, aircraft carriers of a new generation, and you go and whistle Mark Almond, which is almost the main icon of gay music. Well, this is some kind of nonsense: there can be no place in the "strong state" of Mark Almond.
- In my country there will be a place for both the aircraft carrier and Mark Almond. And you too, of course. And the "fifth column", and the sixth, and the seventh. Russia is big. We have already got along here and aircraft carriers, and Vertinsky, and ballet, and Tchaikovsky, and Igor Severyanin, and Cossack regiments, and horoscopes. And Westerners with Slavophiles. Everything will be OK. Or not everything. But this is also normal.