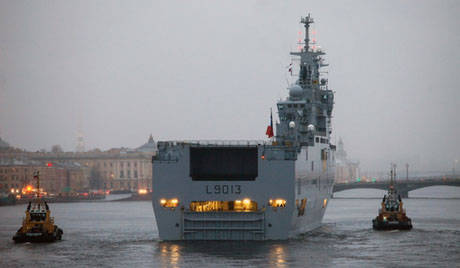 Rosoboronexport will take part in deliveries from France of 20% of equipment for the next batch of Mistral helicopter carriers, the rest of the equipment will be produced in Russia. This was announced by the head of Rosoboronexport, Anatoly Isaykin, in an interview with Kommersant.
Rosoboronexport will participate in this contract only in that part of the supply of imported equipment, which is already provided in advance in our signed contract for the remaining two ships. In proportion, 20% will be created by French shipyards, and 80% will be completed by Russian shipyards of the USC, "said Isaikin.
According to him, it is these 20% that will be regarded as the import of services and the import of the technology itself. "This will be the work of Rosoboronexport on the second pair of ships," he stressed.
"After adopting the first two ships-docks, the Defense Ministry will receive a technology package, including the construction of ships. Therefore, the military will apply to USC, after which they will sign a state contract for construction, and not for supplies from abroad," - added Isaikin.
As Russian Defense Minister Anatoly Serdyukov said earlier, Russia plans to acquire for its Naval
fleet
four assault helicopter carriers of the Mistral type.
The contract between Russia and France for the supply of two amphibious assault ship docks for the needs of the Ministry of Defense of the Russian Federation was signed on 17 June 2011. According to unofficial data, the cost of one ship is about 600 million euros.