There is no Russian people, there is a molecular structure of society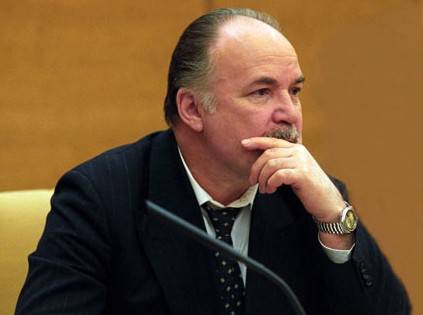 Deputy Chairman of the Moscow City Duma, Nikolai Gubenko - about the moral health of the people. Speech at the press conference of the Communist Party of September 21.
Many Russian peoples live on our territory. I do not mean Dagestanis, Chechens, Ukrainians, Belarusians. I mean the split and disunity of our people, which will soon turn into a molecular-like society, where everyone will be for themselves.
One nation - 300 of thousands - is the London people, to whom, in case of war, our leaders will not respond with a London nuclear strike, because there are 300 thousands of their relatives who robbed the country. Every quarter several tens of billions of dollars are taken out of the country and continue to do so. And even in times of crisis, the first to whom the Government extended a helping hand were bankers.
The second people are the Spanish people, a bit poorer than the London people, not billionaires, but millionaires. The third people is in Cyprus ...
And the real people are here on this empty, overgrown mineral space, where 30 percent of world resources and 2 percent of the population. There is no one people. And this is the cultural policy of the Government!
Thank God, yesterday I heard from Sobyanin's mouth that he defined culture as a priority for the development of Moscow, where 178 billion rubles for the coming years will be directed towards the development of culture.
But what is culture? This is not just the construction of museums, libraries, theaters, cinemas. Cultura mentis - cultivating the mind. As a peasant with then plows and cultivates the land, so a cultural worker should cultivate the mind, spirit, morality. How do we cultivate this spirit? We cultivate an orientation towards pro-Western ideals completely alien to the Russian tradition, the tradition of our multi-ethnic state, which during the 73 years of Soviet power was without wars, without blood. And it was more than 100 nationalities, it was the same Chechens, the same Dagestanis who did not blow up, but loved, sang, gave birth to children, became families.
Culture is the main impact on human relationships, on their improvement.
The church has been trying to improve human relations for millennia, and it begins to find some kind of support in the souls of our people. But also not very good. Millennia! And here in 20 years they destroyed what was built - unity!
There is no Soviet people who sacrificed themselves not for money, not for a penny, not for 100 grams, even for the Leningrad blockade of rations, but for the country to live, to live a Motherland!
You watch tv. You will hear there exclusively English, French, Italian - non-Russian direction. Imagine France, England, America, where there is always - from 7 hours to 12-ti - a Russian song sounds, even if performed by Babkina, I don't even say the choir of Sveshnikov. What would the Americans do? What would the French do? Yes, it is simply impossible!
In 1984, I read a Slavic lesson at Northwestern Chicago University, Faculty of Slavic. I ask: "What do you know about Russia, about the Soviet Union?" - "Red Square, black caviar, vodka". Everything! These are those who specialize in the knowledge of Soviet literature, art, culture and so on. Their literature ended with Sholokhov. Nobody is further: neither Belova, nor Shukshin, nor Trifonov, nor Yevtushenko - they do not know anyone and do not want to know. They don't want to know us. And we absorb and "thrust this needle" in young people so that it ceases to be Russian. Until the state realizes that bread is the priority of the "bread and circuses". But you can not reduce the bread to the level of interests of the stomach. Shakespeare: "What does a man mean when his cherished desires are food and sleep? An animal is everything. " Give man spirituality, give hope!
I am deeply convinced that the program of our party, which is based on the idea of ​​sufficiency for each technical resource that exists, and not only for 180 billionaires, is the only way out of the impasse. But they resist, without exception, everything above.
Ctrl Enter
Noticed a mistake Highlight text and press. Ctrl + Enter